Midway Airport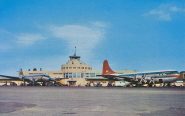 By Marvin G. Goldman
Chicago's Midway Airport, originally named "Chicago Municipal Airport," opened in 1927 at Cicero Avenue between 55th and 63rd Streets, about nine miles from the center of downtown Chicago. The site was owned by the Chicago Board of Education through a 19th-century federal government land grant that allocated one square mile of every 365 for a school. So, at the time the City of Chicago acquired use of the site in 1926, it was one square mile in size, with only a small grammar school in one corner, and the rest was devoted to growing onions. Because of housing development outside the perimeter of the field, Midway Airport today remains on that same one square mile (plus only a small extension with a few structures).
By the end of 1927, six airlines operated from Chicago Municipal Airport, including predecessor airlines of Braniff, Chicago and Southern, Eastern, Northwest, TWA, and United, and in the mid-1930s American joined them. Amazingly, by 1932 Chicago Municipal claimed the title of "busiest airport in the world," and it remained so until 1961 when airlines moved to the new suburban Chicago O'Hare Airport.
Postcards of Chicago Municipal Airport through the years
The 1930s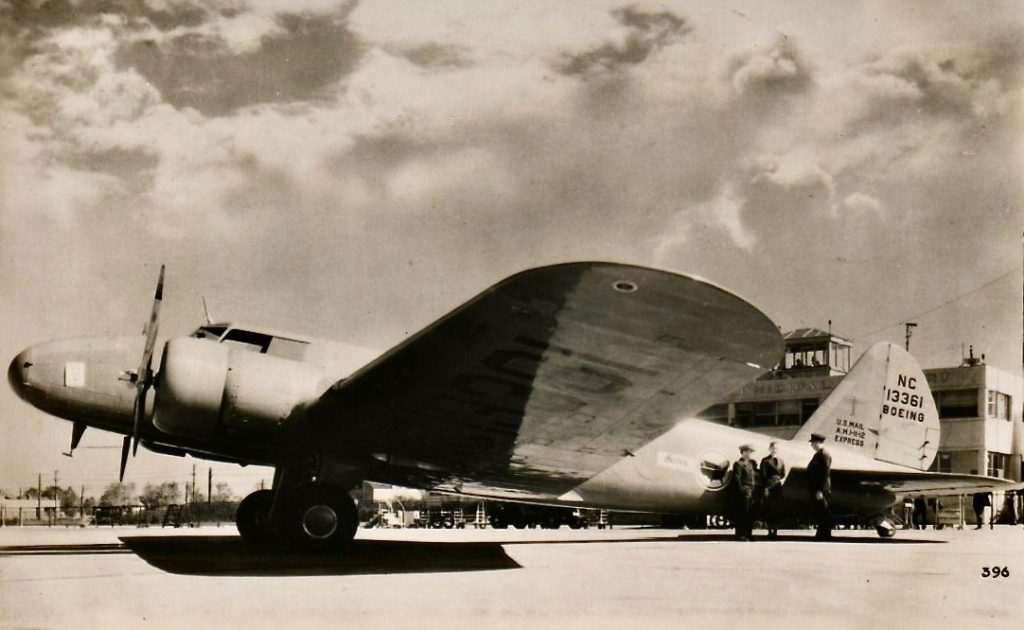 The Boeing 247 entered service in March 1933, immediately becoming the most modern aircraft at the time, with all-metal construction and much higher speed. United Air Lines received the first production models and placed 30 in service by June 1933. Chicago Municipal became a major hub in United's coast-to-coast east-west service.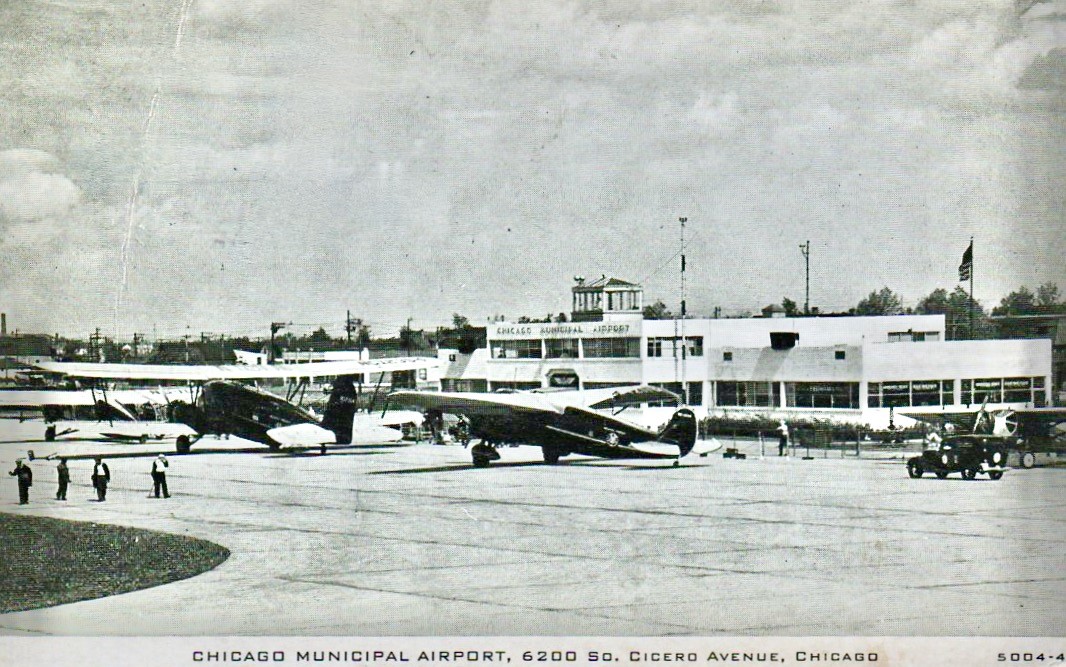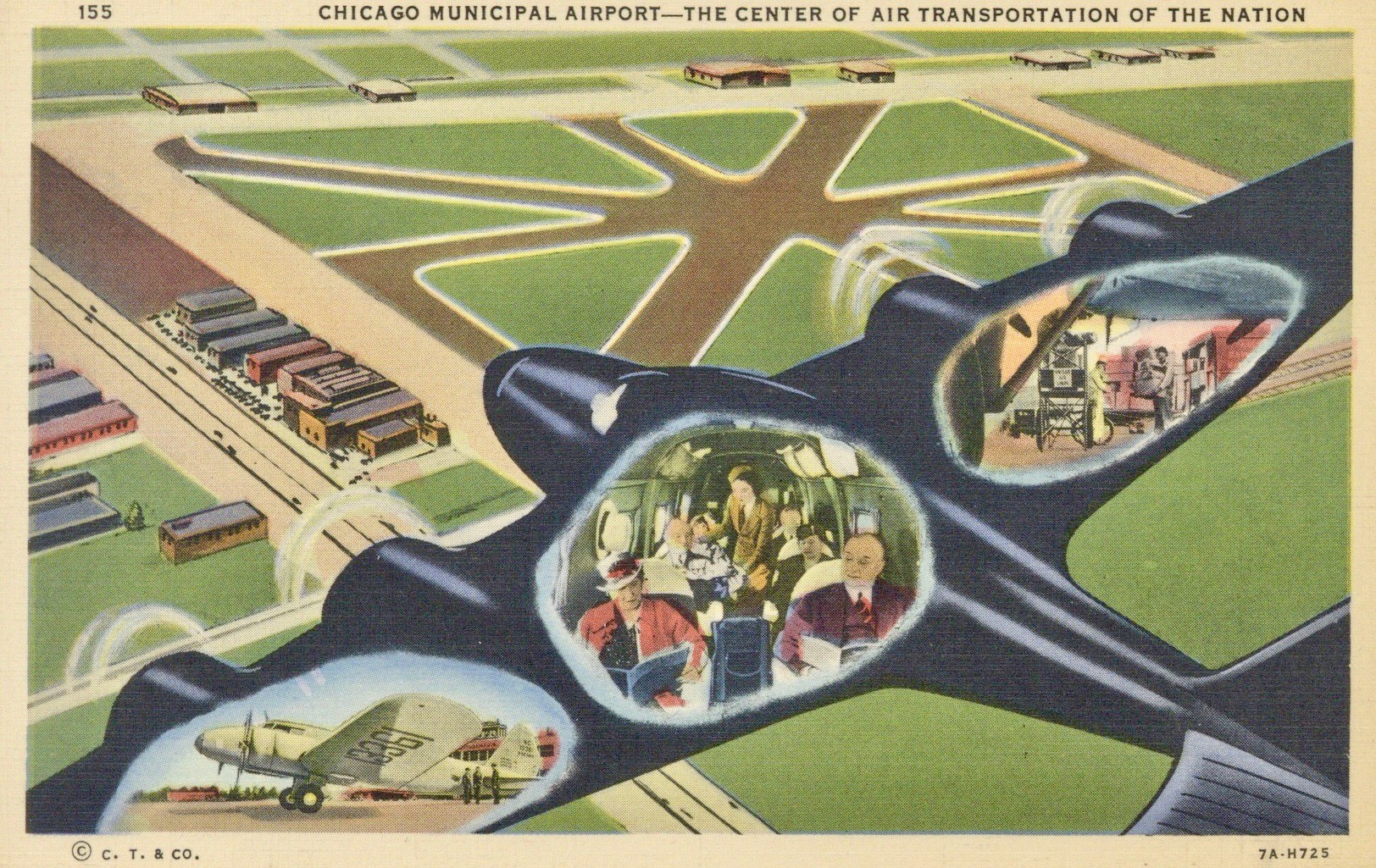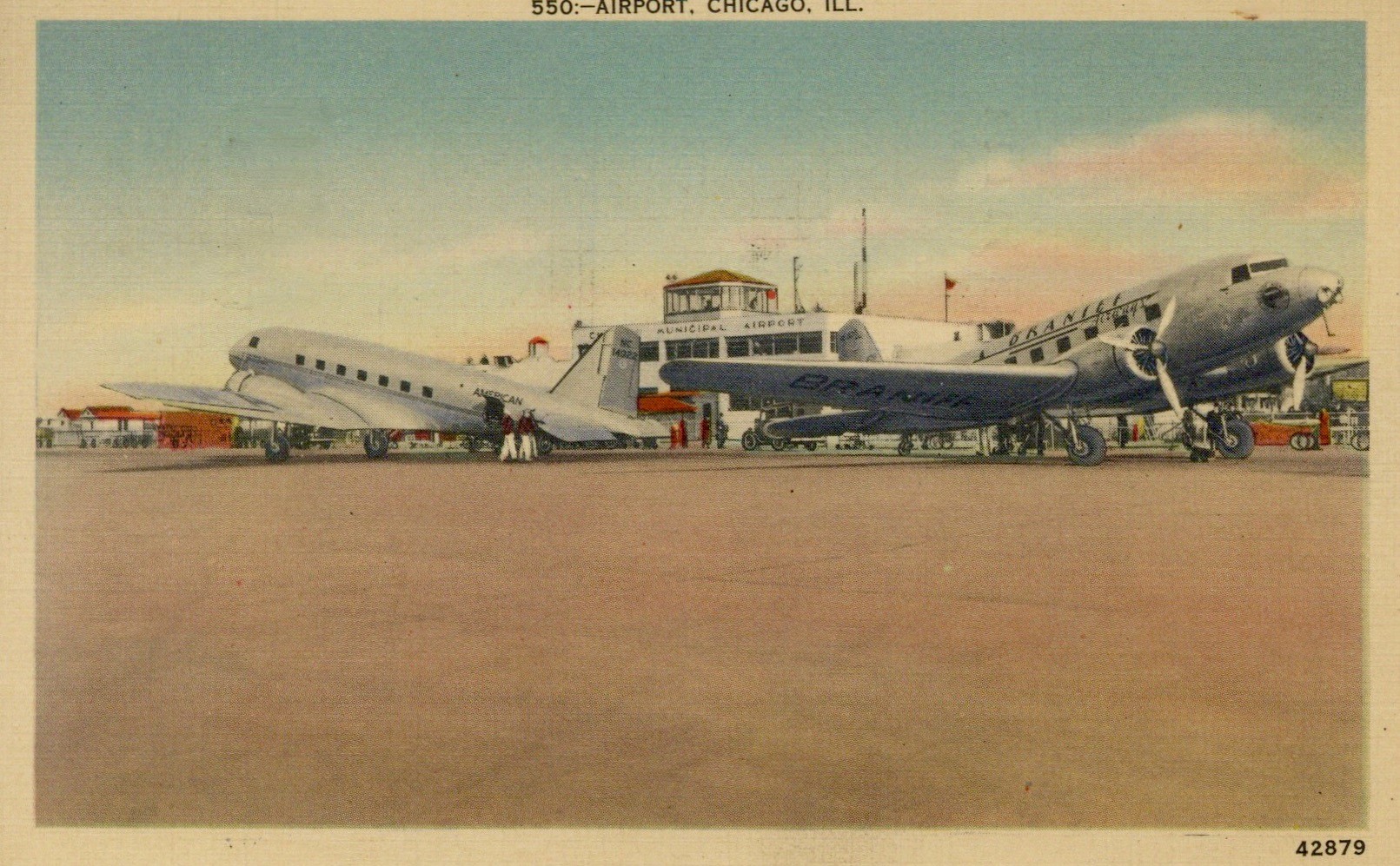 The Boeing 247 remained the top airliner for only a very short time. By mid-1934 Douglas Aircraft introduced the DC-2 which was superior to the 247. TWA was the first to operate the DC-2, and other airlines serving Chicago soon followed.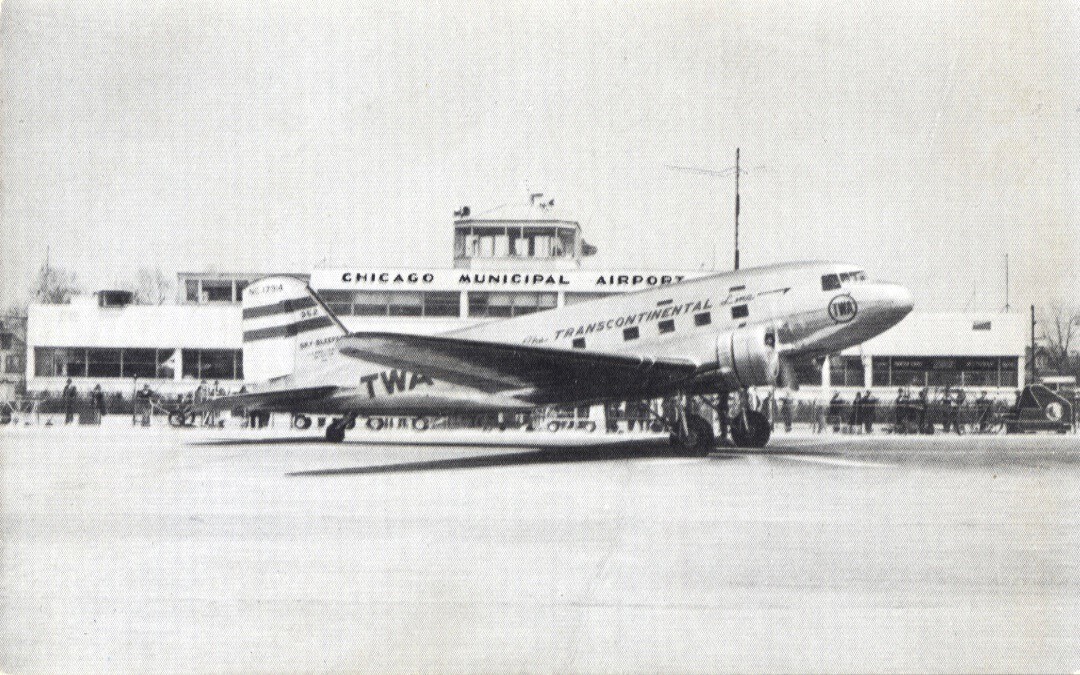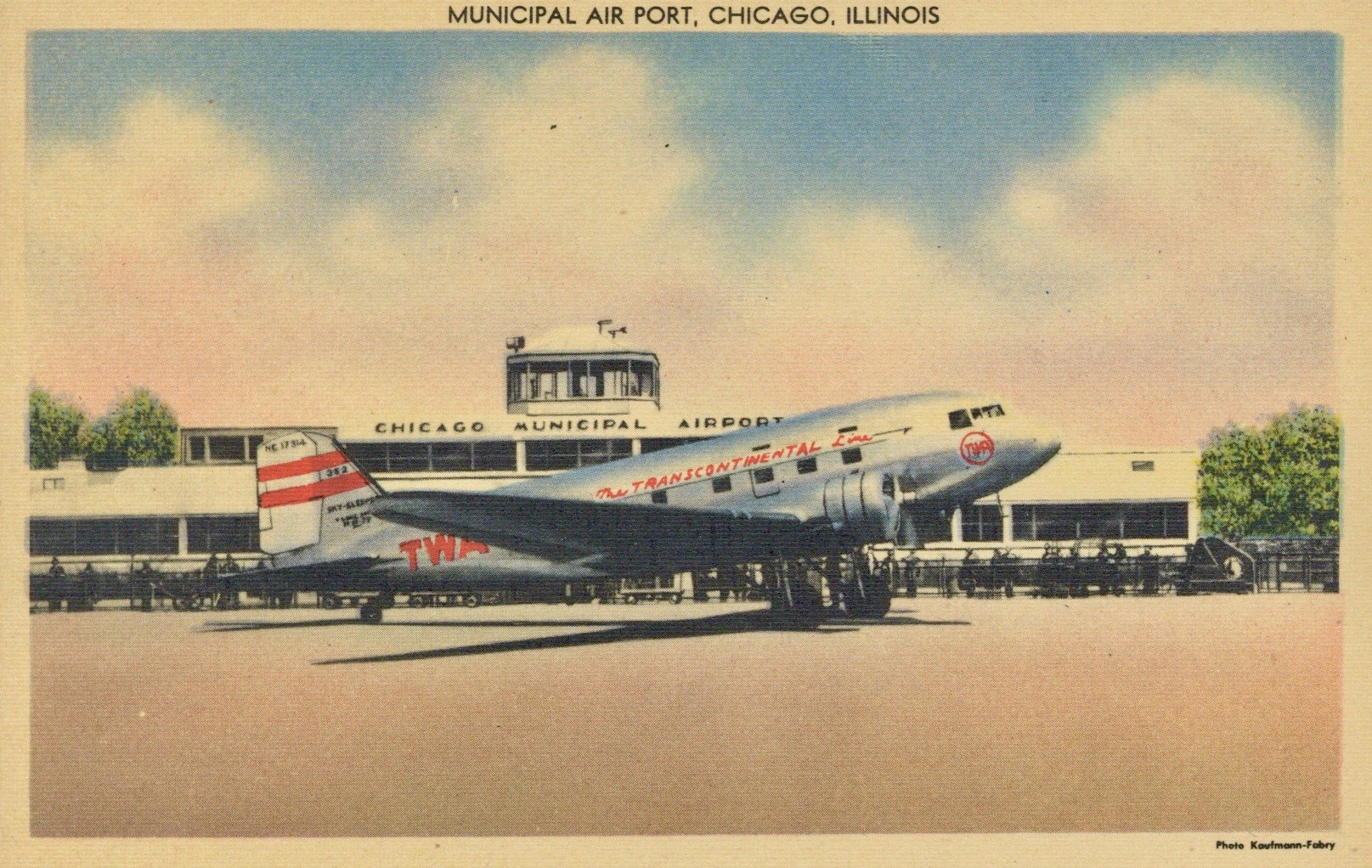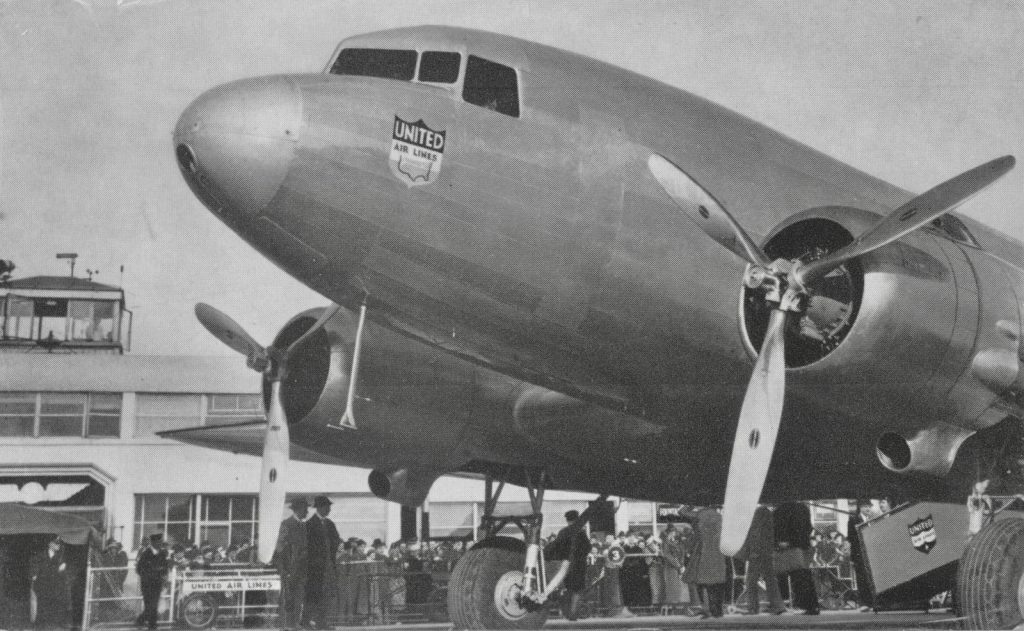 The 1940s
Following the end of World War II in 1945, Chicago Municipal Airport became busier than ever. To cope with the high volume of passengers, it opened a new larger terminal in 1947-1948, with distinctive rounded upper floors in the center, including the noted "Cloud Room" restaurant.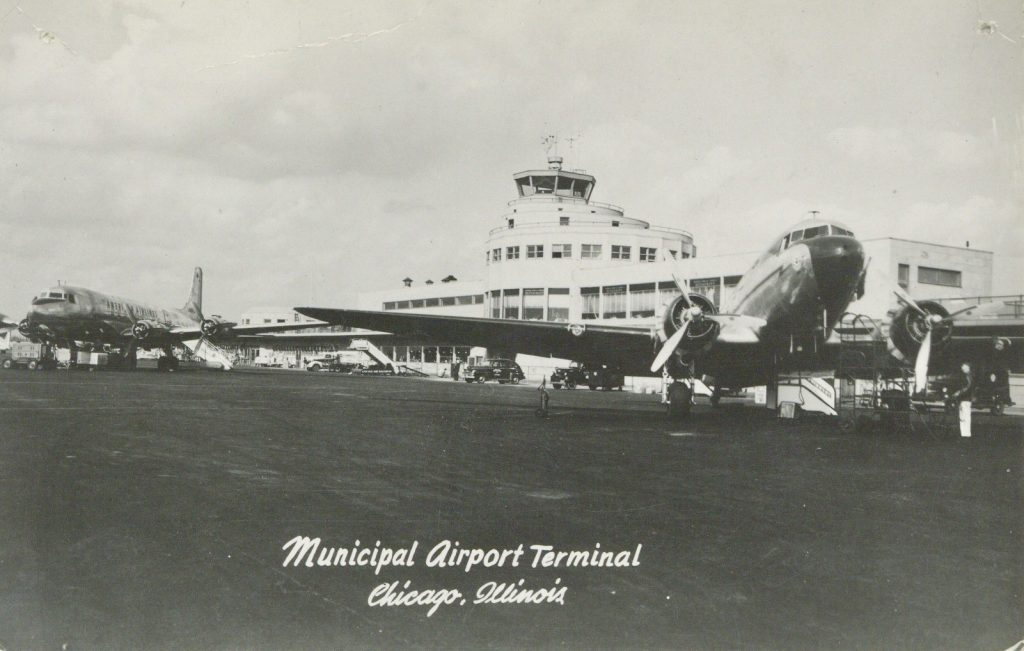 In June 1949 the Chicago City Council changed the airport's name to "Midway Airport" in honor of World War II's Battle of Midway in the Pacific Ocean.
The 1950s-1960s
By 1950 fifteen scheduled airlines, as well as several nonscheduled ones, served Midway Airport. By 1952 passenger volume reached 5 milliion, and passenger numbers peaked at 10 million in 1959. Continuing throughout the 1950s and until 1961, Midway remained a beehive of activity on its one square mile – the busiest airport in the world.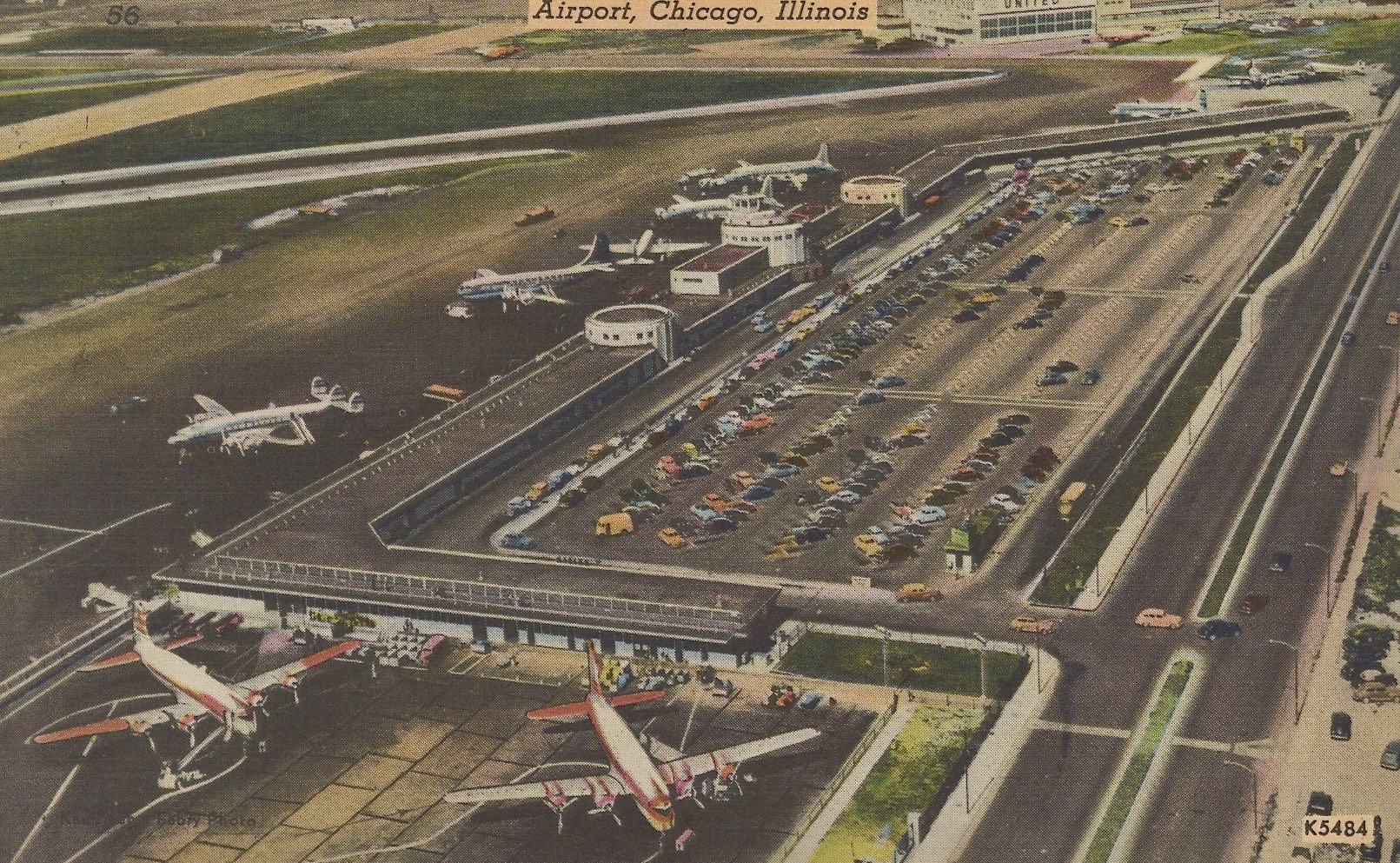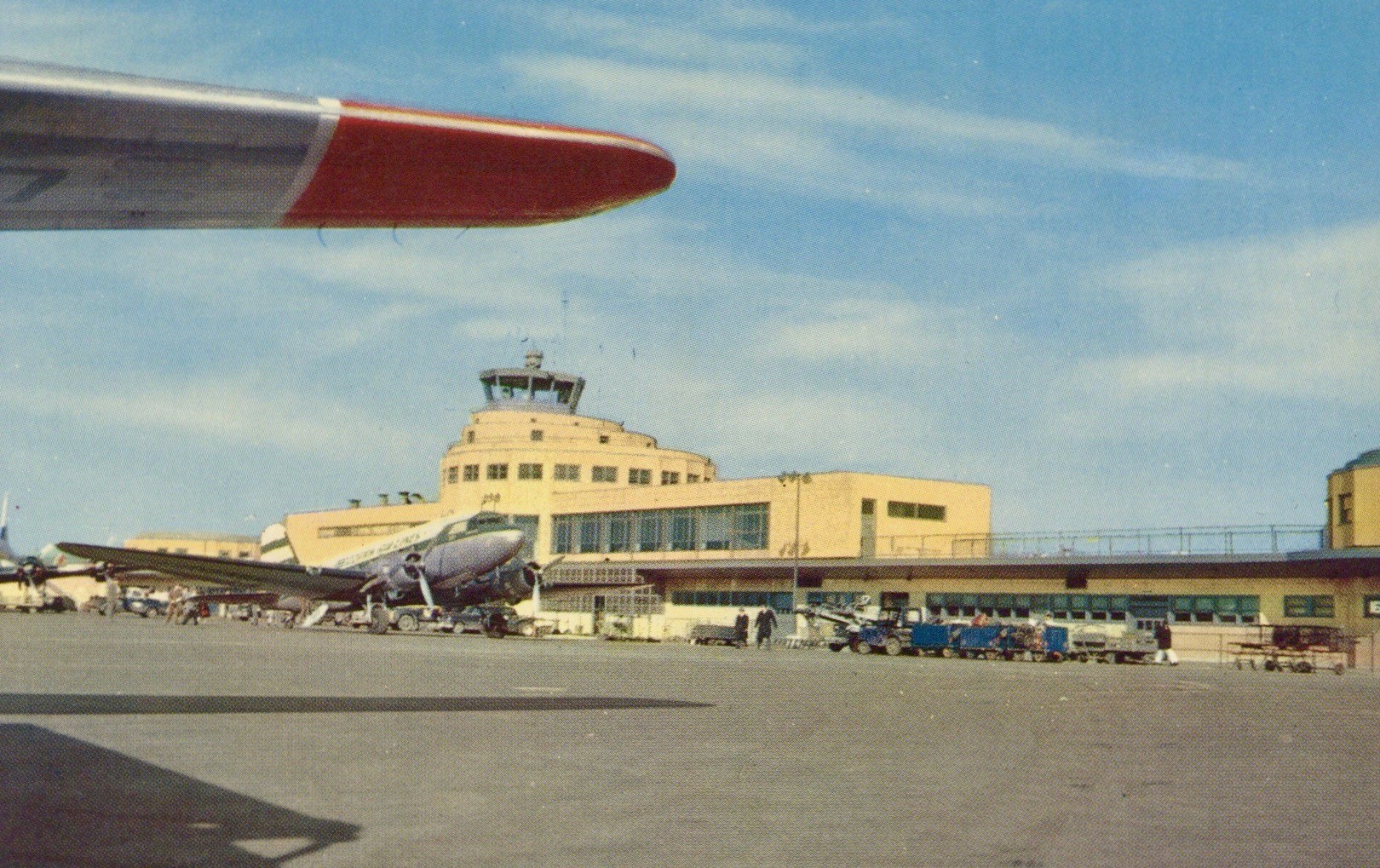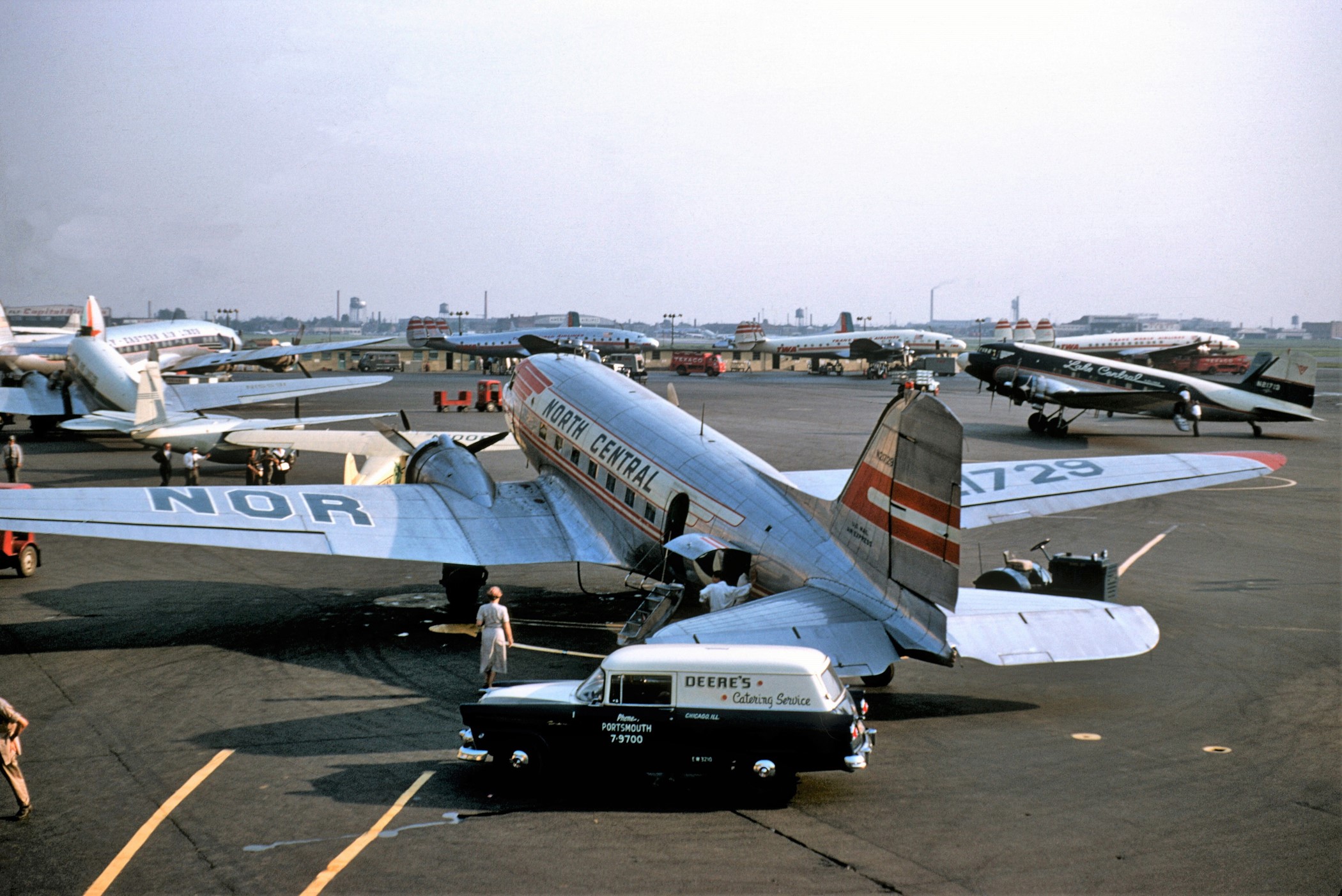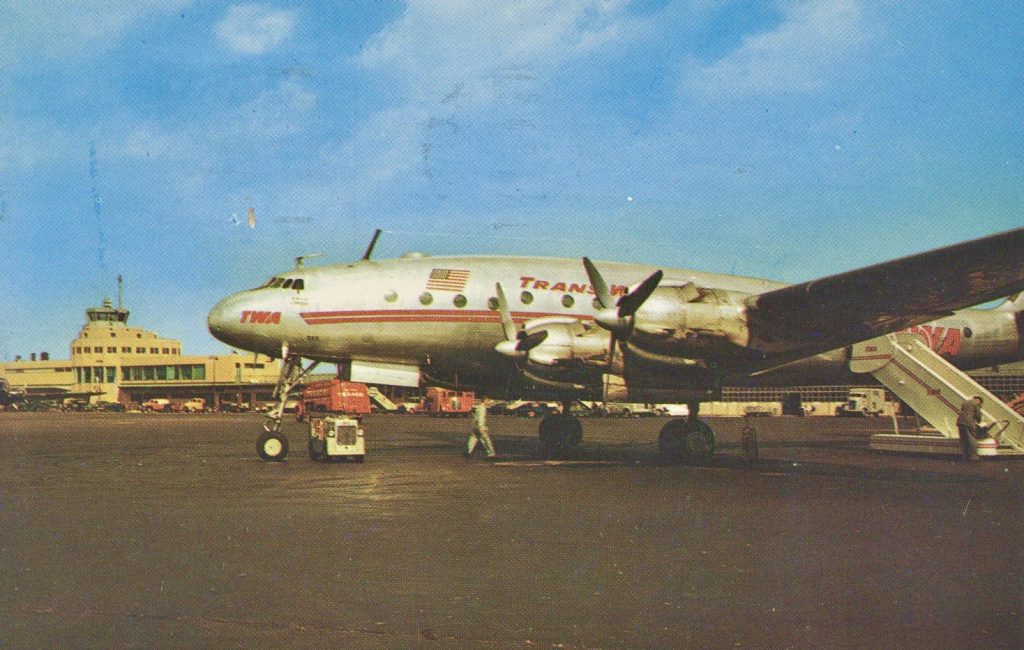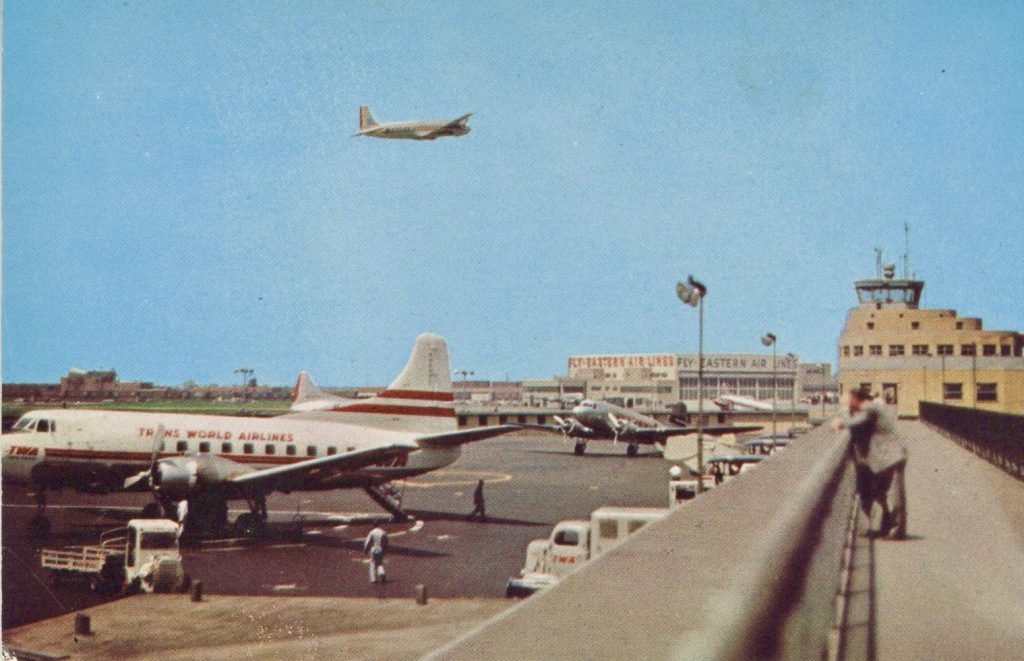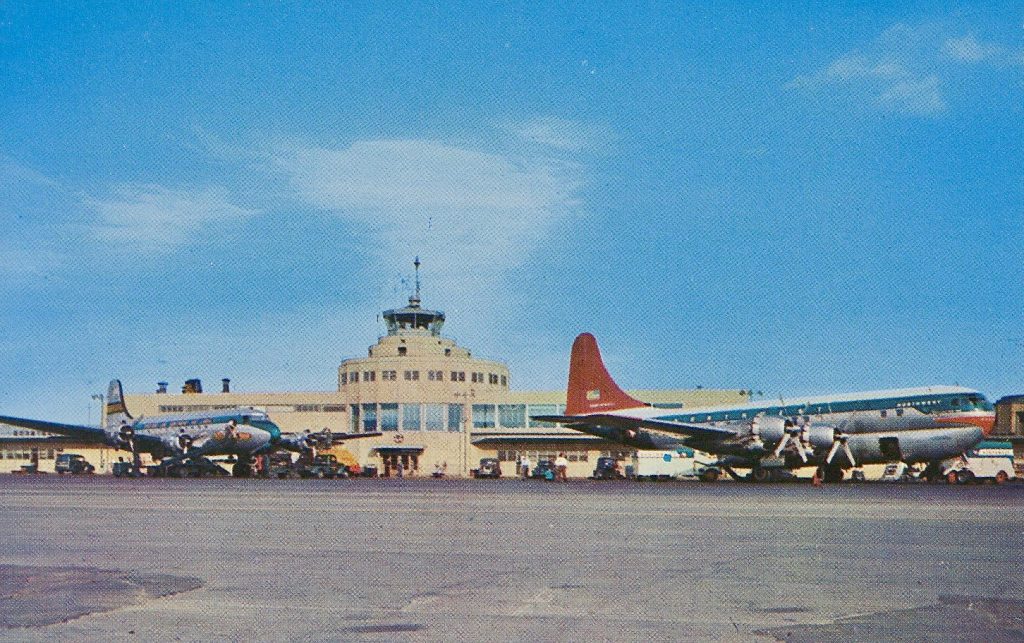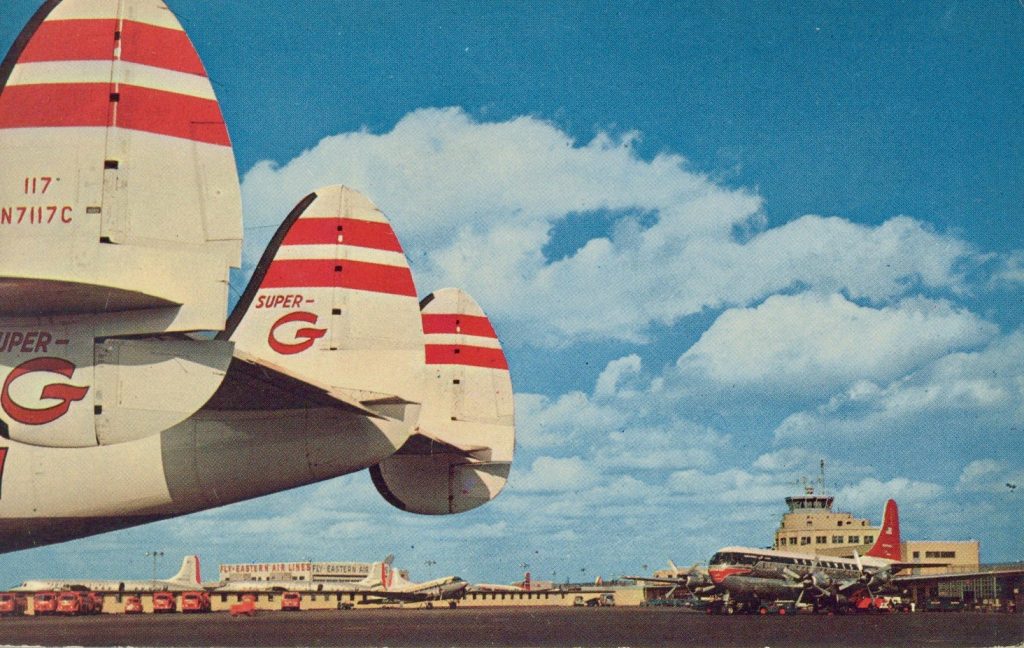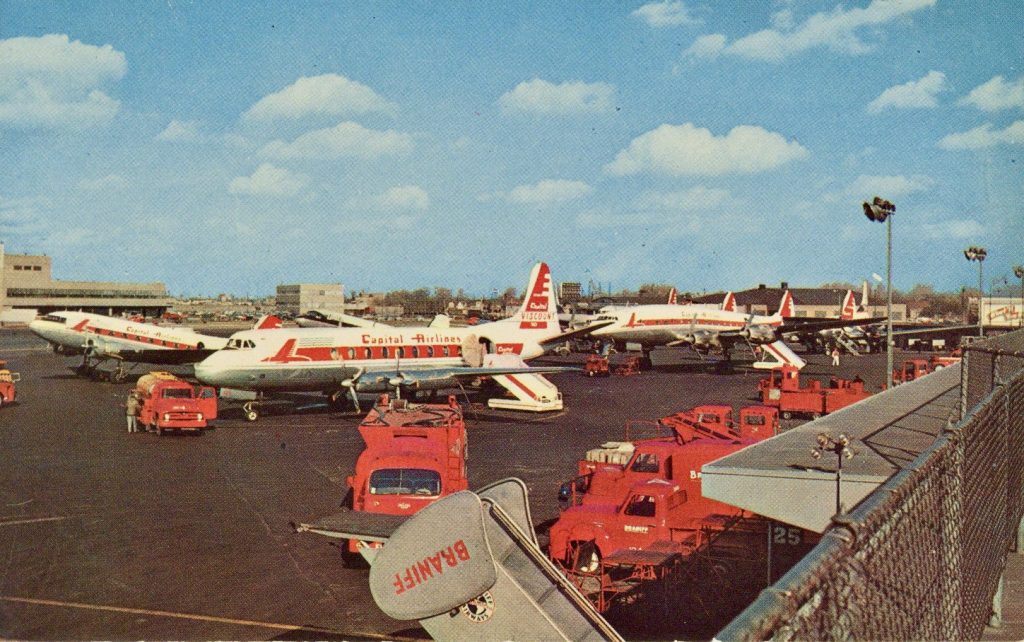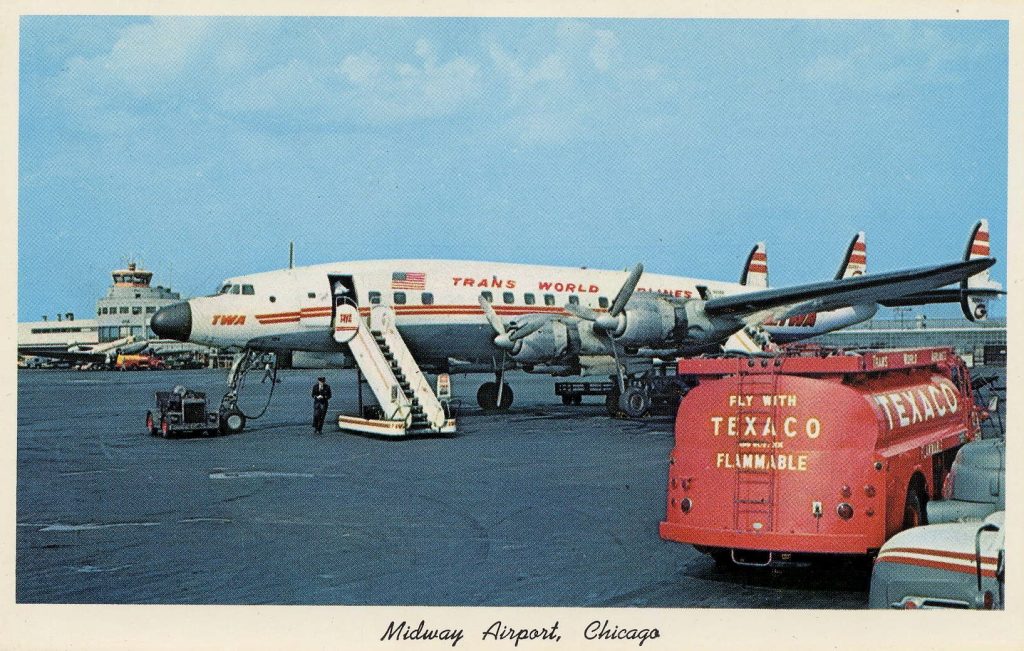 By the late 1950s, some foreign airlines started flying into Midway Airport, including Air France, Lufthansa, and Brazil's REAL. Soon the airport was renamed "Midway International Airport."
Meanwhile, the burgeoning number of daily flights and passengers at Midway in the 1950s, the increased use of larger, four-engine aircraft, and the lack of room for expansion, compelled the City of Chicago to develop another airport, which became O'Hare, to handle future air traffic as well as the new generation of pure jet aircraft arriving in 1959 and thereafter. Expansive O'Hare Airport, 31 miles from Midway, opened in 1955. By 1961 almost all the major airlines consolidated their Chicago operations at O'Hare, in July 1962 United was the last to move, and O'Hare took off on its path to becoming America's busiest airport. Midway became a shadow of its former self, with only a little over 400,000 passengers being handled during all of 1963.
The 1970s-1990s
By the late 1970s, O'Hare Airport began experiencing its own growing pains and air traffic congestion. With the passage of the U.S. airline deregulation act of 1978, low-cost carriers developed. They found it difficult to get slots to operate at O'Hare, but noticed that Midway was largely empty, much closer to downtown Chicago, able to accommodate smaller, two-engine jets, and available. A startup airline, named Midway Airlines, launched operations in 1979 with Douglas DC-9 jets and made Midway Airport its home base. This was the beginning of Midway Airport's revival.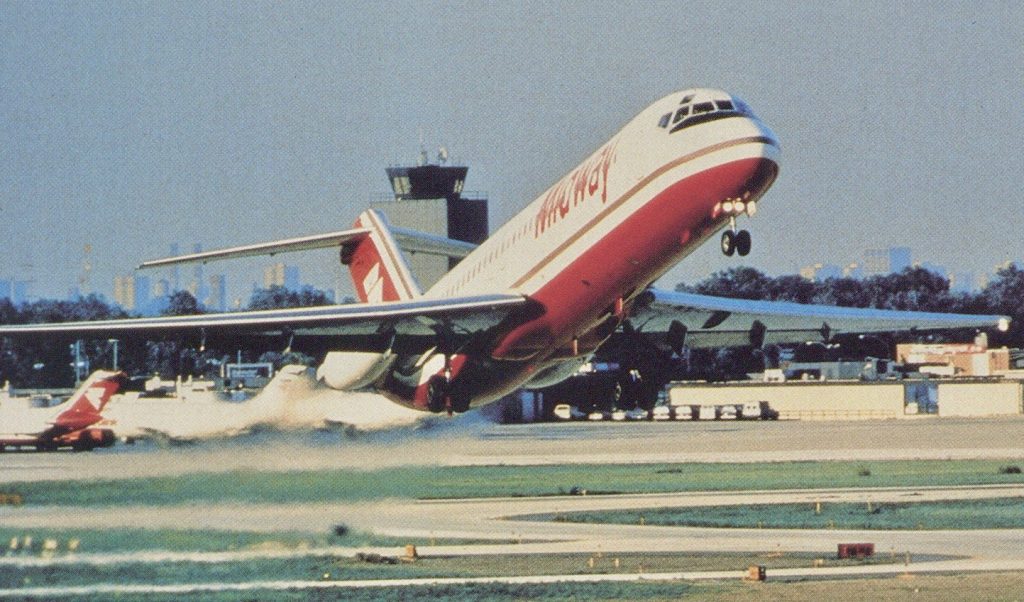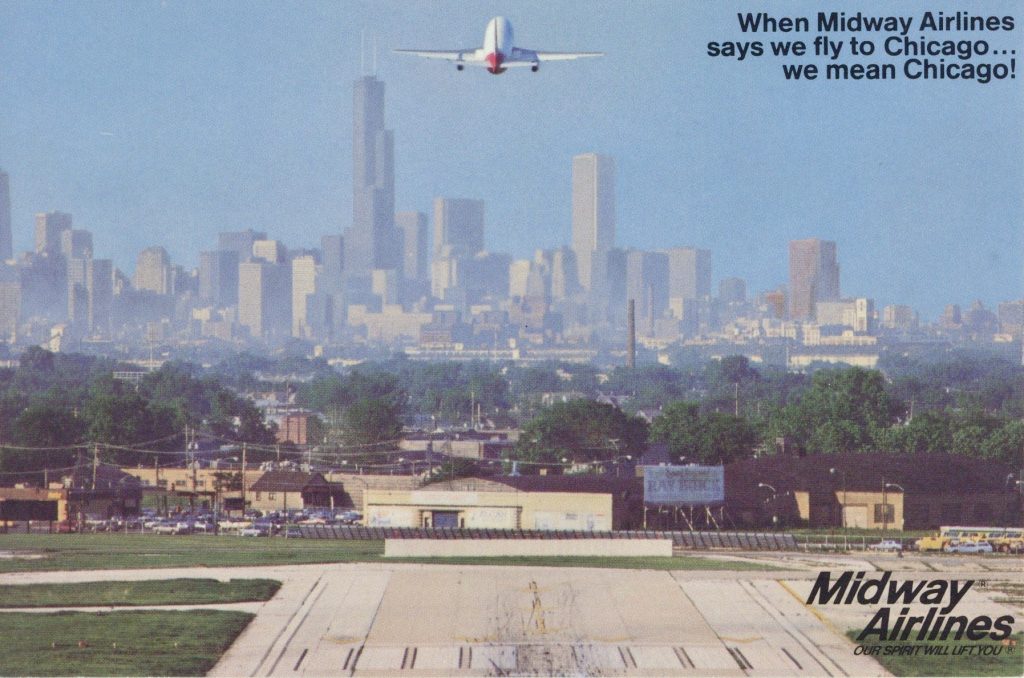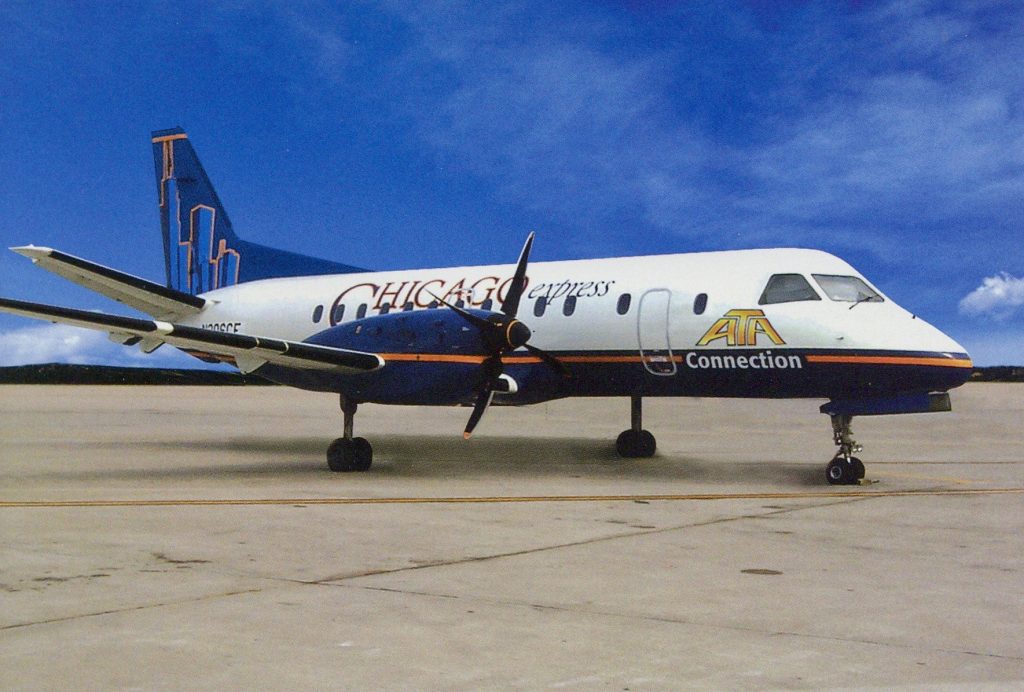 ATA, based in Indianapolis, IN, opened a hub at Chicago Midway in 1992. It set up "ATA Connection," operated by its subsidiary Chicago Express Airlines, based at Midway, to provide commuter service from Chicago Midway to surrounding Midwest cities using Saab 340B aircraft.
Most significantly, Southwest Airlines started serving Midway Airport in 1985 and became, by far, its leading air carrier.  By 2001 Southwest was operating 121 daily flights to Chicago Midway.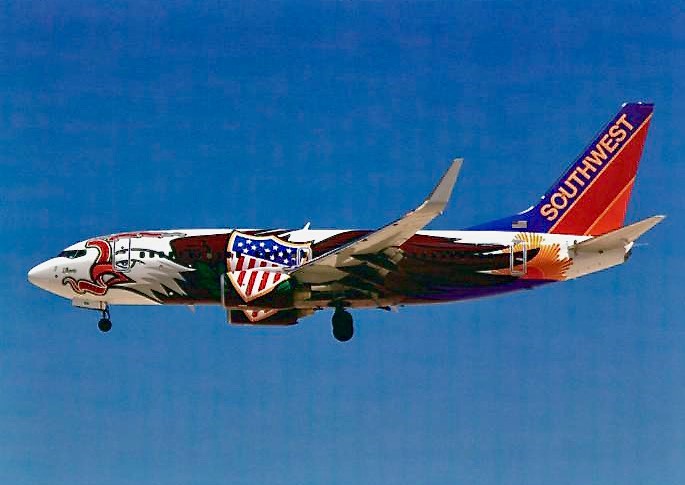 In 1997, with air traffic at Midway rapidly increasing, the City of Chicago announced the Midway Terminal Development Program, and a new, modern terminal was opened in March 2001.  I have not seen any postcards showing this new terminal at Chicago Midway; if you know of any, please let me know.
The 21st Century
Over 10 million passengers utilized Midway Airport each year from 2014 to 2019, marking a return to its prior peak year of 10 million passengers in 1959. As of May 2022, 10 airlines were serving Chicago Midway. Southwest is by far the largest airline at Midway, operating 73 of 123 routes. The other airlines presently serving Midway, in order of activity, are Frontier, Delta, Volaris, United, Sun Country, Allegiant, J-Air, Tradewind Aviation, and Kalitta Charters.
Notes
All postcards shown are in the author's collection except as noted. I estimate their rarity as follows: 
Rare: the American Airlines card in black and white;
Uncommon: the United B247 and DC-3, and TWA DC-3, cards in black and white; and the cards showing a Delta DC-3, Ozark DC-3, Lockheed Super G Constellation with fuel truck, and Chicago Express/ATA Connection Saab 340.
The rest of the postcards are fairly common.
A new set of 12 postcards related to O'Hare and Midway Airports, issued by Airliners International 2022 ORD and published by jjpostcards.com, will be available at Airliners International's 2022 show and convention described at the end of this article.
For collectors interested in aviation trading cards, 60 airports in the U.S. and Canada that are members of the Airports Council International—North America, have been periodically issuing airport trading cards as part of a North American Airport Collectors Series.  The cards are 2-1/2" x 3-1/2" in size (about 6 x 9 cm.). Ken Bateman advised me that one of these airports issuing such trading cards in recent years is Midway Airport.
References
Lynch, Christopher. Chicago's Midway Airport. Lake Claremont Press, 2002.
Author(s). "Title of Article." Title of Periodical, Day Month Year, pages.
Lee, Chris. "Midway." Airways Magazine, September 2018, pp. 32-43.
Chicago Midway International Airport.
www.midwayhistorians.com/photos.html contains link to a large photo album by Midway historian Pat Bukiri.
Wikipedia entry on "Midway International Airport."
See also my companion article, "Chicago O'Hare International Airport (ORD) in Postcards," in wahsonline.com, Captain's Log, Postcard Corner section (2021).
In closing
I hope to see you at Airliners International™ 2022 Chicago, June 23-25, 2022, at the Hilton Rosemont/Chicago O'Hare Hotel. This is the world's largest airline history and airline collectibles show and convention, with over 200 vendor tables for buying, selling, and swapping airline memorabilia (including, of course, airline postcards), seminars, the annual meeting of the World Airline Historical Society, annual banquet, tours and more. The show. will have available a new set of 12 postcards published by jjpostcards.com related to Midway and O'Hare Airports.
Consider entering the Postcard Contest at the AI 2022 show. More information is available at airlinersinternational.org. Follow this link for the Postcard Contest Rules.
Until then,
Happy collecting. Marvin
---