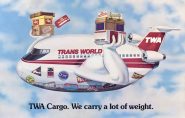 TWA – Trans World Airlines on Postcards
Written by Marvin G. Goldman
TWA served as one of the foremost airlines in the United States, tracing its origin to 1925 when Western Air Express was founded, and operating until acquired by American Airlines in 2001.
TWA itself was formed in 1930 from a combination of Western Air Express and Transcontinental Air Transport (T.A.T.)-Maddux, and was originally known as Transcontinental & Western Air.  Briefly, during 1925 to 1930 TWA's three main predecessors evolved as follows:
— Western Air Express, formed on 13 July 1925, developed a substantial airline network spanning the western U.S. from 1926 to 1930.
— Maddux Air Lines, founded in 1927, developed a significant network in California plus service to Phoenix, Arizona and Agua Caliente, Mexico.
— Transcontinental Air Transport (T.A.T.), established in 1929 and backed by railroad interests, started a transcontinental Air-Rail service on 7 July 1929, operating western and eastern portions by air, with passengers transferring to rail service for the central part of the journey.
— T.A.T.-Maddux arose from the merger of Maddux with T.A.T. on 16 November 1929.
Under pressure from then Postmaster General Walter Folger Brown, who controlled the awarding of valuable airmail routes and wanted to promote a single transcontinental airline, in a 'Shotgun Marriage' the aircraft and other assets of Western Air Express and T.A.T.-Maddux were transferred on 24 July 1930 to a single company, named Transcontinental & Western Air (TWA).
In August 1932, Jack Frye, then Vice President-Operations of TWA, sent a famous letter to Donald Douglas with specifications for a desired new, modern aircraft type.  This resulted in a single Douglas Aircraft DC-1 prototype, delivered to TWA on 1 December 1933.  The unique DC-1 served as publicity for TWA, and here are two postcards.
Based on the DC-1, Douglas and TWA decided to lengthen the aircraft by two feet, thereby raising the number of seats from 12 to 14. This and other improvements became the DC-2, with the first being delivered to TWA on 18 May 1934, followed by 30 more. The DC-2 represented a tremendous improvement over all other airline types then in operation, and it transformed airline service.
The DC-2 was followed by the even more advanced Douglas DC-3, including a sleeper version called the DC-3 DST (Douglas Sleeper Transport).  The DC-3 exceeded all expectations and became one of the most famous aircraft types in history.  TWA introduced DC-3s to its fleet (initially with the DST version) on 1 June 1937, in transcontinental service.
In May 1940 TWA introduced the four-engine Boeing 307 into service. The Boeing 307 was the first commercial aircraft with a pressurized cabin, allowing it to fly up to 20,000 ft. (6000m), above the often more turbulent weather of lower altitudes. Only 10 examples were delivered — five to TWA and five to Pan American. The aircraft type had a short life due to the intervention of World War II and the post-war development of the Douglas DC-4 and Lockheed Constellation.
On 5 July 1945 TWA received authority to operate trans-Atlantic routes for the first time, breaking the monopoly of Pan American. In February 1946 it started adding to its fleet the first two main post-WWII commercial aircraft types — the pressurized Lockheed Constellation, particularly sponsored by TWA, and as backup the unpressurized Douglas DC-4. Each included some models converted from their initial military types.
TWA changed its full official name to 'Trans World Airlines' on 17 May 1950.  Meanwhile, the airline continued to sponsor and introduce newer and faster versions of the Constellation.  This culminated with its introduction of the Lockheed 1649A Constellation in January 1957, considered by many as the most beautiful airliner ever built.  Although this was still solely a propeller aircraft, TWA called it the 'Jetstream Starliner', knowing that pure jet aircraft were already in production and would soon enter service.
For short-haul service in the 1950s, TWA introduced Martin 202s in 1950 and Martin 404s in 1951. These aircraft types served for about a decade.
TWA entered the pure jet era when it received its first Boeing 707 on 17 March 1959, and the type immediately became its leading aircraft. Its 707 service was launched on 20 March 1959, on its transcontinental New York-San Francisco route.  707s served in TWA's fleet until October 1983.
For short-haul routes in the early jet age years, TWA introduced Boeing 727s and Douglas DC-9s.
In 1965 Boeing initiated development of the first wide body aircraft, the Boeing 747, which was twice the size of the 707.  TWA ordered 12 of them in 1966, and received its first one at the end of 1969.  The type, often called the 'Jumbo Jet' or 'Queen of the Skies' became the pride of TWA's fleet, carrying its banner around the world.
Douglas and Lockheed entered the wide body aircraft market with tri-jets — the DC-10 and L-1011 respectively.  Delta chose the L-1011, eventually operating over 40 at various times between 1972 and 1998.
Boeing then developed the long-haul, wide-body 767 which featured two engines, using less fuel than the three or four-engine wide bodies.  It also had a completely new flight deck design, requiring only two pilots instead of three or more and incorporating computer screens.  TWA introduced this successful aircraft type on 2 December 1982.  On 1 February 1985 a TWA 767 operated the first trans-Atlantic scheduled passenger service under the U.S. Federal Aviation Administration's Extended Twin-Engine Operations ('EROPS', later known as 'ETOPS') which allowed twin-engine commercial aircraft to cross the ocean provided they operate within 120 minutes from an alternate airport (the maximum number of minutes has since been increased).
TWA paid close attention to its cargo operations and issued a few postcards advertising them.  Here is my favorite:
TWA's Douglas DC-9 fleet for short-haul service expanded with successive larger models, culminating with the DC-9-82, subsequently called the MD-82 (entered TWA service in 1983) and the MD-83 (entered TWA service in 1987).  On 26 September 1986, the regional air carrier Ozark Air Lines, which also had a significant fleet of DC-9s and MD-80s, was merged into TWA.
From time to time TWA entered into arrangements with several commuter airlines that acted as feeders to its main operation.  Although operated by the local airline concerned, the flight and aircraft would be branded as 'Trans World Express'.  Here is one postcard example:
In September 1995 TWA unveiled its final livery, featuring "Trans World' titles and a stylized world map.  Its final postcards show this livery.
In 1985 TWA, while battling a takeover attempt by the notorious Frank Lorenzo and his company Texas Air Corporation, found itself taken over instead by corporate raider Carl Icahn. Icahn orchestrated the merger of Ozark Air Lines into TWA in 1986, burdening TWA with excessive debt. His subsequent maneuvers further contributed to financial difficulties for the airline.  TWA went through 'chapter 11' bankruptcy reorganization proceedings twice, in 1992 and 1995, but it never fully recovered.  In 2001 American Airlines acquired TWA, ending a remarkable 75-year span for one of the world's pioneering and most highly respected airlines.
Notes:  Originals of all the postcards illustrated are in the author's collection.  My estimate of their availability: Rare: the Western Air Express F-32 at Glendale, Maddux Ford Tri-Motor with route map, TWA DC-1 interior, DC-2 in flight and DC-2 cockpit, DC-3 at Burbank, and Constellation 049; Uncommon: the TAT-Maddux Curtiss Condor at Port Columbus; TWA DC-1 at Glendale, TWA DC-3 at night; Boeing 307 in flight and interior; DC-4 over Cairo, Martin 404 at Wichita, 747 and crew, 727 at Cleveland, L-1011 Brussels issue, and TWA Cargo cards.  The rest are fairly common.
References:
Davies, R. E. G., 'TWA: An Airline and Its Aircraft', illustrated by Mike Machat, 112 pages (Paladwr Press, 2000).
Cearley, George W., Jr., 'TWA: A Pictorial and Illustrated History of Trans World Airlines 1925 – 1987', 136 pages (self published, 1988).
Proctor, Jon, 'TWA 1925 – 2001', 64 pages (Airways Classics No. 6, 2012).  The late Jon Proctor had a career with TWA spanning 28 years, including in-flight management positions.  He is remembered as an outstanding airline historian and gentleman.  He is the first recipient of the new annual 'Paul Colllins' award for excellence in serving the airline history community, awarded to him earlier in 2020 by the World Airline Historical Society.
I hope you enjoyed this article on TWA and its postcards, and until next time,
Happy Collecting,
Marvin G. Goldman
Trackback from your site.