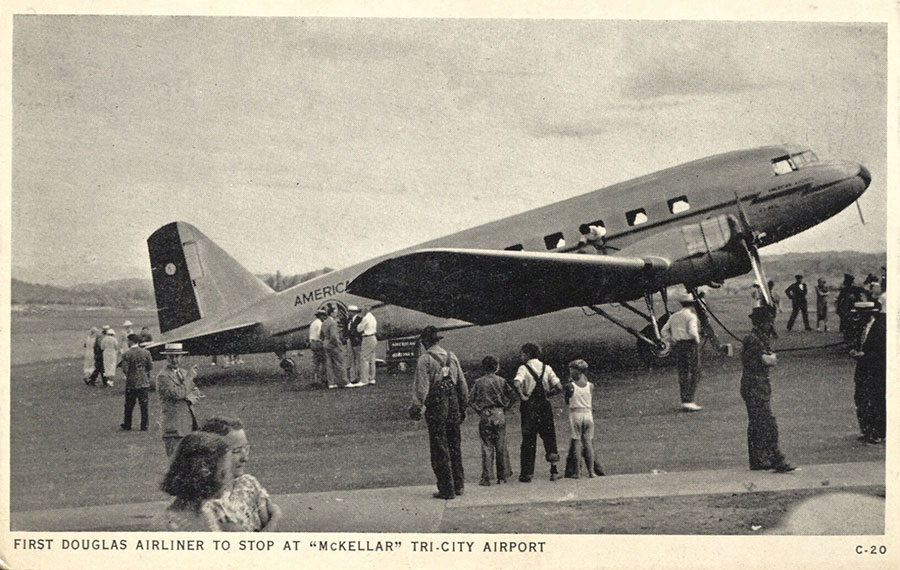 American Airlines Postcards
American Airlines on Postcards
Written by Marvin G. Goldman
In March 1929 a group of airline investors formed a holding company called The Aviation Corporation ('AVCO') which proceeded to acquire and combine over 80 small airlines launched between 1926 and early 1929. In January 1930, AVCO's airline subsidiaries were reorganized and incorporated into 'American Airways', and in April 1934 American Airways became transformed into American Airlines, Inc.
Postcards of individual airline predecessors of 'American Airways' range from uncommon to rare to nonexistent. One of these predecessors, which did issue a few postcards, was Colonial Air Transport. Founded in 1926, Colonial began passenger service between New York and Boston in April 1927. Ford Trimotors entered its fleet in early 1929, and that year Colonial became one of the component airlines of AVCO which in turn became American Airways in 1930.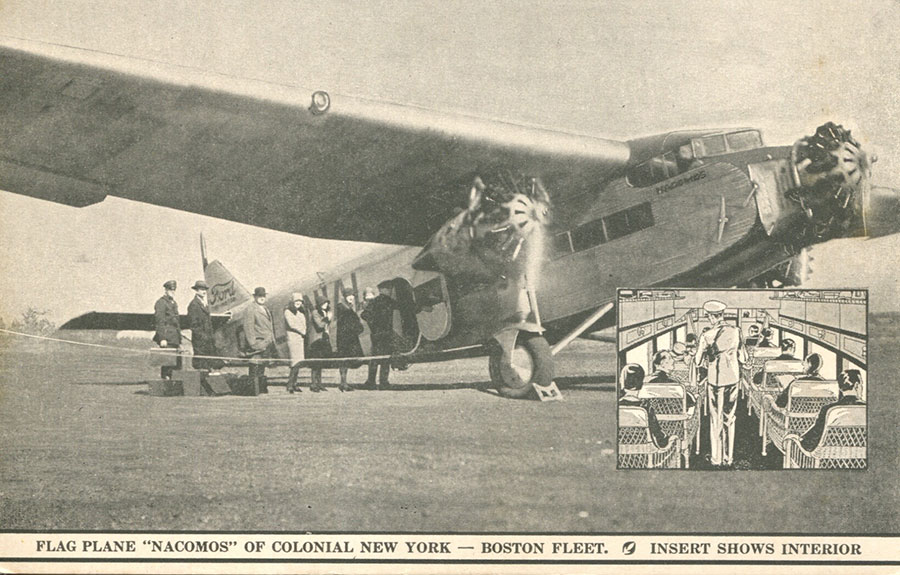 Colonial Air Transport Ford 5-AT-B Trimotor. Airline Issue (A/I), probably in 1929. The card's back states: "The Flagplane 'Nacomos' of the Colonial Air Transport and her sister ships, the 'Nemissa' and 'Nonantum' fly regularly along the skyway between New York and Boston. These giant tri-motored cabin cruisers carry 12 passengers, 2 pilots and a cabin steward. Two trips are made daily, with an average flying time of but 1 hour and 45 minutes."
'American Airways' (1930-34) issued only a few different postcards. All are hard to find, and here is one of them: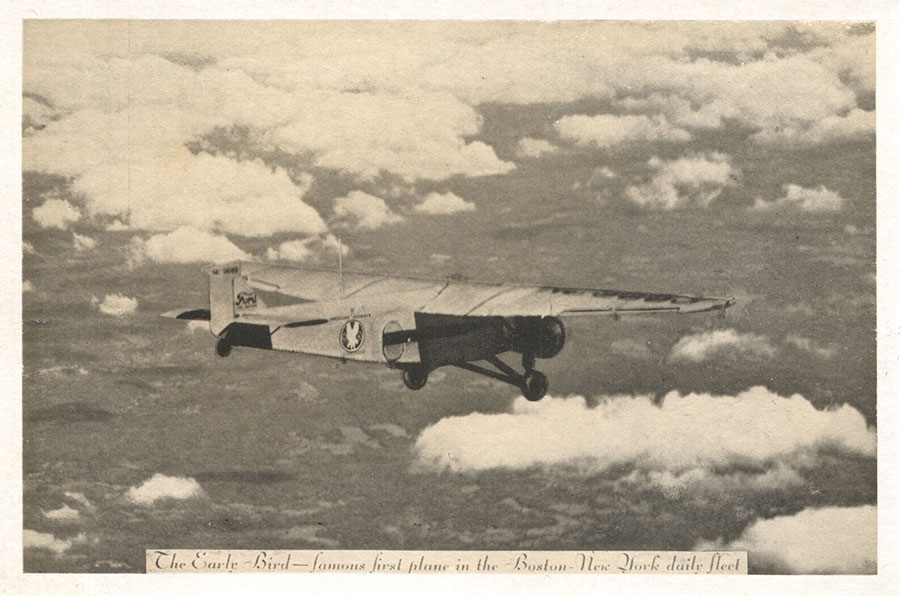 American Airways Ford 5-AT-B Trimotor. A/I between 1930 and 1934. Printed by Lumitone Photo Print, New York. The back says 'On Board AMERICAN AIRWAYS'
In 1933 American Airways introduced the Curtiss T-32 Condor aircraft, and following the April 1934 transformation into 'American Airlines', the latter started utilizing the Condors for the first sleeper service in the U.S. The Condor was also the last biplane built in the U.S. for commercial airline service.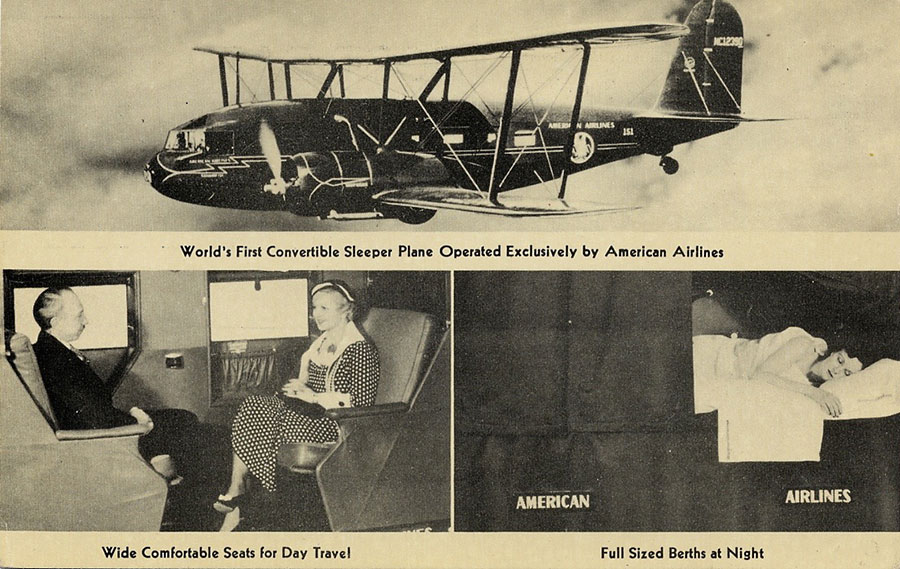 American Airlines Curtiss AT-32A Condor, NC12390. A/I, probably 1934. The postcard back says: "These huge sleeper planes have a top speed of 190 miles per hour, are equipped with 12 full length berths and fly nightly on regular schedule between New York and Chicago and from Los Angeles to Dallas – Ft. Worth on the Southern Transcontinental, the Fairweather route, between California and New York."
Also in 1934, American Airlines introduced the Vultee V-1 aircraft. American used the Vultee on routes from the Great Lakes to Texas. According to noted airline historian Ron Davies, the Vultee V-1s were the fastest commercial airliners of their day, but they also symbolized the end of the single-engine era.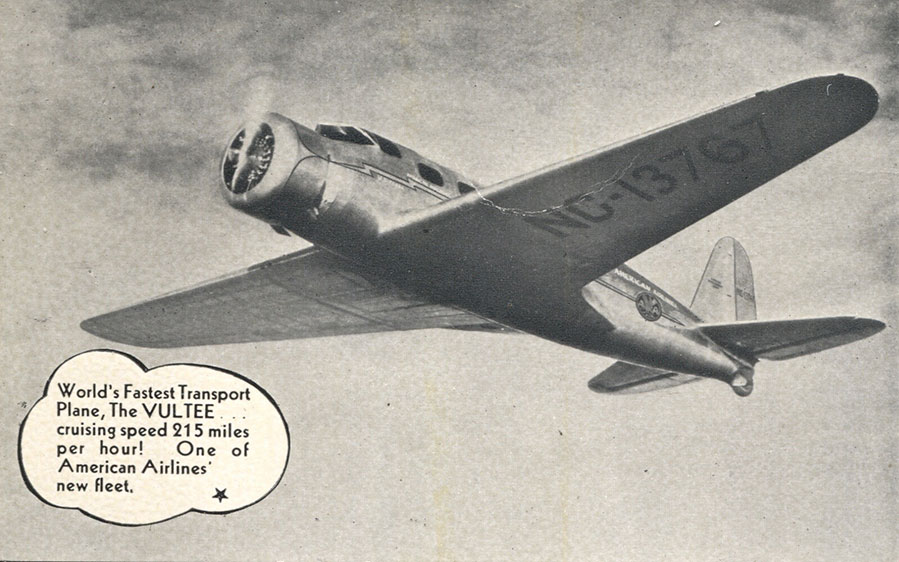 American Airlines Vultee V-1, NC13767. A/I, probably in 1934. The postcard back claims that American Airlines is 'Largest in the United States' and that 'American's fleet of fast Vultees is making air travel history'. 
In December 1934 American introduced to its fleet the more modern Douglas DC-2 (which had first flown on scheduled service with TWA the previous May).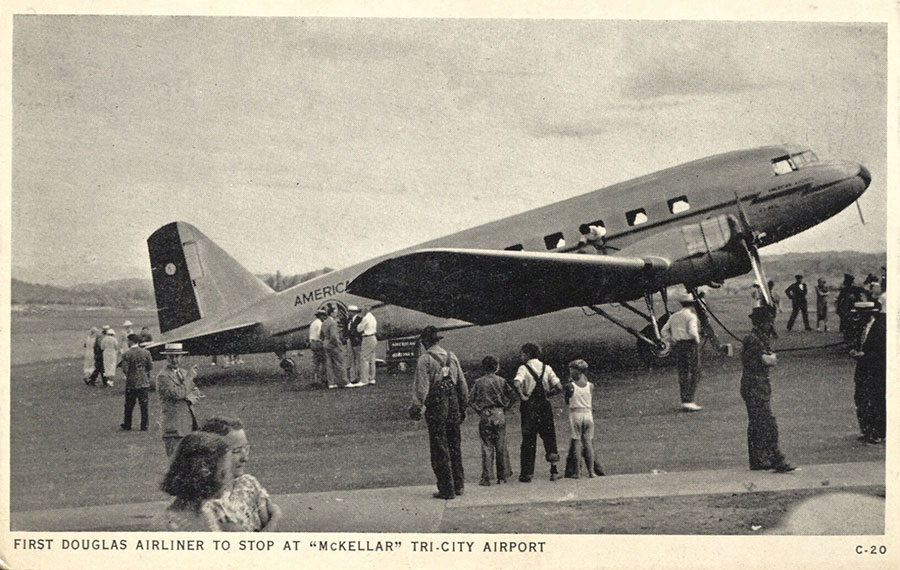 American Airlines Douglas DC-2 at McKellar Tri-City Airport (now Tri-Cities Regional Airport), Tennessee. Airport card no. C-20, printed by Fort Wayne Printing Co., Fort Wayne, Indiana. I love the country folk viewing the 'modern' aircraft in this postcard. I acquired two copies of this rare card at a local postcard show about 25 years ago, kept one, and traded the other to Allan Van Wickler. I presume that trader eventually went to the Smithsonian National Air and Space Museum along with the rest of Van's postcard collection that he donated to them.
At the initiative of legendary American Airlines president C. R. Smith, Douglas Aircraft developed the famous classic DC-3 aircraft as a successor to the DC-2. American placed the first order for the DC-3, with half of them being the Douglas Sleeper Transport ('DST') variant, and American was the first to operate the DC-3 in commercial passenger service — on 25 June 1936. With the DC-3 American started calling its airliners 'Flagships'.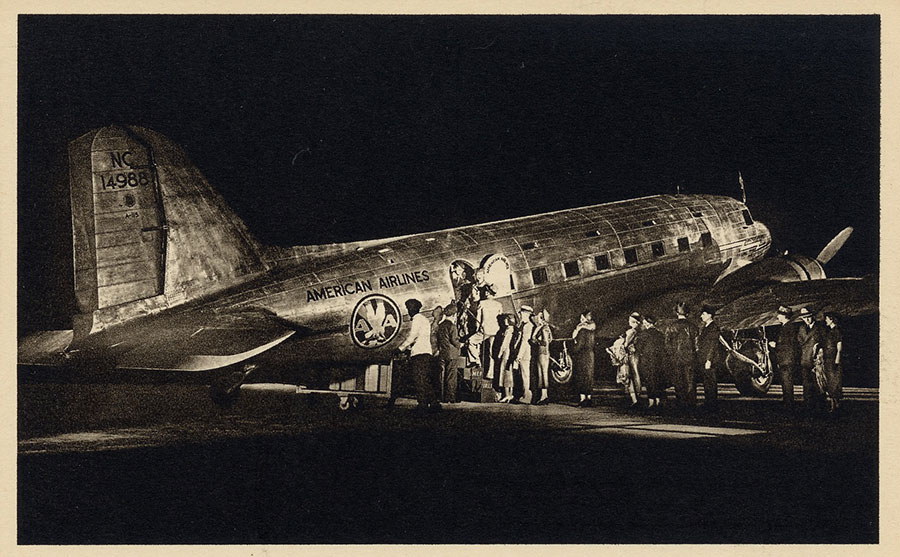 American Airlines Douglas DC-3, Douglas Sleeper Transport ('DST') variant, NC14988. A/I, no. A-160-A. The postcard back says:"Passengers boarding the world-famous 'American Mercury'…giant Flagship Skysleeper overnight from New York to California. American Airlines, Inc. is the original sleeper plane line."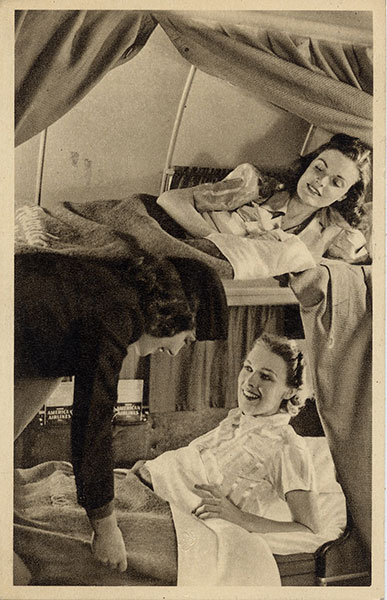 American Airlines Douglas DC-3, DST, Interior Sleeping Berths. A/I, no. A-245-F.
Written messages on postcard backs are often informative and can enhance the value of particular cards. Here is the back of the preceding DC-3 sleeper transport card, written in March 1939 during a New York to Los Angeles transcontinental stop in Dallas, Texas, which even back then was a primary American Airlines hub.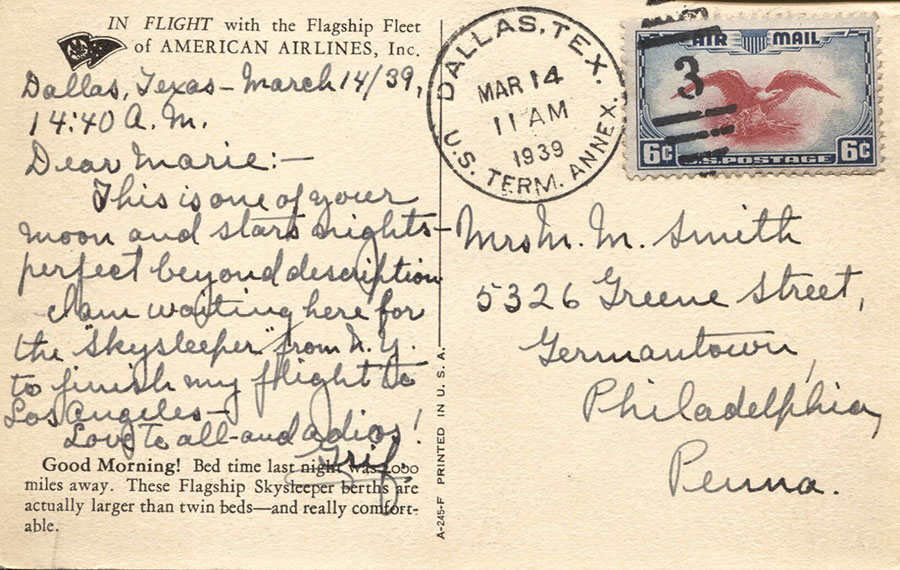 Postcard Back of American Airlines DC-3 DST Sleeper Berth card no. A-245-F.   American called this transcontinental flight its 'favorable Southern All-Year Route', flying overnight from New York, coast-to-coast service with 'only 3 stops' and no change of planes, arriving in Los Angeles in the early morning. 
During the 1930s American (as well as Eastern and United) issued map postcards publicizing their routes. The following one issued by American and distributed on board encouraged passengers to mark their route in pencil and mail it to relatives and friends.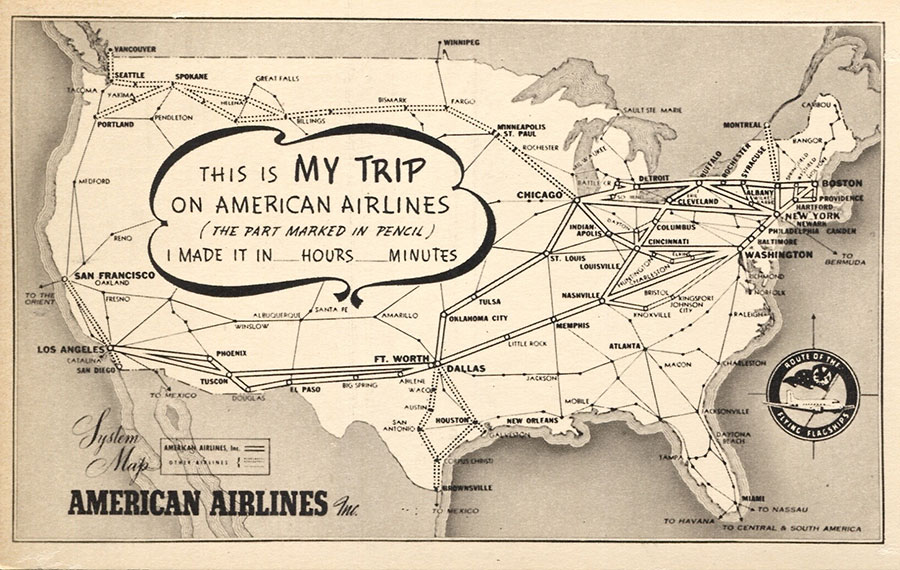 American Airlines Route Map Postcard, A/I, no. A-245-C, issued about 1939. There are at least two variants of this card showing slight route changes.
The postcard back says: "This flight–marked out in pencil on the map–is a fine example of the real way to travel. With freedom from tipping, complimentary meals, and no 'extras,' it's not hard to figure a saving of money as well as time."
Around 1945 American issued several color postcards of its DC-3s, most of which are quite common. American DC-3s were also featured on many airport postcards, and here is one from a series of Washington National Airport cards: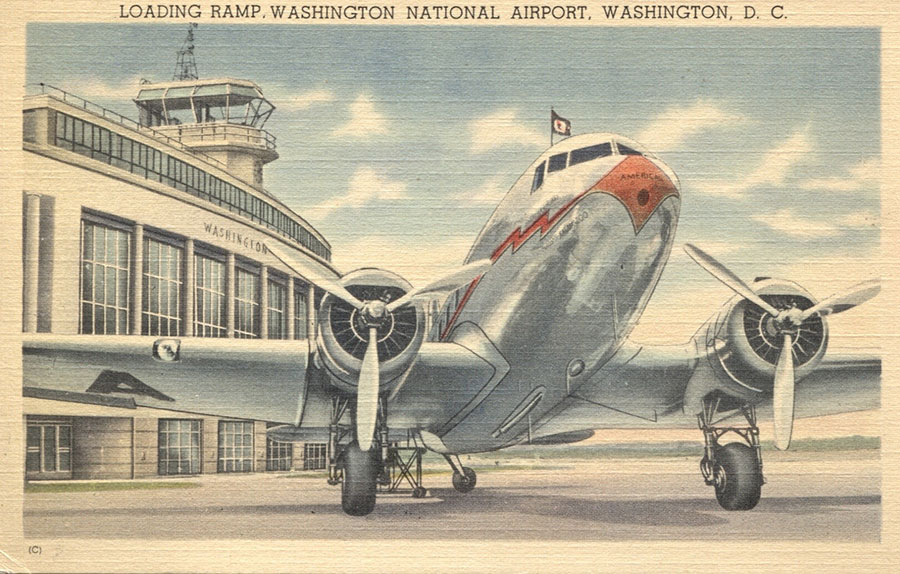 American Airlines Douglas DC-3 at Washington National Airport. Pub'r Air Terminal Services, Washington National Airport; Printer Capsco, Card 'C'. 'Linen' finish.  
Starting in 1946, following the end of World War II, American introduced to its fleet four-engine Douglas DC-4s followed successively by DC-6s (1947) and DC-7s (1953). It also placed in service two-engine Convairs, being the first airline to order the model 240. Many postcards feature these propeller types. Here are a few.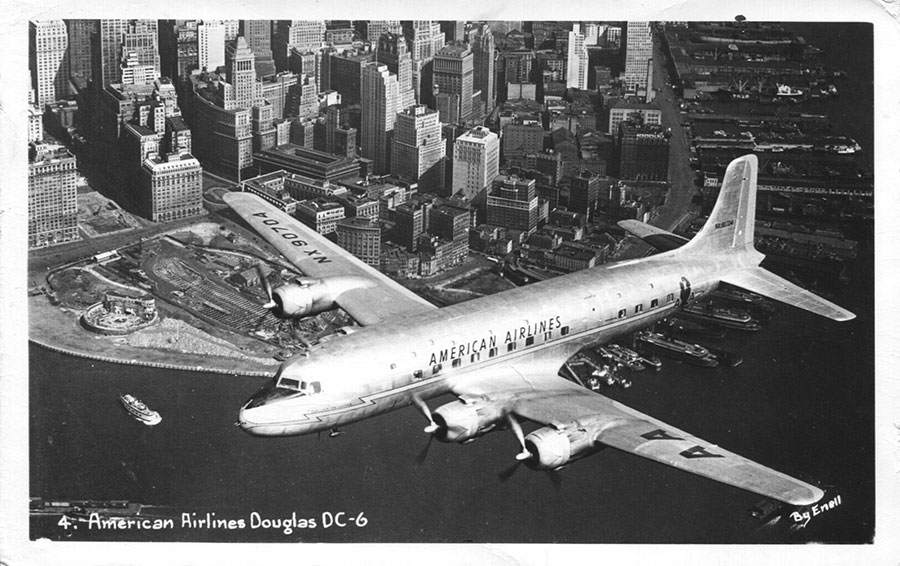 American Airlines Douglas DC-6 over Manhattan.   Real photo postcard by Enell, no. 4. American was the first operator of the pressurized DC-6.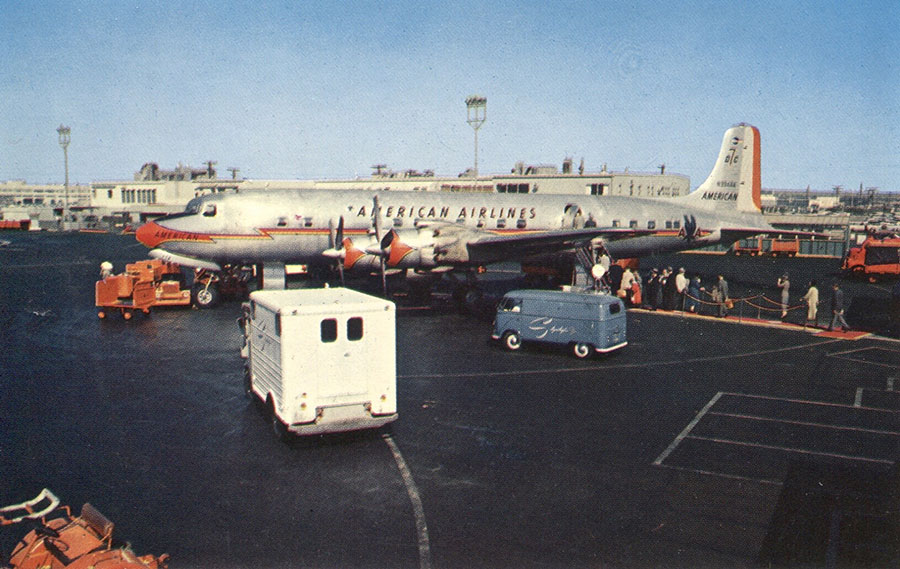 American Airlines Douglas DC-7, N334AA 'Flagship Vermont', at Los Angeles International Airport. Photo by Bill Eccles. Pub'r H. S. Crocker Co., Los Angeles, no. LA-1095. This aircraft was with American from 1956 to 1962. The nose of this DC-7 is on display at the Smithsonian National Air and Space Museum, Washington DC.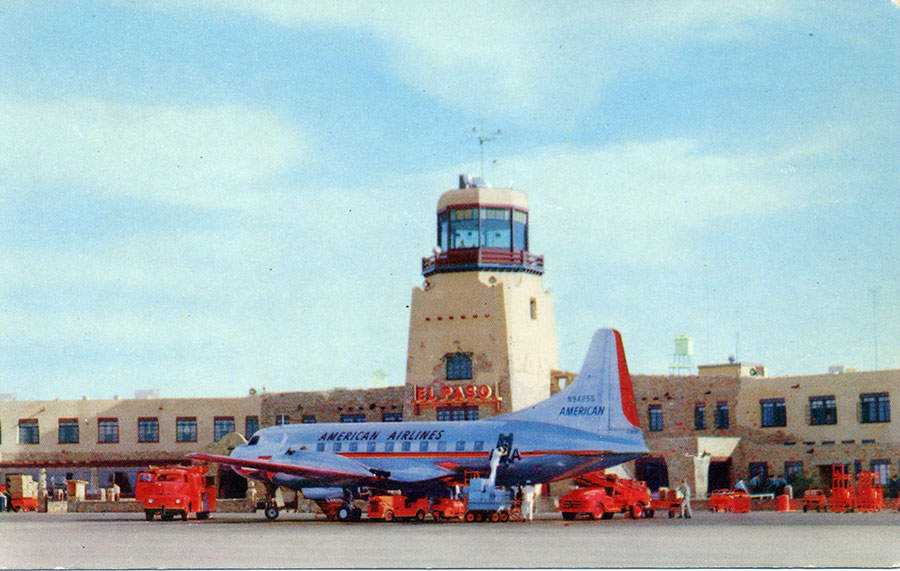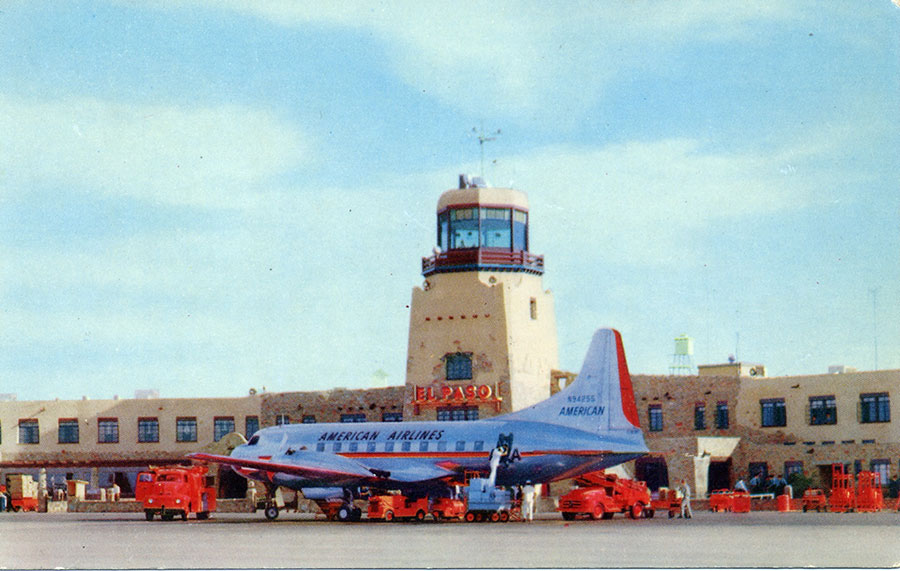 American Airlines Convair 240, N94255, in fleet 1948-1953, at El Paso International Airport, Texas. Pub'r Petley Studios, El Paso, no. 653.
American became the first airline to order the turboprop Lockheed Electra, and the type entered service with American in January 1959, just a few days after Eastern.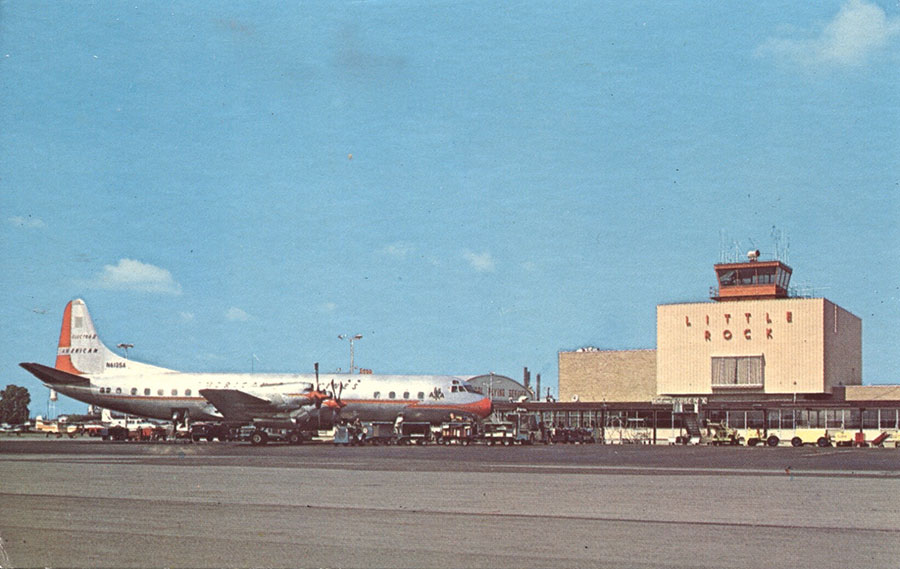 American Airlines Lockheed L-188 Electra, L6125A, at Little Rock Municipal Airport, Arkansas. Pub'r Siebert News, Little Rock, Colourpicture no. P61020 L-7. Ex Deke Billings collection.
American entered the jet age with the Boeing 707. On 25 January 1959 American became the first airline to start domestic pure jet service in the U.S. with its own aircraft, its first 707 route being the prestigious nonstop transcontinental route between New York and Los Angeles. My own first flight with American was in May 1965 on one of their Boeing 707s, when I moved from Los Angeles to New York. This was the first of over 230 flights I've had on American. It was a great feeling to fly on American's 707s, and this postcard tells it all.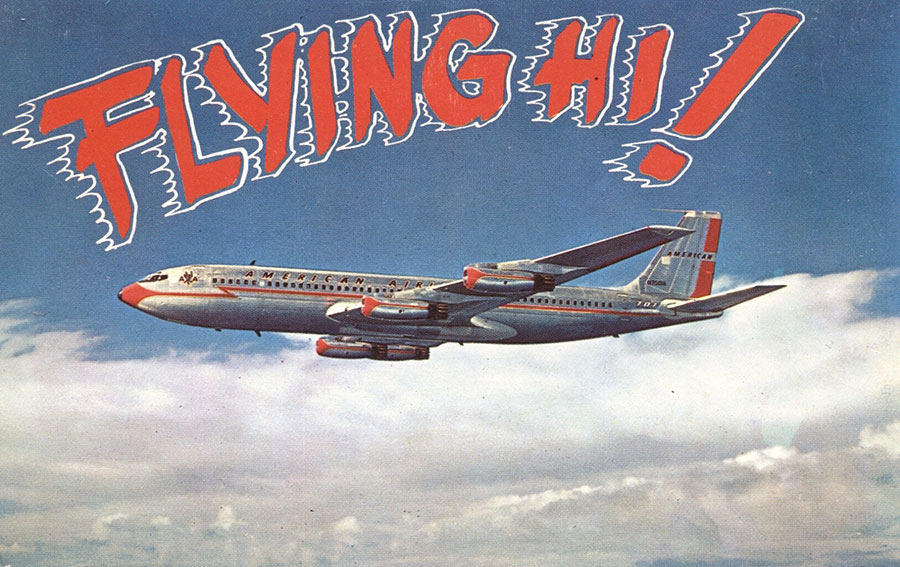 American Airlines Boeing 707 'Flying Hi'. Pub'r Colourpicture, Boston Mass. no. P31749.
American also ordered Convair jets to its own specifications, which became the Convair CV-990, seeking an even faster transcontinental jet than the 707. However, this type's entry into service was delayed until March 1962, and it proved less economical than the 707.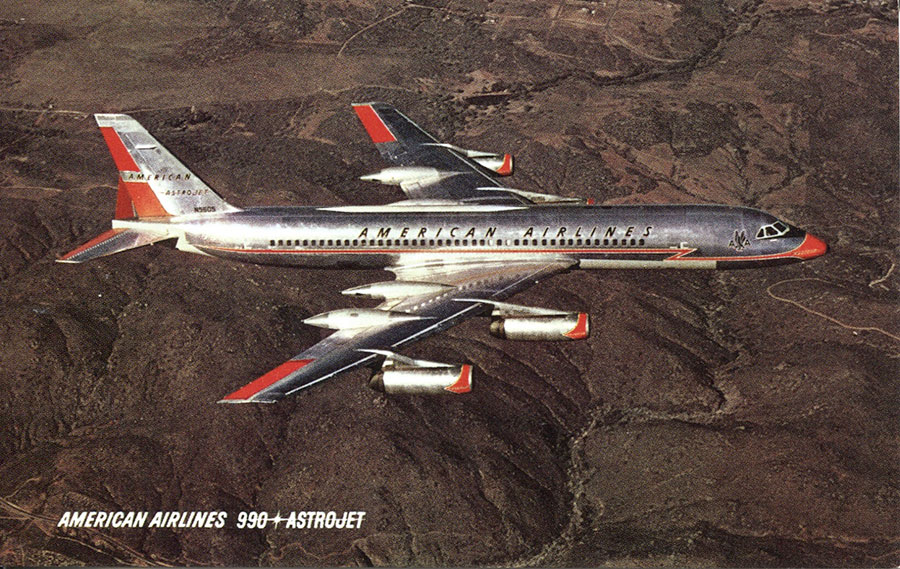 American Airlines Convair CV-990A. A/I no. T-151-12B, probably 1962. The postcard back calls the 990A 'the most advanced jet airliner in commercial operation'.
The four-engine jets were soon followed by the classic workhouse short-haul tri-jet, the Boeing 727, operated by American starting in April 1962.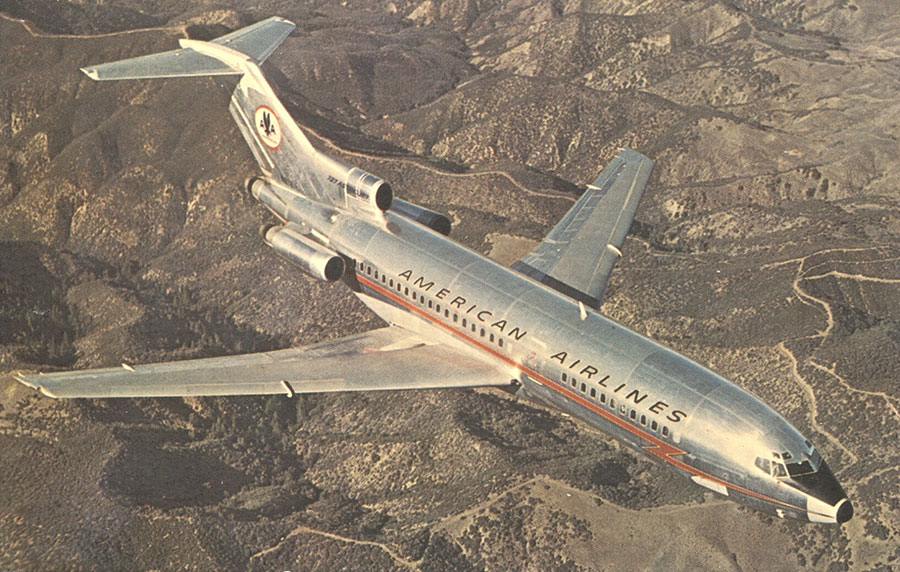 American Airlines Boeing 727. A/I no. T-152, probably 1962.
In March 1966 American added to its fleet two-engine pure jet British Aircraft Corporation BAC 1-11-400s. Here is the front and back of an unusual postcard-sized card issued by American, apparently by its Chicago office, which has a local Chicago to St. Louis timetable on its back.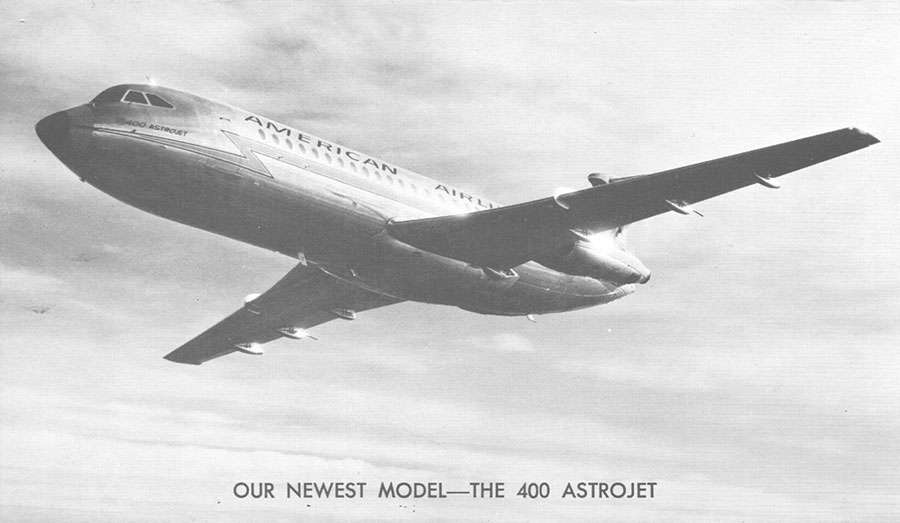 American Airlines BAC 1-11-400. A/I, 1966, apparently by American's Chicago office. Ex Deke Billings collection. The timetable on its back shows flights between Chicago and St. Louis being operated by four different aircraft types of four different manufacturers! — Douglas DC-6, Lockheed Electra, Boeing 727, and the highlighted BAC-1-11-400s. Take your pick!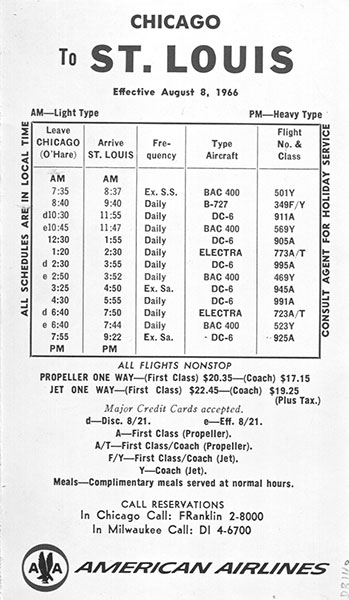 Back of foregoing American Airlines BAC 1-11-400 card.
In March 1970 American placed into commercial service the Boeing 747 jumbo jet, the first wide-body two-aisle aircraft.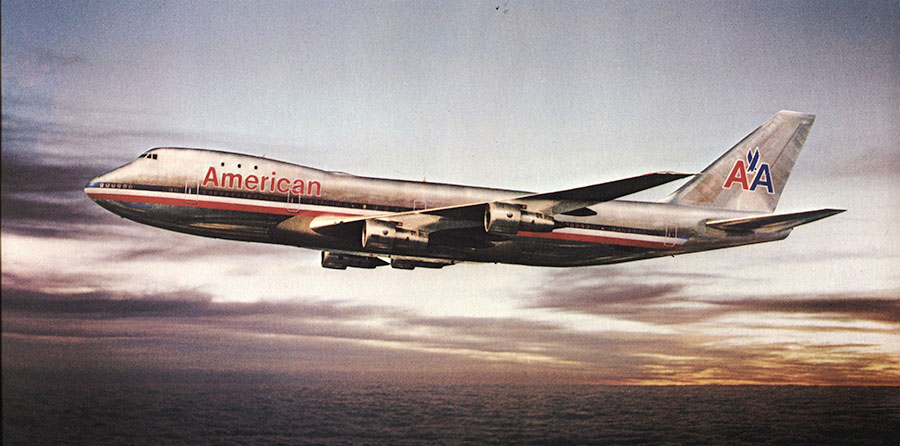 American Airlines Boeing 747-100. A/I no. T152, 1970. 12.7×25.4 cms. (Naturally, for a jumbo aircraft American had to issue a jumbo postcard).   The livery shown was introduced in 1967 and continued as American's main color scheme until 2013. Waiting at JFK Airport to board an American Airlines 707, flight 1 to Los Angeles, on 27 February 1970, I noticed a large crowd gathering at a nearby gate and gawking at the most humongous plane I had ever seen. American had parked their first brand new 747-100 so their local cabin and ground crews could practice their new work duties. That was my first actual view of a 747. Two weeks later, on my return flight 'AA 2' from LAX to JFK, I flew in a new American 747. 
Meanwhile, Douglas Aircraft developed the wide-body tri-jet Douglas DC-10, and American became the first operator of the type, a DC-10-10, on 5 August 1971.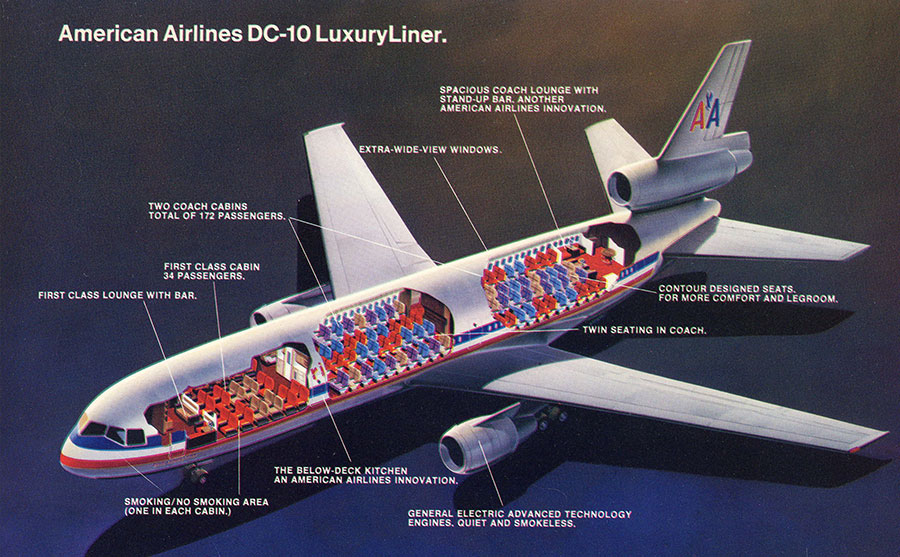 American Airlines Douglas DC-10-10, Cutaway View. A/I, 1971. 15.2×22.8 cms. Ex Allan Van Wickler collection.
Except for operating later series of the 747 and DC-10, and the MD-11, all of American's subsequent aircraft types have been two-engine aircraft.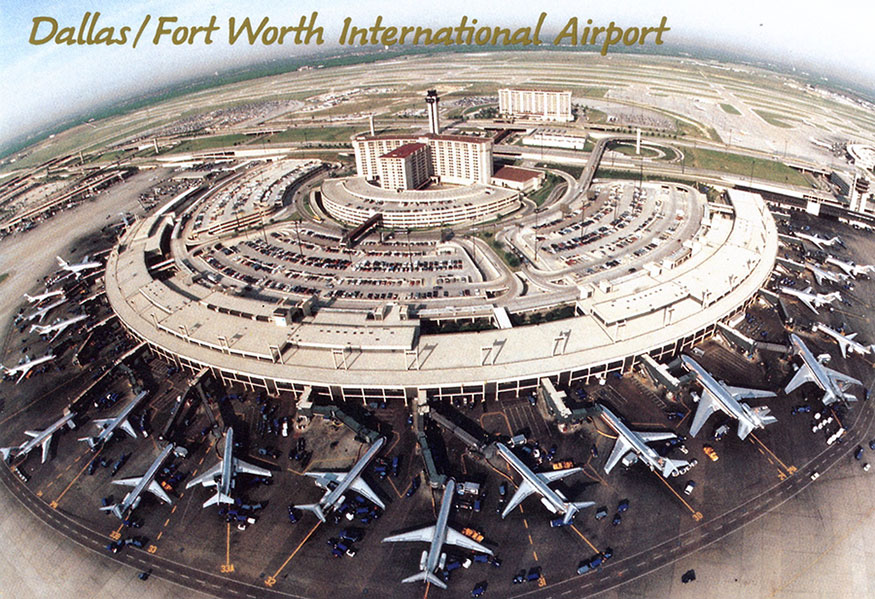 American Airlines MD-80 series aircraft at Dallas-Fort Worth International Airport, Pub'r The Texas Postcard Co., Plano TX, no. D-150 711. For short hauls, the MD-80 series aircraft became a classic workhorse for American, and they were heavily utilized at American's DFW Airport hub. At the southern end of DFW, in Fort Worth, Texas, American maintains its world headquarters, flight training academy, and the American Airlines C. R. Smith Museum.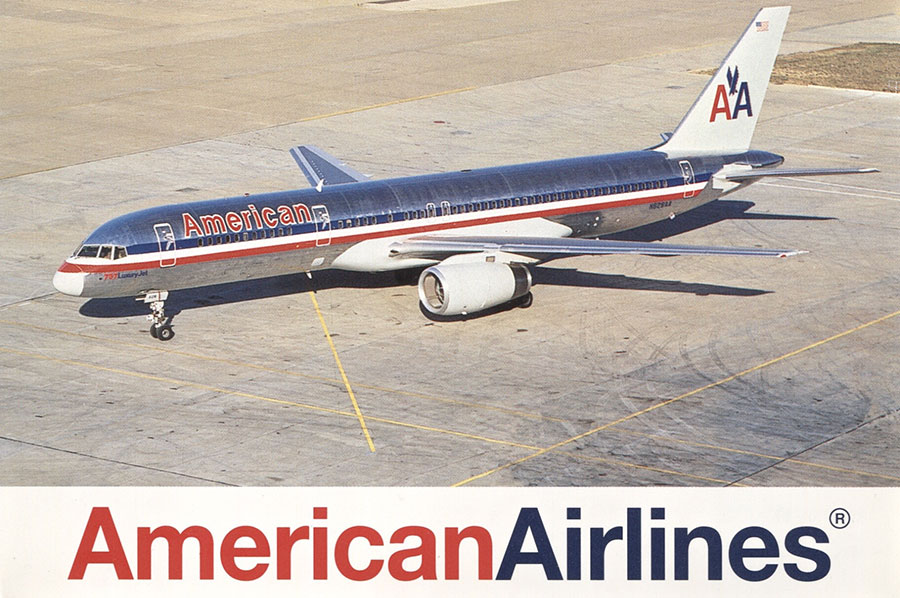 American Airlines Boeing 757. A/I. This card and the next are two of the relatively few postcards issued by American since 1990 that show aircraft.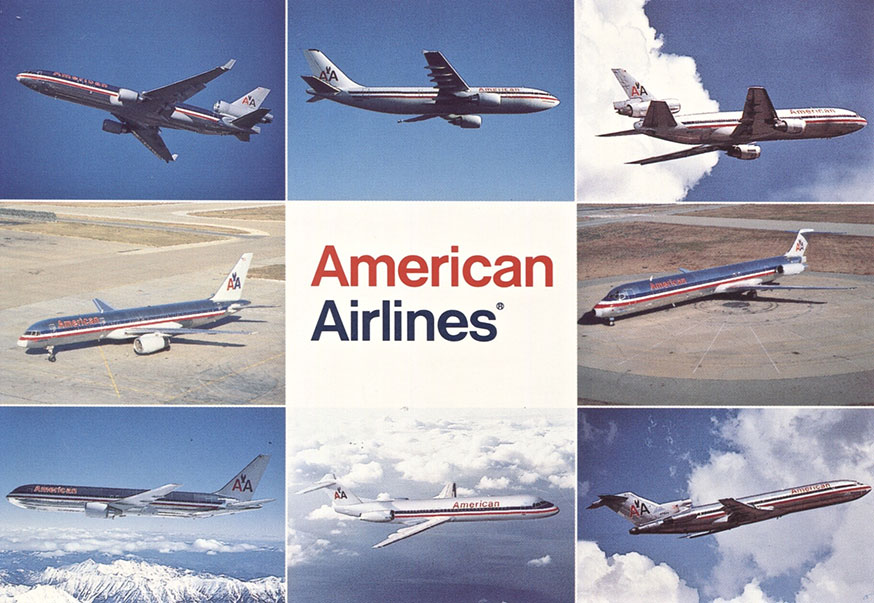 American Airlines 8-Airliner View Card. A/I. Part of a series of postcards issued between 1991 and 2001, at the same time as the preceding card.
I do not have a postcard issued by American that shows its new aircraft livery introduced in 2013. However, for those postcard collectors who also collect airline-issue postcard-sized advertising cards, particularly those featuring aircraft, here is a beautiful American airline-issue card featuring their Boeing 777 in the new livery. The back of the card advertises American's 'Travel Center' in New York City.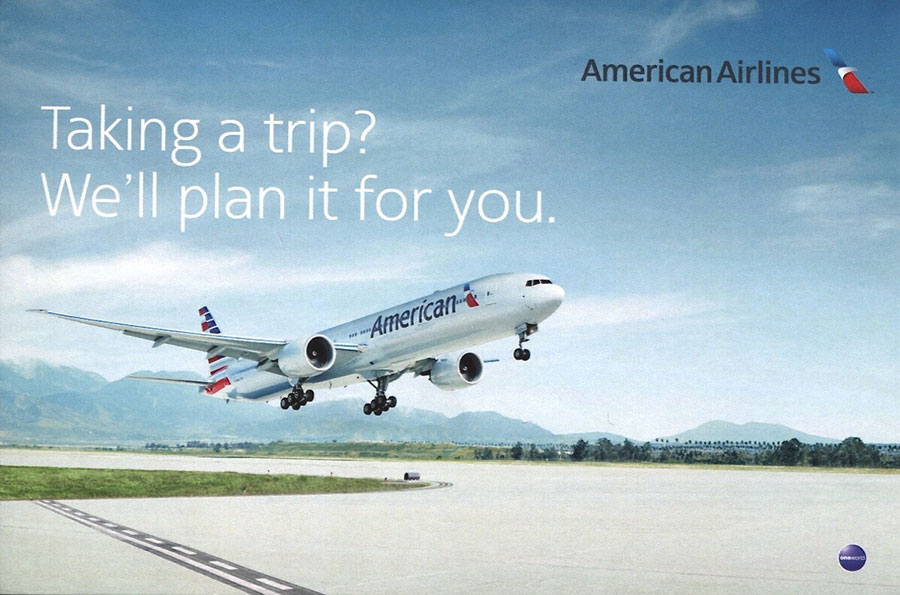 American Airlines Boeing 777-300ER in New Livery. On 17 January 2013 American unveiled its new livery on its first Boeing 777-300ER aircraft which went into service later that month. Advertising card issued by American's New York City Manhattan office in 2015.
Over the years American Airlines has acquired several other airlines. Here is a selection of postcards issued by airlines that became absorbed into the American Airlines system.
In 1945 American acquired American Export Airlines and renamed it American Overseas Airlines ('AOA'). AOA was utilized for trans-Atlantic routes to Europe, particularly London, Copenhagen and Hamburg. American Airlines eventually sold AOA to Pan Am in 1950.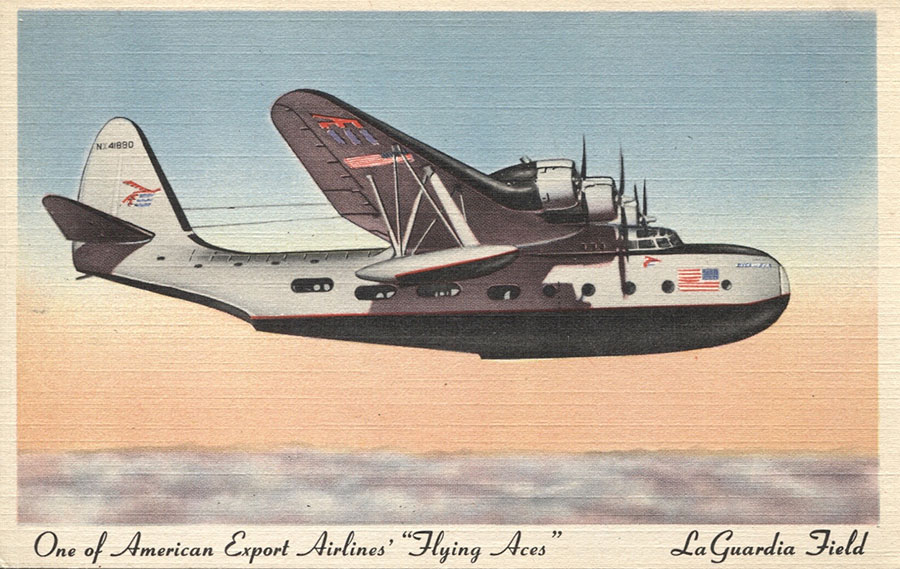 American Export Airlines Vought-Sikorsky VS-44 'Excalibur', NX41880. Part of the LaGuardia Airport series of 21 cards issued in 1944 or 1945. Pub'r Harry H. Baumann, New York NY, no. E-6202. 'Linen' finish. A companion card with a different VS-44 view is also part of the set as no. E-6203.
Noted airline postcard collector Doug Bastin of Chester, England, sent to me scans of several rare American Overseas Airlines postcards from his collection for possible use in this article. Here are three of them.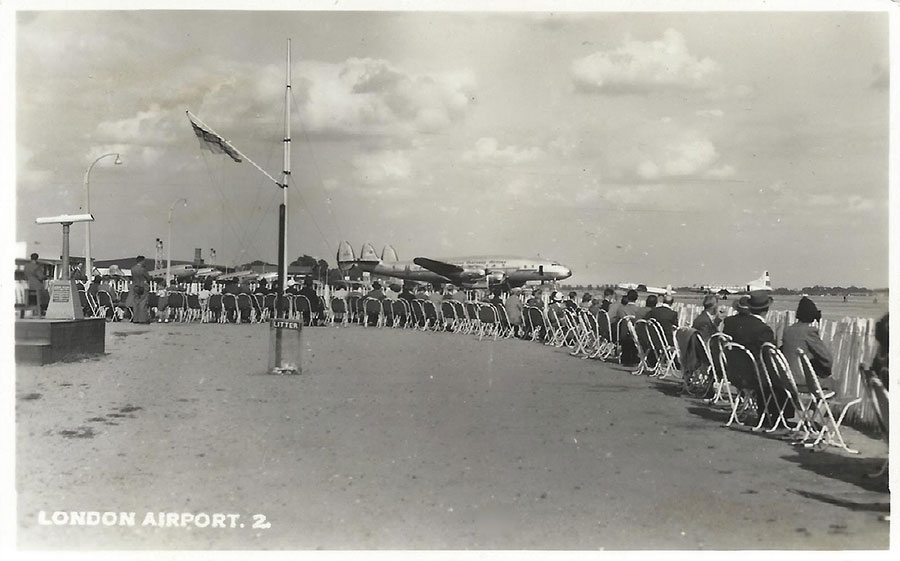 American Overseas Airlines Lockheed Constellation at London Heathrow at the original temporary hutted terminal, viewed from the first public viewing facility. (Now, how's that for a great plane spotter's view?). Pub'r E A Wilson. Doug Bastin collection.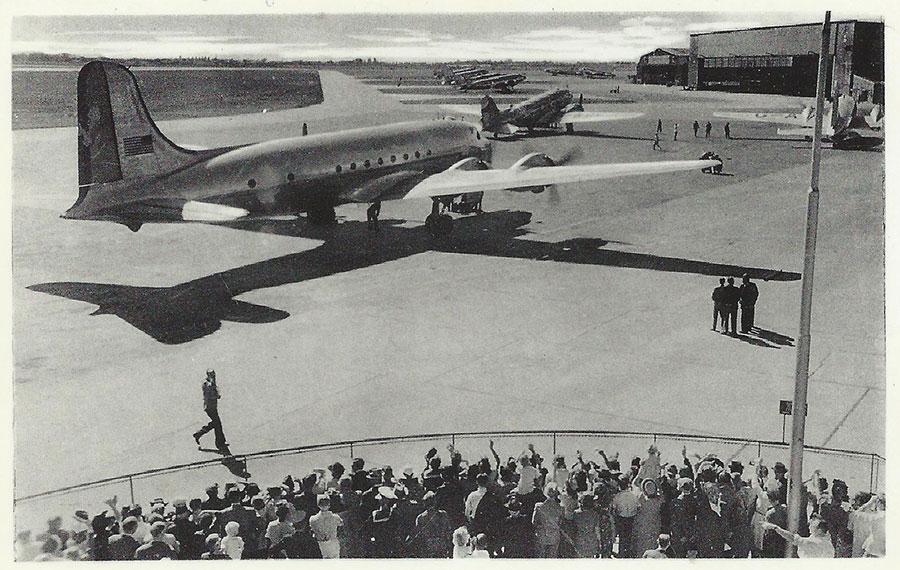 American Overseas Airlines Douglas DC-4 at Copenhagen. Pub'r F. Munthe no. 5572. Doug Bastin collection.   According to Doug, there is a companion card, no. 5573, showing AOA DC-4 N90906, Flagship Copenhagen' with AOA titles, being refueled at Copenhagen, and it's possible the titles were removed from this no. 5572 postcard image following the sale of AOA to Pan Am.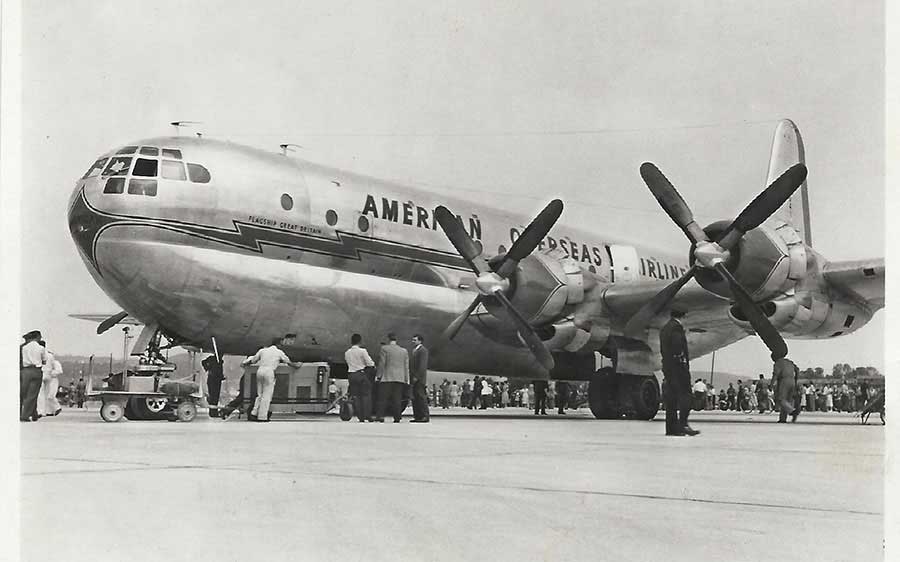 American Overseas Airlines Boeing B-377 Stratocruiser, N90941 Flagship Great Britain, at Zurich. Swissair Photo no. 5199. Doug Bastin collection. According to Doug, the image clearly shows the Curtiss propellers unique to the AOA and United Airlines fleets. A companion card, no. 5200, shows a different view of this aircraft in Zurich, apparently taken at the same time. Bruce Charkow's original of that companion card appears in the postcard column of The Captain's Log 'Majestic Propliners' issue, Spring 2013.
Other significant airlines acquired by American Airlines from the 1970s to the present include Trans Caribbean Airways, Air California, Reno Air, TWA and US Airways. Here is a postcard selection.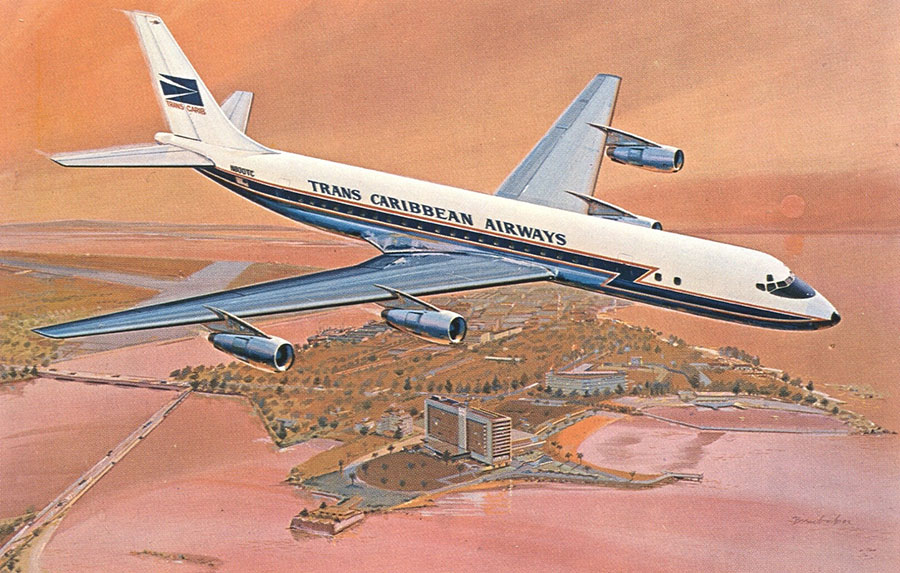 Trans Caribbean Airways Douglas DC-8. A/I. Trans Caribbean operated mainly from New York, and also from Washington DC, to Caribbean destinations. Trans Caribbean merged into American Airlines in 1971.
Air California Boeing 737-200, N463GB, in fleet 1968-72. A/I no. 160578, postmarked 14 January 1970. Ex Deke Billings collection. Air California was founded in 1967, initially to operate flights within California out of Orange County airport. It changed its name to AirCal in 1981, and was acquired by American Airlines in 1987.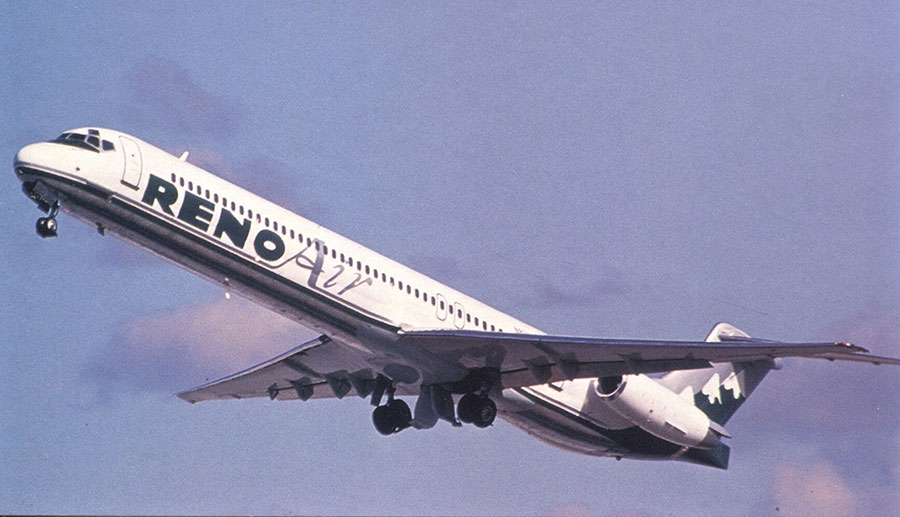 Reno Air McDonnell Douglas MD-80 series. A/I. Reno Air operated from 1992 until 1999 when it was acquired by American Airlines.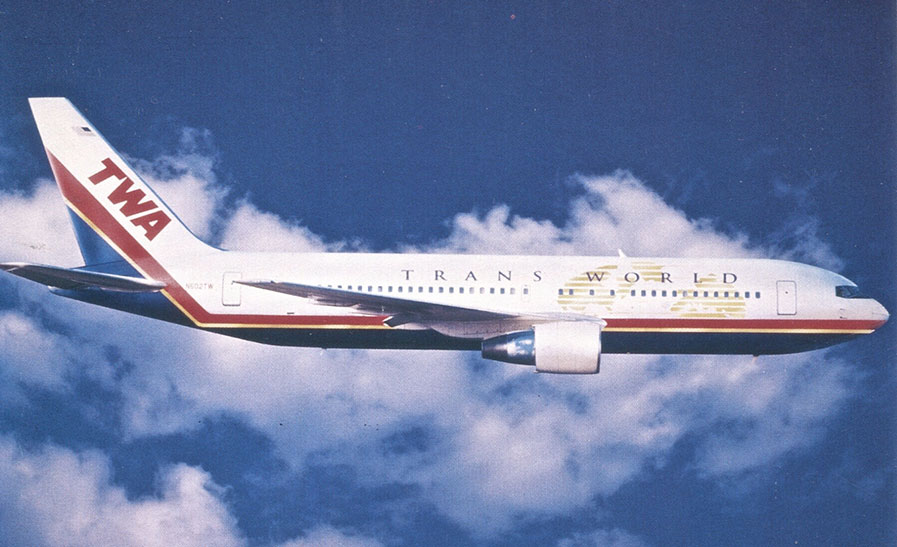 Trans World Airlines (TWA) Boeing 767-200 in the airline's last color scheme before being acquired by American Airlines. A/I. Printer, Platz Press. TWA was one of the most noted airlines in aviation history. It operated from 1925 until 2001 when it was merged into American. TWA was featured in issue 26-1 of The Captain's Log (2001).
US Airways Airbus A330-300. A/I. US Airways traces its history back to 1937. Predecessor airlines include Allegheny (name changed from All American Airways), Lake Central, Mohawk, Pacific Southwest (PSA), Piedmont and American West. In 1979 the airline adopted the name 'US Air' and then changed it in early 1997 to 'US Airways'. The lengthy merger process of US Airways into American Airlines was completed in 2015. The Captain's Log issue of 26-2 (2001) featured US Airways.
'American Eagle' is a brand name started by American Airlines in 1984 as a means of partnering with small regional airlines, with coordination of regional flights to feed into American's network. Aircraft would be painted in an American Eagle livery, but be operated by one of several regional airlines. During 1987-89 American Airlines acquired most of its partner feeder airlines. However, starting in 2012 American Airlines started contracting out its 'American Eagle' brand to increasing numbers of independently owned regional airlines. Here is just one sample postcard of the many airlines that have flown under the 'American Eagle' brand.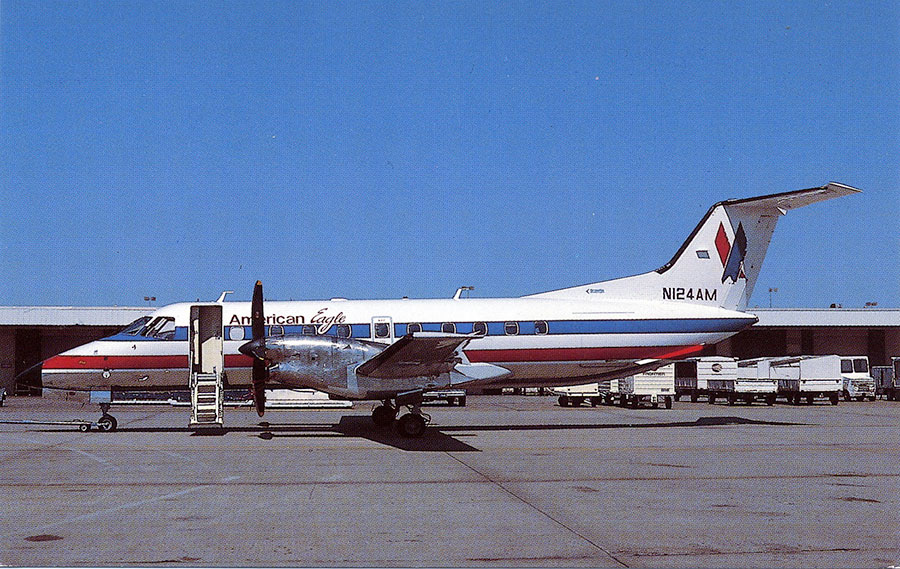 American Eagle Embraer 120 Brasilia, N124AM of Air Midwest at Wichita, Kansas, August 1986. BUCHairCARD 8736. Air Midwest operated from 1985 to 1988 when its assets were acquired by AMR, American Airlines' holding company.  
Notes: Except as noted, all postcards shown are standard or continental size and from the author's collection. I estimate their rarity as follows: Rare: the Colonial and American Airways cards, the American Airlines Curtiss Condor, Vultee, DC-2 and BAC 1-11-400 cards, and the American Overseas Airlines Constellation and B-377 Stratocruiser cards; Uncommon: the American Airlines two DC-3 DST cards and the DC-6, DC-7, Convair 240, Electra, 747-100 and DC-10-10 cards, and the American Export Airlines VS-44 and American Overseas Airlines DC-4 card; the rest are fairly common.
Airliners International 2016 New Orleans — Postcard Contest.  Many thanks to all who submitted the beautiful entries in the AI 2016 postcard contest.  Congratulations to the prize winners: 1st place, William Demarest, 'Unusual Boeing 727-100 Postcards'; 2d place, John Bretch, 'Convair 880/990', and 3d place, William Baird, 'Fokker F27'.  Thanks also to the three postcard contest judges, Armen Avakian, Rick Neyland, and Peter Winck.
The AI 2017 show in Denver will also have a Postcard Contest.  You are invited to submit an entry–it's fun and also promotes our airline postcard collecting passion.  The contest rules are posted on the AI 2017 website.
References:
Davies, R.E.G. Airlines of the United States since 1914, Smithsonian Press (1972), and Airlines of the Jet Age, Smithsonian (2011).
Bedwell, Don. Silverbird: The American Airlines Story. Airways International (1999).
American Airlines website, aa.com, links at 'About us', 'History of American Airlines' (2016).
Wikipedia online articles on American Airlines and its predecessors and affiliates.
Trackback from your site.