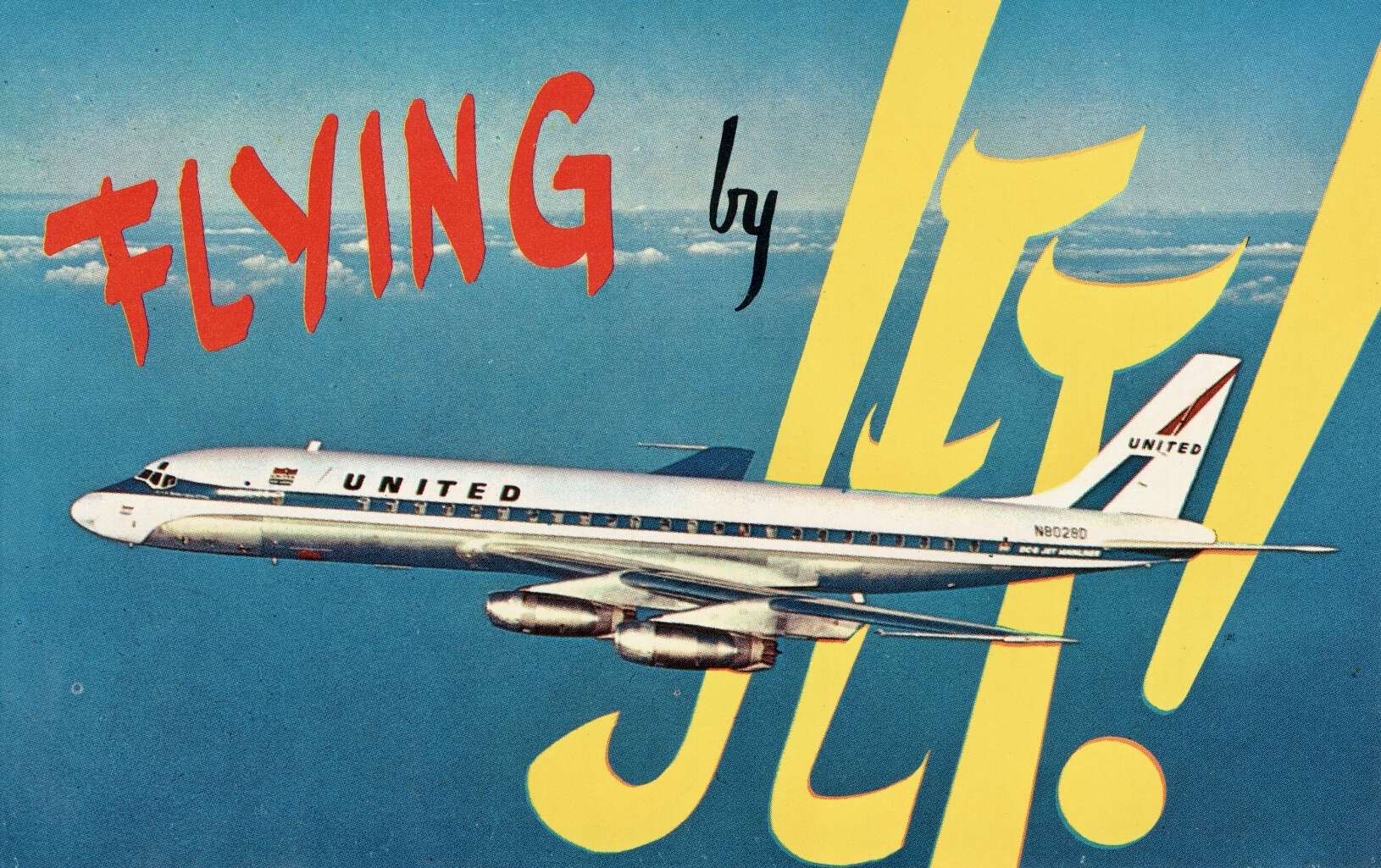 First Generation Pure Jet Commercial Aircraft on Postcards
Written by Marvin G. Goldman
This article covers the earliest pure jet (turbojet) aircraft operated by airlines — the de Havilland Comet, Tupolev Tu-104, Boeing 707, Douglas DC-8, Sud Aviation SE-210 Caravelle, and Convair 880 — all as portrayed on postcards.
The de Havilland Comet 1 was the world's first pure jet aircraft to enter scheduled airline service. It first flew on 27 July 1949 and made its first scheduled airline flight with British Overseas Airways Corporation (B.O.A.C.), on the London to Johannesburg route, on 2 May 1952. The aircraft represented a revolution in airline travel, in terms of speed, comfort and lower maintenance costs.
Jubilation at the introduction of the Comet jetliner, however, soon turned to tragic disappointment, as a series of disastrous fatal crashes of the Comet 1 from October 1952 through April 1954 led to the permanent grounding of the type. Extensive salvage and testing determined that metal fatigue leading to structural failure was the main cause of most of the accidents.
Major changes to the Comet design were made, leading to the 'Comet 4', which featured rounded (rather than square) windows and numerous improvements. The Comet 4 entered commercial jet service when B.O.A.C. operated the first trans-Atlantic jet flight, London to New York, on 4 October 1958. The Comet 4 type was also exported to several other airlines outside the U.K., of which Aerolineas Argentinas was the first purchaser.
Amidst the development of the successful first generation jetliners covered in this article, there is one pioneer type worth mentioning even though only one flying example was produced.  Starting in 1945 Avro Canada, with some initial collaboration by Trans-Canada Airlines (TCA), worked on developing a medium-range regional pure jet.  This resulted in the Avro C102 Jetliner, which first flew in 1949 just a few days after the first flight of the Comet 1.  In April 1950 the sole Avro prototype flew the world's first jet airmail, from Toronto to New York, in 58 minutes, and the crew received a ticker tape parade in Manhattan.  Nevertheless, by then TCA had withdrawn from the project, and other sales prospects did not materialize.
Meanwhile, at the beginning of the 1950s the Soviet Union started development of its own first pure jet commercial aircraft.  This resulted in the Tupolev Tu-104 two-engine medium-range turbojet.  The Tu-104, operated by Aeroflot, was the second jetliner (after the Comet 1) to enter scheduled passenger service, from Moscow to Irkutsk in Siberia, on 15 September 1956.  Moreover, as noted aviation historian Ron Davies has pointed out, the Tu-104 provided the first 'sustained' commercial jet airliner service, because the Comet was grounded starting in 1954 due to accidents and only resumed passenger service in October 1958 in the form of the new Comet 4.
After the British Comet aircraft demonstrated in 1952 that the age of commercial pure jet aircraft was closer than originally imagined, U.S. aircraft manufacturers started work in earnest on their own passenger pure jet aircraft.  Boeing started developing the 707 based on the prototype Boeing 367-80 that originally was designed as a tanker for large U.S. Air Force bombers and had first flown on 15 July 1954.  The resultant 707-100 series made its first flight on 20 December 1957, and the production effort was so intense that the first example was delivered to Pan American less than eight months later — on 15 August 1958.  Airline historian Ron Davies states, "The Boeing 707 clearly ranks as one of the half dozen most significant airliners of all time."
Other airlines raced to join the new jet age revolution.  TWA's controlling shareowner, Howard Hughes, ordered 707s in February 1956.  New York aviation photographer and publisher George Enell even issued the following postcard in 1957 with an artist's concept of what a TWA 707 might look like.
For domestic U.S. pure jet passenger service, the major U.S. airlines tried to outdo one another in being the first to provide it — either with Boeing 707s or with Douglas DC-8s which were being developed simultaneously. This included American, Delta, Eastern, National and TWA. While American and TWA were in line for 707s, Delta, Eastern and National awaited DC-8s which unfortunately were delayed in production.
National, upstaging the other airlines and gaining valuable publicity, leased a 707 from Pan American, and on 10 December 1958 it provided the first domestic U.S. commercial jet service, New York – Miami.
The first domestic U.S. jet service with an aircraft owned by the airline was provided by American Airlines on 25 January 1959. It was transcontinental, New York-Los Angeles, and it was dramatic.
TWA quickly followed, introducing the Boeing 707 on the New York-San Francisco transcontinental route on 20 March 1959.  It also was the second airline, after Pan Am, to utilize the 707 on trans-Atlantic service, starting 21 November 1959.
A third early entrant on U.S. domestic 707 service was Continental Airlines.  With 707s it initiated Chicago-Los Angeles nonstop service on 8 June 1959.  My own first airline flight was on a Continental 707, Los Angeles-Denver-Chicago, 17 December 1959.  Here is the postcard obtained from the seat pocket on that flight.
The first non-U.S. airline to operate the 707 was Australia's QANTAS, on 29 July 1959, on the Sydney-Nadi-Honolulu-San Francisco route.  This was also the first pure jet service across the Pacific Ocean.
During the first three months of 1960, three European airlines — SABENA, Air France and Lufthansa — introduced Boeing 707s on their trans-Atlantic routes, and Air India became the first Asian airline to operate 707s.  Here are postcard examples of these airlines.
At the same time that Boeing was developing the 707, Douglas Aircraft was working on its first jetliner, which became known as the 'DC-8'.  Unfortunately for Douglas, the 707 entered airline service first, garnering orders from many airlines that wanted to be among the first to offer pure jet service.  Several airlines, however, preferred to stick with Douglas aircraft and awaited their first deliveries of DC-8s, which occurred in 1959 and 1960.  These included six airlines — Delta, United, Eastern, National, Trans-Canada (TCA) and KLM — who were among the first seven operators of DC-8s (the seventh being Pan Am that also utilized 707s).  Here are DC-8 postcards of those six airlines.
Just two hours and 10 minutes after Delta's initial DC-8 flight, also on 18 September 1959, United Airlines launched its own first DC-8 service, transcontinental San Francisco-New York.  The following postcard highlights the excitement of flying by 'JET!'
Eastern, National, Trans-Canada and KLM followed successively in 1960 with their initial DC-8 service.
While the British aviation industry and Boeing and Douglas in the U.S. initially focused on four-engine medium to long-range pure jet aircraft, the French aviation industry started in the early 1950s to develop a short to medium-range regional two-engine pure jet aircraft.  This resulted in the new rear twin-engine design of what became the Sud Aviation SE-210 Caravelle.
The Caravelle proved to be very popular, and soon several airlines outside France were purchasing the aircraft for their shorter routes.
The popularity of the Caravelle was such that United Air Lines surprised the U.S. aviation industry by ordering 20 Caravelle jets in 1960 and placing them in service starting in 1961.
In addition to Boeing and Douglas, one more U.S. aircraft manufacturer pursued development of a pure jet in the 1950s — Convair.  This resulted in the Convair 880, an aircraft famed for its speed.
I hope you enjoyed this postcard look at the first generation of pure jet aircraft, spanning the 1950s through 1961. If you have any comments on any of my articles, you can contact me through the World Airline Historical Society.
Notes: All postcards shown are from the author's collection, except as noted. I estimate that all of these are uncommon, except this article's postcards showing Continental, Delta (both), Eastern, KLM, Pan Am and QANTAS aircraft, which are fairly common.
References:
Proctor, Jon; Machat, Mike; and Kodera, Craig. From Props to Jets: Commercial Aviation's Transition to the Jet Age 1952-1962 (Specialty Press, 2010).
Breffort, Dominique. Boeing 707 (Historie et Collections, Paris, 2008).
Davies, R.E.G. Individual books on the de Havilland Comet, Aeroflot, Delta, Eastern, Pan American and TWA (Paladwr Press, various dates).
Davies, R.E.G., Airlines of the Jet Age (Smithsonian, 2011).
Kennedy, Charles. 'The Douglas DC-8', Parts I and II, Airways Magazine (Jan.-Feb. 2016).
Proctor, Jon. Convair 880 & 990. Great Airliners Series Vol. One (World Transport Press 1996).
Waddington, Terry. Douglas DC-8. Great Airliners Series Vol. Two (World Transport Press 1996).
Wegg, John. Caravelle: The Complete Story (Airways International 2005).
Until next time, Happy Collecting,
Marvin
Trackback from your site.