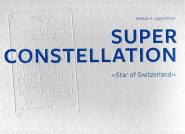 SUPER CONSTELLATION << The Star of Switzerland >>
Written by Shea Oakley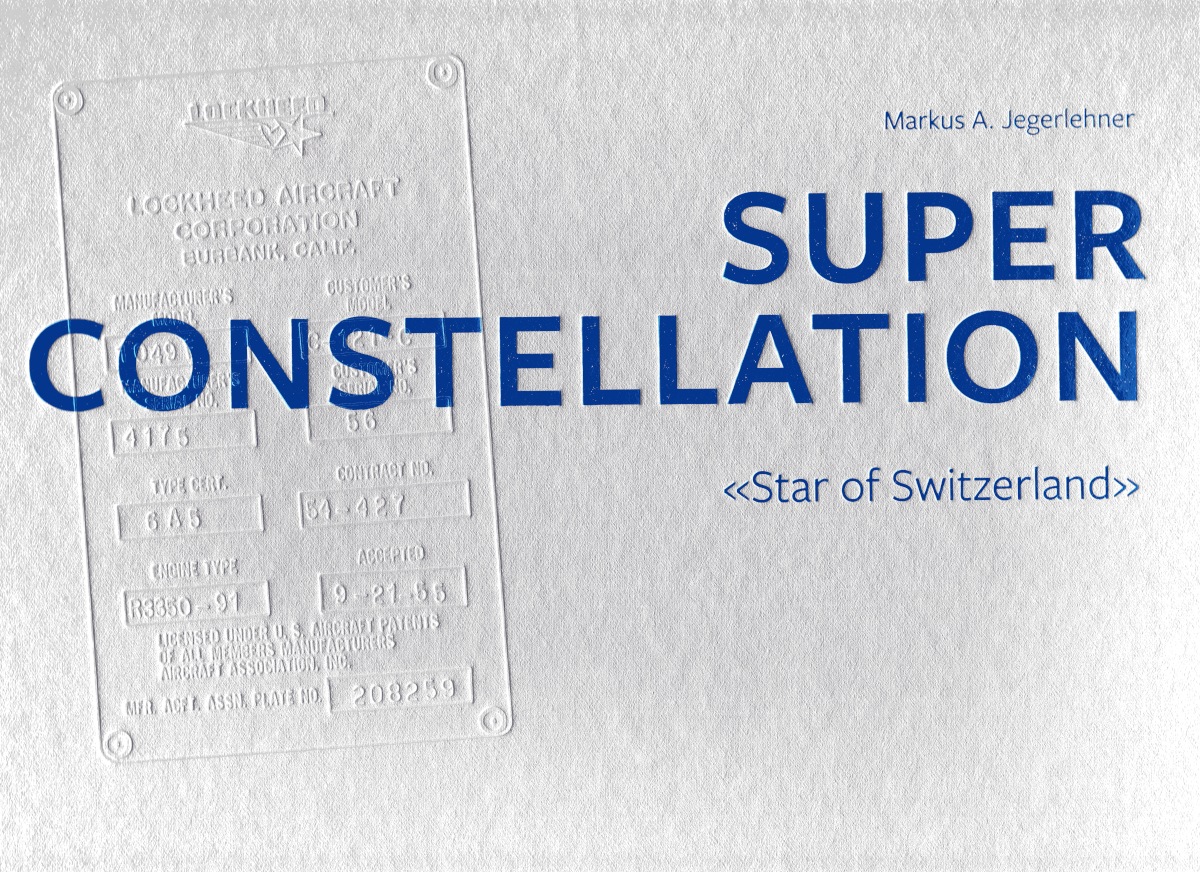 By Markus A. Jegerlehner
Self-published
ISBN 979-3-033-07429-3
167 Pages
This unusually large and beautifully assembled photo-book about the until recently Breitling-sponsored Super-Constellation, HB-RSC was obviously a labor of love for its author. Photographer, author and "Star of Switzerland" project contributor Jegerlehner's text not only shows he knows the story of this Connie inside and out, but also clearly reflects his deep affection for, and devotion to, one of the very last flyable examples of the type.
His well-detailed history of this C-121-C/L-1049F, serial # 4175, takes us through the airplane's years with the USAF and later the Mississippi Air Guard. It continues through its six years of use as a firebomber in the American West, and several short periods of ownership by people with big ambitions for the airplane, but insufficient cash. We then learn of it's eventual "salvation," initially by the U.S.-based Constellation Historical Society which then continued, and was brought to air-worthy fruition, by the Swiss-based Super Constellation Flyers Association, with financial backing from Breitling, the Swiss watch manufacturer. During its lifetime the airplane has been based everywhere from Mississippi to Germany (where it is is now undergoing a complete structural overhaul to put HB-RSC back into flying condition after losing its Swiss airworthiness certificate in 2017 due to some structural issues). During the previous several years the "Star of Switzerland" had been just that, one of the major stars of airshows all over Europe.
While the greatest strength of this book is found in its profuse selection of all-color photographs by the author (taken of the airplane from seemingly every angle, inside and out, on the ground and in the air) it is also a great source of information about Constellations in general, including a full type history as well as reproductions of cockpit checklists, and other technical details unique to this particular Connie.
In short, this is the kind of book which any fan of the Lockheed triple-tailed beauty from Burbank, and prop-liners in general, would be proud to display on the coffee table of their living room for fortunate aviation-minded houseguests to fully appreciate. The photos are not only well-taken but are also so numerous as to almost qualify Super Constellation <<Star of Switzerland>> as a full visual guide for aircraft modelers. Overall print and reproduction quality of this 9 ¼ X 13 ½ inch volume are excellent (to give you some idea of its size my home scanner couldn't quite incorporate the entire cover for the above image!)As the book's author and publisher, Jegerlehner obviously invested quite a bit of both his heart and his substance into making this book as impressive as it is.
So, if you are a devotee of both the Lockheed Constellation, and a valiant and successful effort to save one of the last of these legendary airplanes, this book is a must have.
Availability: Copies of this book can be ordered directly from the author's website,fotojeger.ch, for US$68.00 each
Trackback from your site.