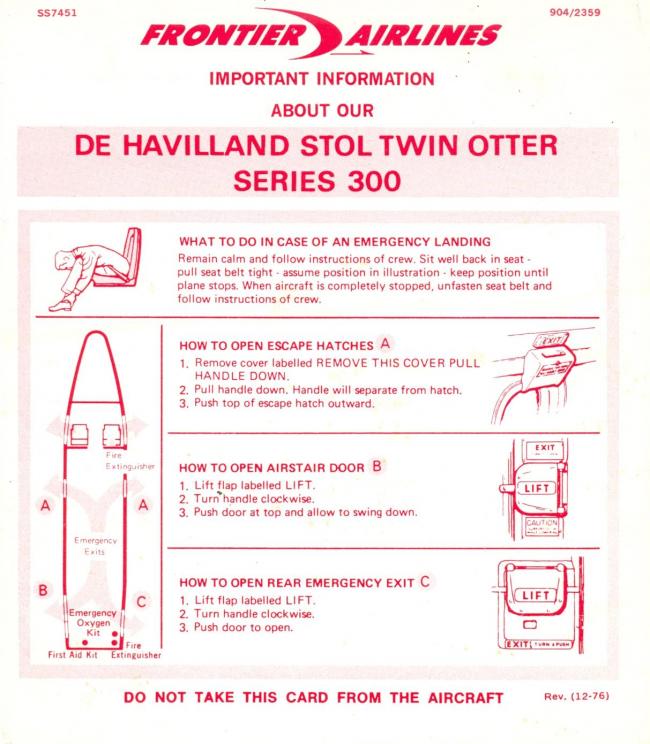 SAFETY CARDS of Local Service Airlines – Part # 1
Written by Brian Barron
In this era of mega carriers, it is nice to look back at some of predecessor airlines that became part of today's behemoths – American, Delta and United.
As has been well documented elsewhere in the Log, the Local Service Airlines were established by the CAB to operate services to more rural areas of the USA and provide feed to the national network carriers.  These airlines were the pre-cursors to the Essential Air Service (EAS) operators of today and were responsible for introducing commercial air service to much of the country.
For this article, we will focus on the Local Service Airlines of the Western U.S.A.  Safety cards from some of these airlines are among the most coveted in the collector community and are difficult to find.
Let's start in the Northwest with West Coast Airlines.    West Coast, like most of the LSA's started flying with a fleet of second hand DC-3 aircraft.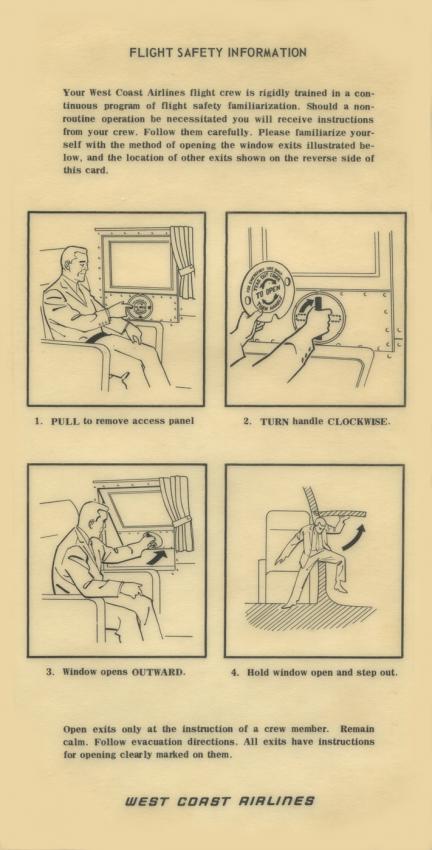 Here we have a car showing the window exit operations of the DC-3.  This card is believed to date from the early 1960's [Carl Reese collection].   As the 60's progressed, WCA acquired more modern aircraft including turboprop F-27's and DC-9's
This card is from West Coast Air's small fleet of DC-9 10 Series aircraft.  This plastic card shows a large floorplan on the front with exit and oxygen illustrations on the back.  [Note the Jackie Kennedy look alike at the window].  This design would live on, as it was adopted by Air West which was the resulting carrier from the merger of WCA, Pacific Air Lines and Bonanza Air Lines in 1968.
Next we move down the coast to San Francisco based Pacific Air Lines.  Ironically, Pacific started life as Southwest Airways.  In 1958, they changed the name to better reflect their home region.  Pacific also started with the venerable DC-3.  By the early sixties they would graduate up to larger props such as the Martin 404 and Fairchild F-27.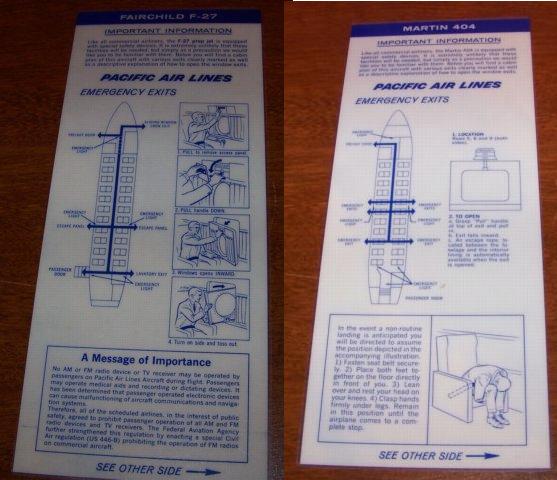 Here we have a two sided card featuring the F-27 and the Martin 404 with one type on each side of the card.  This card dates prior to 1967. After 1967, it was mandatory that each aircraft type would have its own safety card.  These images were taken from the web, so I don't know who the lucky owner is. J
Like WCA, Pacific Air Lines would join the jet age, but with larger Boeing 727's.    The 727's would prove to be too big for Pacific's routes and were quickly sold off after the Air West merger.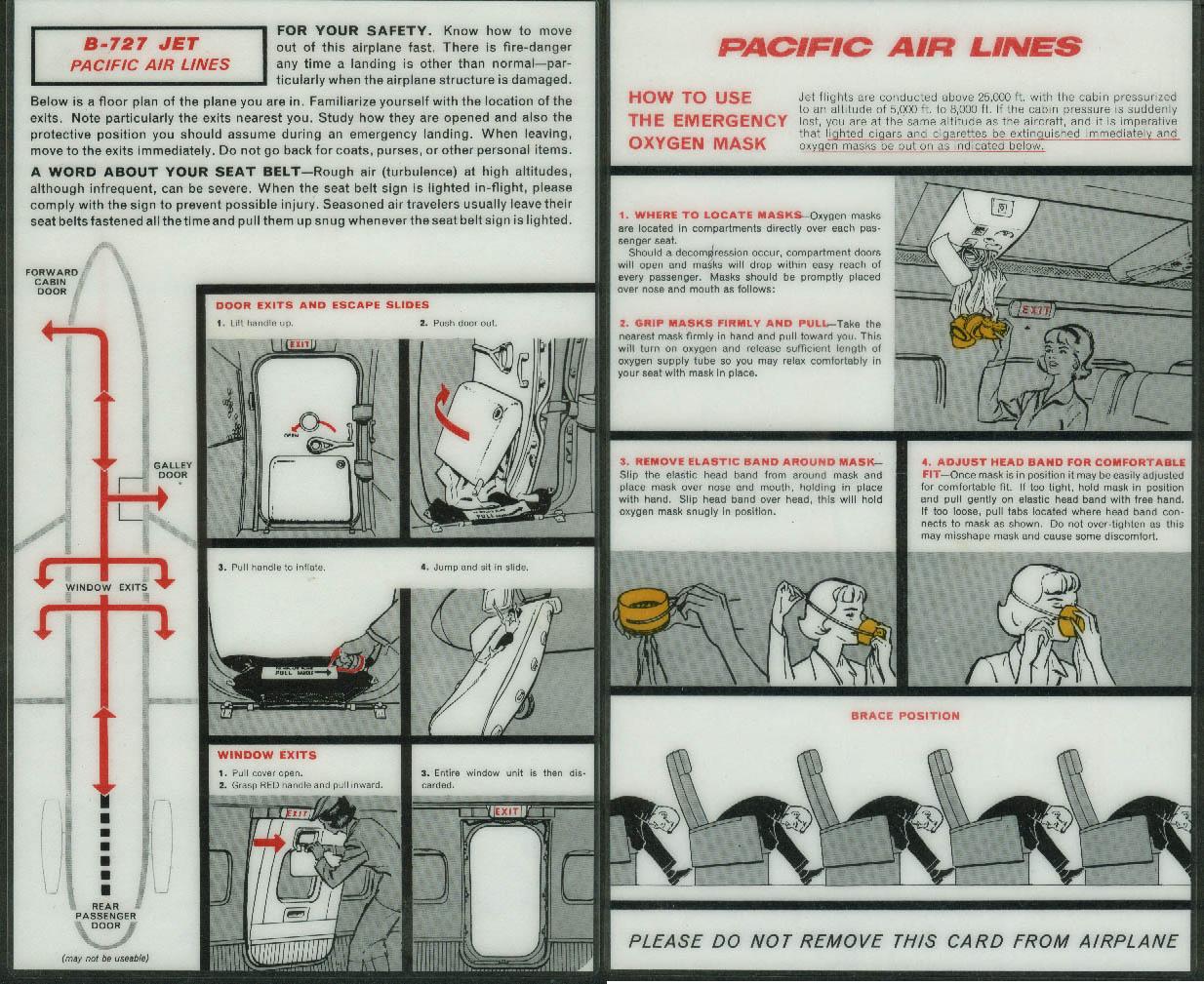 Based on this card, we can assume maintenance was done by United Airlines as it is an exact replica of early United 727 design.  [Carl Reese collection].
Next, we move east to Las Vegas and the home of Bonanza Air Lines.  Bonanza started flying with a single engine Cessna, soon to be followed by the DC-3.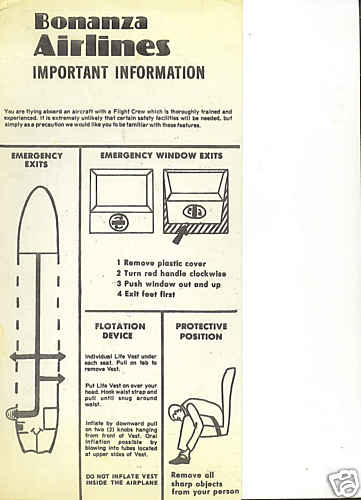 This DC-3 card is a simple Black and White cardboard affair, quite common with smaller DC-3 operators. [Image from the web]
Bonanza was one of the launch customers of the Fairchild F-27, the U.S. built version of the Fokker F-27. Bonanza would christen these planes the "Silver Dart" and these birds would become the backbone of their network.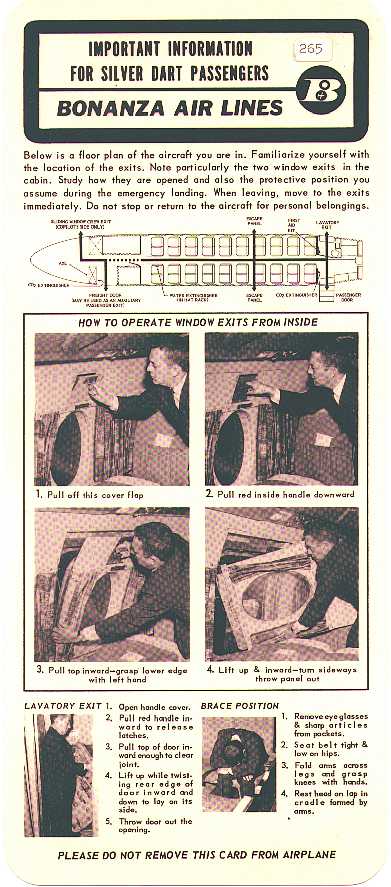 We know of at least two different versions of cards for the "Silver Dart".  This photo comes from a Bonanza Air Lines tribute web page and features black and white exit photographs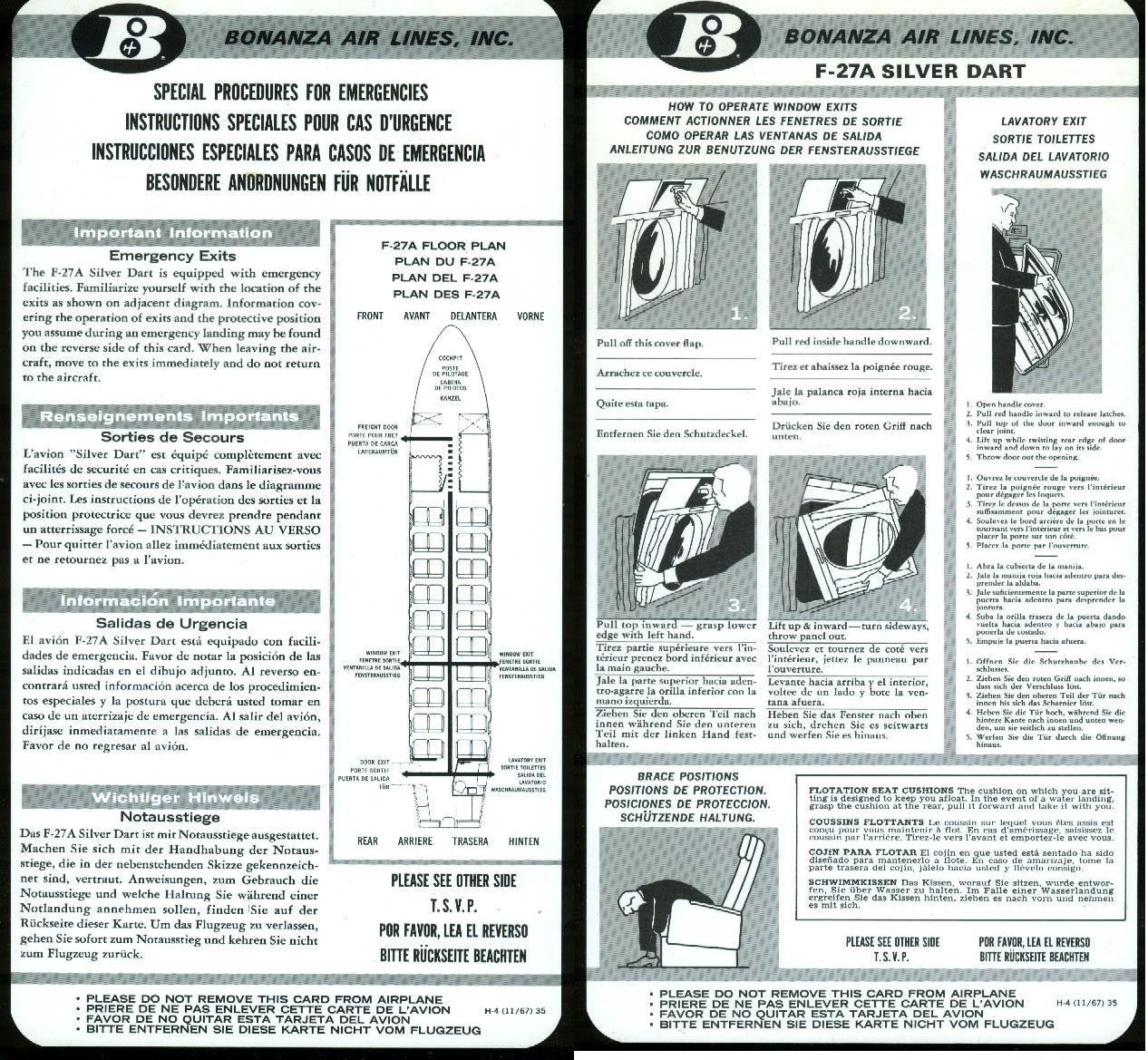 This example, from my collection, is a Nov 1967 two sided plastic card with graphic illustrations issued shortly before the 1968 merger.
Bonanza, like WCA operated DC-9-10's and was even flying to Mexico at the time of the merger.  As far as I know, now one in the Safety Card community has the Bonanza DC-9 Safety Card, nor have we been able to uncover any pictures. If anyone reading this article can help, we would love to see what it looks like. This writer would also love to buy it, (if it's for sale, of course. J )
Next we move east to Denver and the home of Frontier Airlines.   Frontier was one of the largest LSA's and successfully made the transition to the jet-age.  It would survive until 1986, before being acquired by People Express and ultimately rolled into Frank Lorenzo's Continental.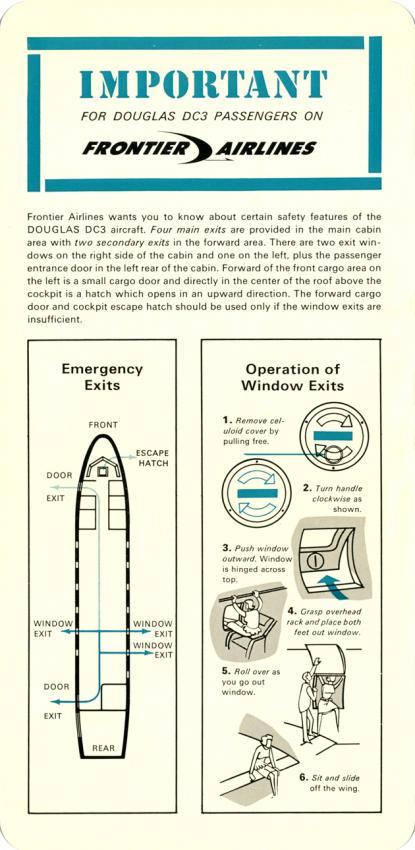 First, we look at a DC-3 card from the mid 1960's. [Carl Reese collection]
Convair 580 and Boeing 737 cards from the 70's and 80's are quite common.  However, Frontier operated a small fleet of 727-100 and 200 series aircraft.  Similar to what Pacific experienced, the 727's proved to be too large for Frontier's network.   The smaller 737-200, initially acquired as part of a Central Air Lines order, would prove to be the perfect jet for Frontier.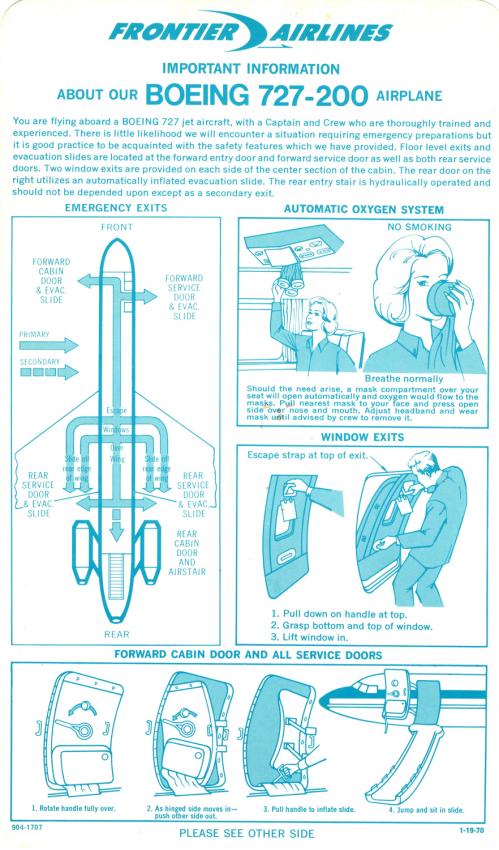 Here is a 727-200 cards from 1970.  There was a second version of similar design with the type as Boeing 727-291.
Frontier also operated smaller aircraft such as the Beechcraft 99 and the DeHavilland Twin Otter for service to very small communities.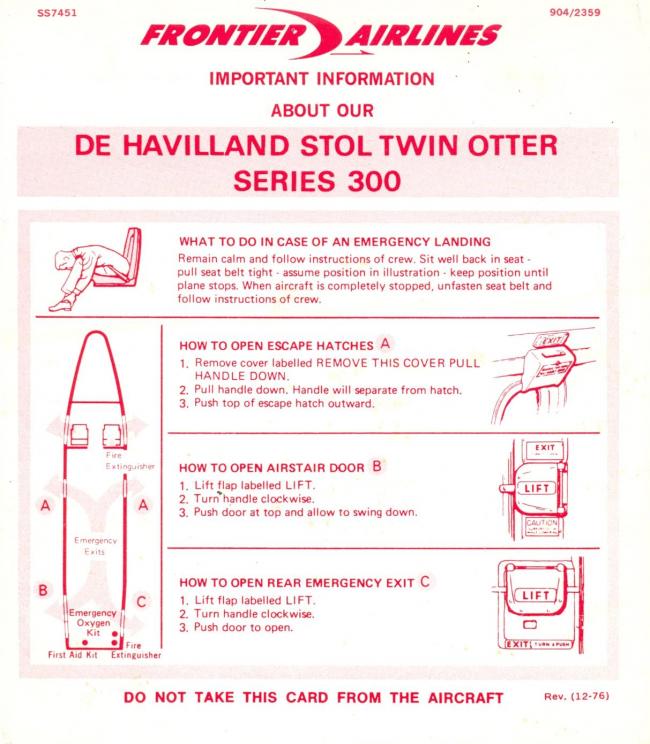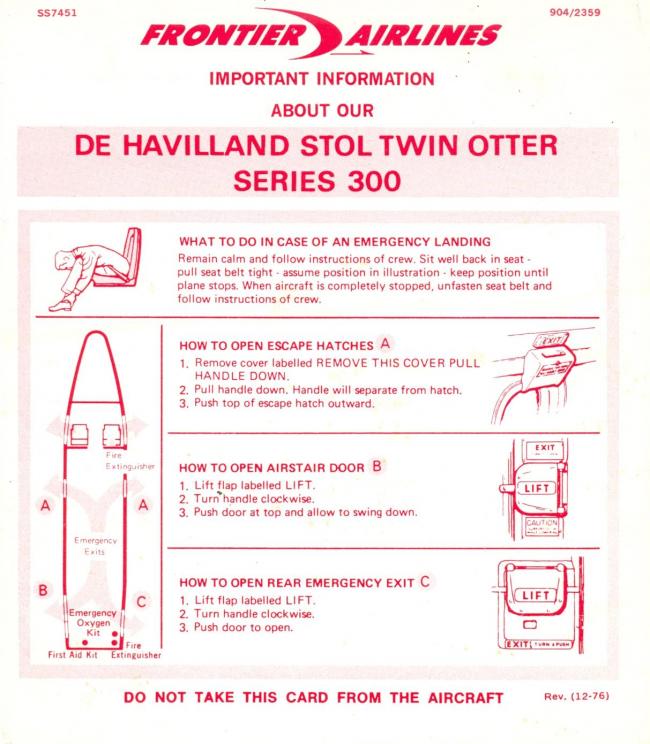 This Twin Otter card is from 1976.   This card was small and square shaped, and used typical stock illustrations provided by De Havilland Canada
In the 1980's, Frontier would try its luck again with a larger airplane, this time choosing the DC-9 Super 80 [MD-80].
The Super 80's, like the 727's before them, proved to be an odd fit to Frontier's route structure, although the plane did look stunning in the Saul Bass "Circle F" livery.  Here we have a DC-9 Super 80 cards from 1982.  This was a typical two-fold color card produced by Interaction Research.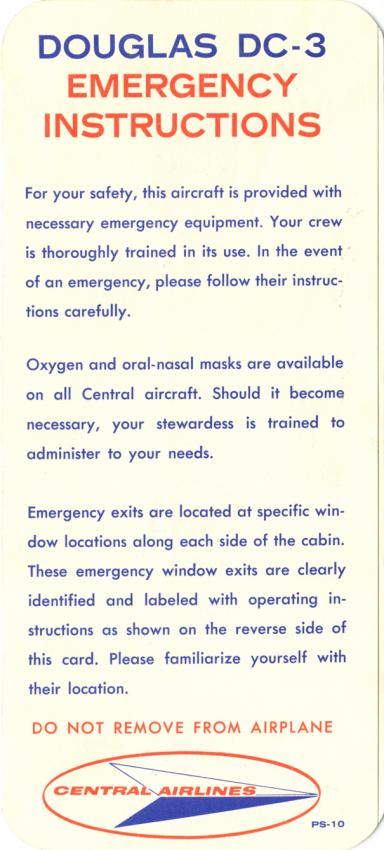 Finally, we move to Fort Worth, TX based Central Airlines.  Central would be acquired by and merged into Frontier in 1967.  As a result, safety cards are few as they disappeared prior to more stringent regulations regarding safety cards being put into law.  Here we have the cover of a Central DC-3 card [Carl Reese collection]
In the next article, we will cover the Local Service Airlines in the eastern USA.  Thank you for reading.
Until next time, keep your seat belts fastened.
Trackback from your site.