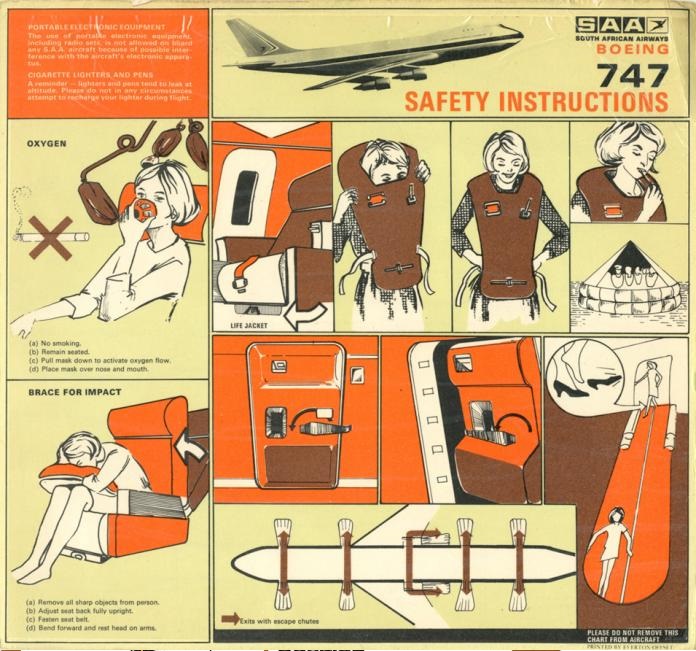 The "Queen" at 50 – Early 747 Safety Cards
Written by Brian Barron
September 30, 2018 marks 50 years since the "Queen of the Skies" made her first public appearance at Everett, Washington.  She would take off into the heavens and into our hearts a few short months later.
The 747 would fundamentally change the course of commercial aviation and opened the feasibility of air travel to the masses.  50 years later, the 747 is still an integral part of the world's Airline and Cargo fleets.
From a Safety perspective, the 747 presented many challenges that had never been considered before.  It was the first double aisle jet, the first to regularly carry up to 500 people.  In order to meet FAA and other world authority certification, a full Jumbo would need to be evacuated within 90 seconds.
A tall challenge for Boeing indeed.  In order to meet the goal, the 747 featured double lane slides as well as the first over wing mounted slide installation.   With 10 main deck doors and 20 slide lanes, this was the only way to meet the strict evacuation requirements
In the early days, 747 Upper Decks were largely limited to lounge use and often were not certified to be occupied by passengers during routine take-off and landings.   All early 747's featured a spiral staircase to access the Upper Deck.  While these were certainly elegant for the day and age, they were not the easiest to maneuver, especially in turbulence or an emergency.    Primarily installed for Flight Deck crews, 747 Upper Decks did feature a narrow single lane slide exit.  Nearly 5 stories high, using this slide would be a frightening experience for even a seasoned traveler.
We will now explore first/early issue 747 safety cards from the first generation of operators focusing on 747-100/200 aircraft.
Pan Am was the launch customer for the 747 and the first card was appropriately issued in January 1970, the same month of entering commercial service.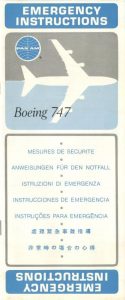 This 14 page booklet was mostly text with some graphic illustrations.   This would be the standard until 1975 when Pan Am changed to a more graphics based cards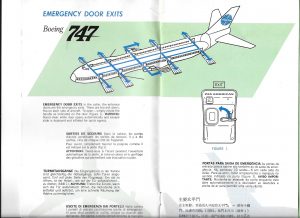 For a brief time in 1970-71, Pan Am issued a larger and more colorful 747 Safety Card. This illustration from this September 1970 card shows the main level evacuation plan as well as door operation.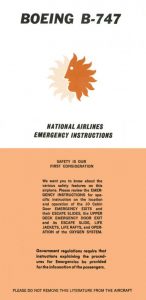 National Airlines largely followed Pan Am's booklet format for its 747 cards
The other launch customer was TWA, and the first to fly the Queen domestically between LAX and JFK in February, 1970.
TWA used the 747 launch to introduce a new safety card design.  Prior to 1970, all TWA cards were text heavy with limited illustrations.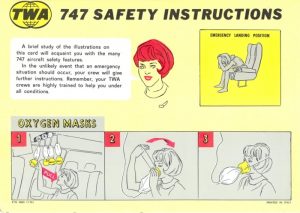 The 747 was a Top hinged plastic folder that was heavy of graphics and limited on text.  This is the January 1970 release.   These cards were used for many years with the same 1-70 date.  A unique collectible is the version of this card Printed In Italy.
TWA's new graphic style apparently made an impression on other early 747 operators as they decided to adapt the TWA style for their own first issue cards.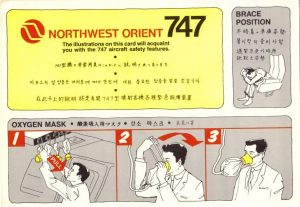 This included Northwest Orient, who was the third 747 operator from the U.S. and the first to fly the Jumbo across the Pacific.  In 1989, Northwest would also be the launch carrier for the most popular variant of the 747, the 747-400.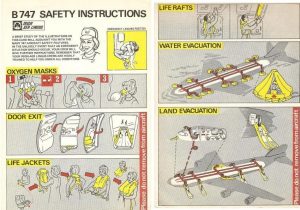 Others to use the TWA style include Aer Lingus –Undated card – from ca 1971 [all 4 panels shown]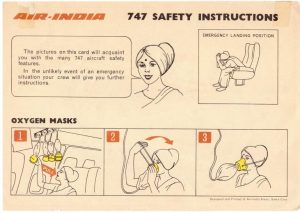 Air India – Undated ca 1972.   Note the Flight Attendant in Indian dress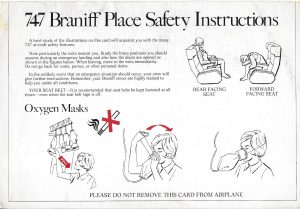 Braniff International – which christened their Jumbo as 747 Braniff Place. This card is dated August 1975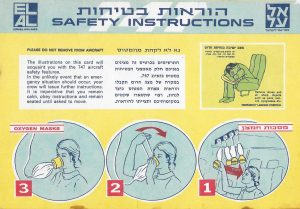 EL AL – Undated ca 1972
Other early U.S. operators generally stayed fairly close to their established Safety Card formats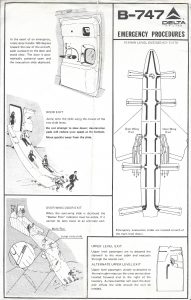 Delta Air Lines – October 1970 issue.  Delta first flew a 747 in late 1970 and flew the last passenger flight by a major U.S. Carrier in December 2017.   However, Delta's 747 operation is not continuous, operating -100's from 1970-1977 and then not again until flying -400 series from 2009-2017 following its acquisition of Northwest Airlines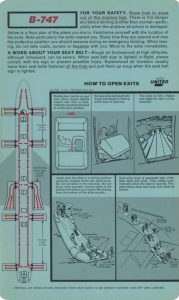 United Air Lines – July 1970 issue – United had the longest continuous 747 operation of any U.S carrier from 1970-2017.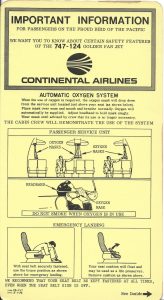 Continental Airlines – May 1970 issue.  Like Delta and National, Continental's initial 747 operation lasted only for a few years.   The 747 proved too big for these smaller legacy carriers and they quickly found out that tri-jets such as the DC-10 or L-1011 were a better fit for their operations.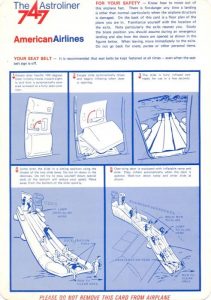 American Airlines first 747 card touted the Queen as the "Astroliner".  This terminology would later be changed to LuxuryLiner. This card is undated from ca. 1970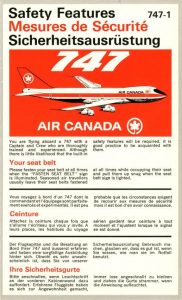 Air Canada issued their 747 in the same format as its other cards of the time, although the 747 was a smaller sized Tri-Fold than that used on the DC-8's .  This card was issued March 1971.
We now cross the Atlantic and review the first issue of Europe's national carriers.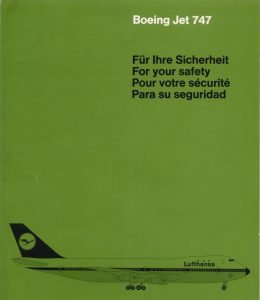 Lufthansa was the first foreign airline to receive a 747 in spring of 1970 and now holds the title of longest continuous 747 operator.  A title it will likely keep as it operates the newest member of the 747 family, the 747-8i.  This card is from 1972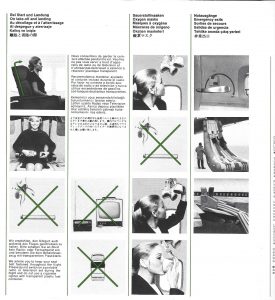 Lufthansa's first card was interesting as it featured black and white demonstration photos, including the then unique two lane and over wing slide utilization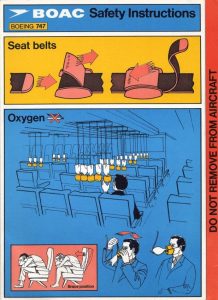 Next up is BOAC, the predecessor to today's British Airways.  This undated ca. 1971 card is a large A4 folder with thick loose lamination.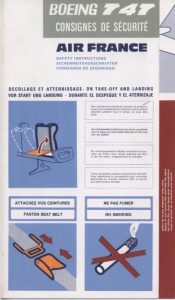 Air France's first 747 card would follow their common format of the era.  These early cards were printed on Thick Vinyl making them very sturdy.
Two of my favorite 747 cards are the first issues from Alitalia and Iberia.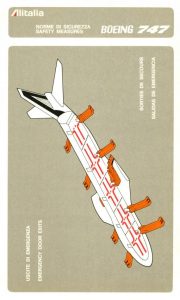 Alitalia introduced its iconic livery in conjunction with the 747 entering service.  It also changed its Safety Card format to a heavily graphic style.  This card is from July 1970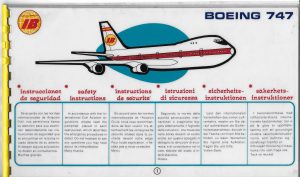 Iberia's first card was an 8 panel plastic bound safety card featuring colorful illustrations. Iberia would continue to use this unique design until shortly after their livery changed in 1977. This card is ca. 1971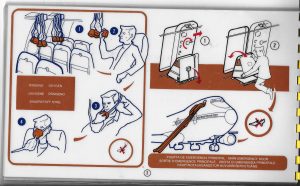 Iberia was one of the few early 747 operators to show detailed instructions for the Upper Deck door operation.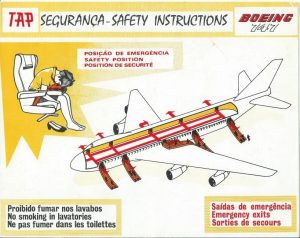 TAP Air Portugal top-folding card ca. 1972.
In the 1960's and 1970's, SAS, Swissair and KLM had a collective maintenance agreement for their new widebody 747's and DC-10's.   Unfortunately, for the collector this agreement resulted in the very generic Safety card without airline name or logo used by all three carriers.   These cards are known among collectors as the KSSU Format (KLM, SAS, Swissair union)
We move now to Asia.  While 747-400 operations were dominated by the Asian carriers, the early 747 was not in high demand and early operators only ordered a few examples until the economic boom of the mid 80's
Japan Air Lines was the first Asian based carrier to fly the 747.  Their safety cards of this era had a detailed floorplan as evidenced by this ca. 1970 example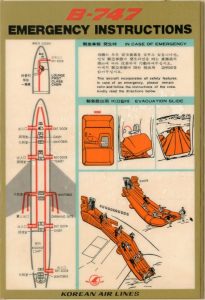 Korean Air Lines would introduce the 747 in 1972.   Their card was similar in design to JAL but without the detail.  A unique feature of Korean's early 747 operation was the location of a Cargo compartment in the last section.  As such exit from door 5 was only possible on the right hand side.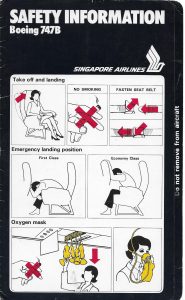 In 1972, Singapore Airlines was a new airline from a very small country.  Their acquisition of 747's was considered a big risk for such a small country.  Needless to say, the risk worked out and SIA is now one of the most prestigious airlines in service today.  The naming of type as 747B was commonly used by early -200 operators.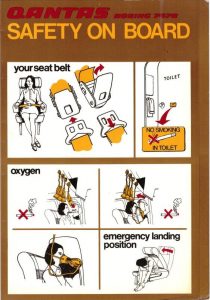 Next we move down under to QANTAS.  QANTAS was unique in that it operated an exclusively 747 fleet between 1979 and 1985.   This card is undated and would be from ca. 1972-74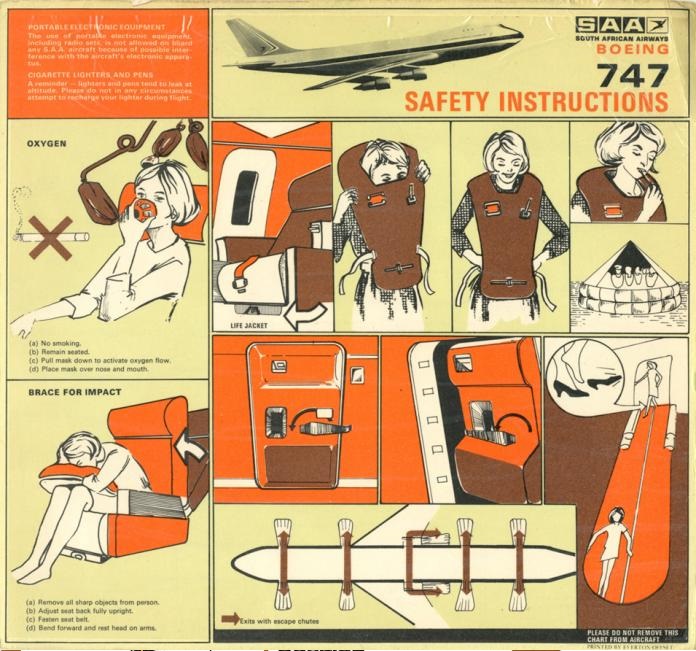 In the early 1970's, the only airline in Africa that had the traffic to justify a 747 operation was South African Airways.   They would be the only 747 airline based in Africa for nearly a decade and the only African airline to operate 4 versions of the Jumbo.  Their first 747 safety card (ca. 1972) was this large placemat sized example.
Thank you for reading this brief history of early 747 safety cards and celebrate the airlines that flew the Queen from the beginning.
I am always looking for ideas/themes for upcoming Safety Card articles.  Input from the Safety Card community is always welcome.
Thank You
Brian Barron
Trackback from your site.