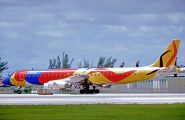 Passing Through History with Flying Colors
Written by Emma Rasmussen
In an age of endless white airline liveries (often referred to as "Eurowhite" schemes), the vibrantly colored liveries of decades past offer a louder and far-less subdued glance at airline marketing. Forgotten airlines such as AirCal and Pacific Southwest Airlines sported bright pinks,purples, yellows, and oranges in their cheat-lines throughout the 1970s and 1980s. Today,airlines tip their hats to fans of nostalgia by painting individual aircraft in their fleets to replicate
these retro schemes. However, few current liveries can compare to the vivid ones that preceded them.
Prior to the Eurowhite liveries that dominate the airline industry today, these brilliant schemes were extremely popular. Braniff International Airways, based out of Dallas Love Field Airport was hardly an exception. In 1965, Braniff introduced their "jelly bean" liveries, an array of solid-fuselage schemes that ranged from yellow to lavender, turquoise, green, blue, orange and several more. Eight years after the "End of the Plain Plane" campaign that saw this complete overhaul of the airline's fleet, lounges, and uniforms, avant-garde artist Alexander Calder was asked to design three visually-adventurous schemes for Braniff.
Alexander Calder was an artist best known for his "mobiles," kinetic sculptures. Alternatively, he produced paintings and miniatures. In the early 1970s, Braniff was celebrating twenty-five years of travel to South America and desired a scheme to reflect this. Alexander Calder was approached by Gordon and Shortt Advertising Agency, and was enticed by the thought of his artwork flying around the world on the largest canvas— an airliner. Calder's first aircraft was a Douglas DC-8-62, which was painted in strictly primary colors and dubbed "With Flying Colors." His debut livery is his most famous and appeared at the 1975 Paris Air Show.
After his success with the Douglas DC-8, Calder designed another livery for Braniff. In 1976, the United States was celebrating its 200th year, which prompted the airline to request another celebratory livery. Calder painted an abstract version of the American flag, which was transposed onto a Boeing 727-200. This second and final work of Calder's was dubbed "Flying Colors of the United States." On both of his aircraft, Calder's signature is proudly displayed instead of typical Braniff branding.
Later in 1976, Alexander Calder died and ultimately put an end to the "Flying Colors" series of airline schemes. "The Spirit of Mexico" was to be his third and final work, but his passing caused the project to be scrapped. A second 727 never received this livery. In 1982, negatively affected by the 1978 Airline Deregulation Act, Braniff International Airways ceased operations. This once highly-profitable and fast-growing US airline filed for Chapter 11 bankruptcy, leaving dozens of "jelly bean" airliners stranded and a colorful career behind
Notice: This article was originally published in Horizons, online student paper of Embry Riddle- Prescott.
Trackback from your site.