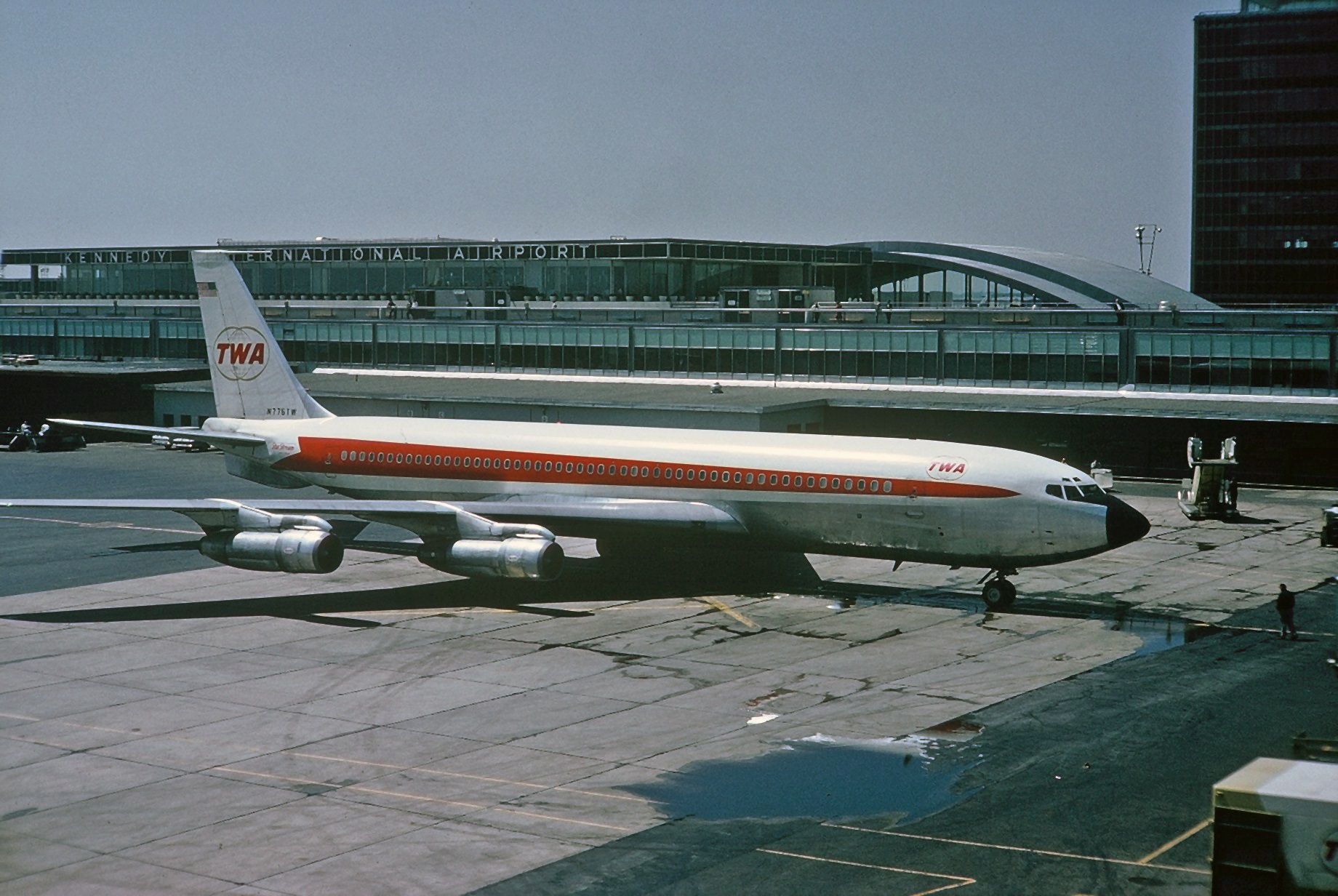 Musings from a Passenger's Seat: Memories of Idlewild and Kennedy Airport visits
Written by Lester Anderson
When I was in high school I had the airplane/airport bug. Fortunately, two friends also had it, so I was not alone in my quest to see airplanes during the early 1960s.
Idlewild airport was the destination of many weekend trips to the airport. We started the trip (from NJ) on the bus into the Port Authority bus terminal. We then took the 15 cent subway ride, the Independent line (IND) E 8th Avenue subway, from 42nd street to the Kew Gardens stop in Queens. Although local in Manhattan, it was known as the 8th Avenue Express once it got into Brooklyn and Queens.
At Kew Gardens we went up to street level and took the Q10 bus (subway token or 15 cents coin) which about 25 minutes later dropped us at our destination, Idlewild Airport.
Idlewild was heaven for airplane fans. You could easily walk between the terminals. The Port Authority had buses (Mercedes buses-the only Mercedes busses I had ever seen) between terminals for a 25 cent fare. Almost all of the time we walked and "smelled the occasional whiff of kerosene" from airside when the wind was in the right direction.
The Pan Am Worldport was a major attraction. It had the first "air door" I had ever seen or walked thru. It had a great view of the airplanes that were parked at the terminal for boarding. As high school students we often used our "juvenile status" to ask for things—and I remember during one Pan Am Terminal visit a gate agent allowed us to go aboard a 707 before the passengers went on, so we could see what it was like inside. We did have to put blue cloth protectors on our shoes so we would not get the rug of the plane dirty.
The IAB (International Arrivals Building) was a necessary stop since it had the best and biggest observation deck (for 10 cents). You could look at the airplanes below, and got to see things you would not see at Newark or LaGuardia like VC-10's and Bristol Britannia's as well as familiar airliners (DC-7Cs DC-6Bs and Constellations) from foreign exotic carriers. We also saw a lot of international 707's and DC-8's but our fascination was mostly with airplanes with propellers at that time. You also looked up and saw the building-wide sign "NEW YORK INTERNATIONAL AIRPORT". You also had a great view of airplanes taking off and I remember a number of jets with heavy black smoke that I later found out might have been water injection take-offs.
They were building terminals right and left at that time, but I fondly remember the field in front of the IAB with the infrastructure power plant with pipes and valves (probably for HVAC – my father's occupation) that instead of being hidden in a nondescript brick building, were there in a building with glass window walls, and all of the pipes and valves painted in exciting different colors. In the same oval grassy field there were also three religious chapels. As teens who had just taken their first flights, we probably could not understand anyone's fear of flying, but looking back, they were probably a great comfort to travelers who, in the back of their mind, began their worries with "If God had meant man to fly …."
Probably the most moving visit to Idlewild was Christmas Eve in 1963. John Kennedy was assassinated November 22, 1963 which was an event that profoundly affected everyone I knew. Moving faster than government and agencies normally do, the decision was made to rename New York International Airport to John F Kennedy International airport.
The dedication ceremony was on Christmas Eve in 1963. I don't know if my parents would have allowed me to take the day off from school, but since school was on vacation, I took the bus and subway and bus to the airport to see the dedication. It was in the International Arrivals building and I was on an upper level, but could see the entire ceremony. Ted Kennedy spoke briefly (as probably others who I don't remember), then they drew the curtain and you saw the letters JFK. They said they did not have enough time to get the entire building-wide sign done for that day, but these were the letters everyone wanted to see.
A few years later when I was student teaching, I saw a newly published American History book, and reading it, I saw printed in the book pictures from that ceremony that I attended. I must admit I felt I was too young to be a witness to an event published in a history book.
The other memory of Idlewild I can remember and express was that while the National Airlines terminal was being built, National used a temporary terminal. And that terminal had a food vendor that my friends and I thought had the best hamburgers at IDL.
About the Author – Lester Anderson
I am not a typical author for an airplane/airline publication. I have never piloted a plane (once, actually, for about 5 minutes in France—but that is a story for another day). I have never worked for an airline. I have never worked at an airport.
However since the early 1960's I was a frequent visitor to airports, mostly in the NY area but if my family ever visited relatives or friends in a far city, I would beg them to visit that airport.
Some pleasure travel but mostly business travel allowed me the honor to achieve Million Mile status on United Airlines (by flying on United as well as its two predecessor carriers, Continental and Eastern).
Now retired, I fly much less, but as the shirt my daughter gave me last Christmas proudly says, every time I hear an airplane overhead, I stop and look at it. And with today's iPhone technology, I can identify it as to carrier, origin and destination, which I do and often bore those around me telling them that wealth of knowledge.
I am a volunteer at the Aviation Hall of Fame of New Jersey. One of my greatest joys is giving tours of the last Martin 202 passenger plane, and have children (and often their parents younger than me) sitting in the plane, and my explaining how different things were at the time the 202 was flying with passengers.
Photographs by Mel Lawrence via the Shea Oakley Collection.
Trackback from your site.