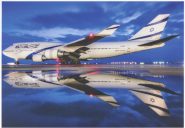 EL AL Aircraft on Postcards
Written by Marvin Goldman
EL AL Israel Airlines was founded in November 1948, six months after the birth of the State of Israel.  The name 'EL AL' is taken from the Bible's book of Hosea and means 'to the above' or more poetically 'to the skies'.
To help identify the dates of postcard issuance and their aircraft images, I have provided information on dates of the aircraft types and different liveries utilized by EL AL over the years.  EL AL also issued many advertising postcards, and these will be the subject of a separate article.
The airline started scheduled service in July 1949 with two Douglas DC-4 aircraft acquired used from American Airlines, and soon thereafter it added a handful of smaller World War II surplus Curtiss C-46 Commandos acquired from the Israel Air Force.  EL AL did not issue any postcards of these two aircraft types during the years they were in service — 1949-1955.  However, two airport cards show EL AL DC-4s among other aircraft, one in London (see the first image below) and one at Ciampino Airport in Rome, and I also have a 1949 postcard produced by the photographer of Lod Airport (now Ben-Gurion Airport) showing three early EL AL crew members with a portion of a DC-4 in the background (second image below).
Also, in 1979 EL AL issued an eight-postcard set showing art drawings of its aircraft by Israeli artist Danny Shalom.  The set included a military C-54 (labeled a 'DC-4' and registered 4X-ACA) utilized on a special flight in September 1948 to bring Chaim Weizmann from Geneva to Israel to be sworn in as Israel's first President, which aircraft was the first to bear the 'EL AL' name.  Another postcard in the set shows an EL AL C-46 (third image below).
The earliest postcards issued by EL AL itself featured its Lockheed Constellation aircraft which served the airline from 1951 to 1961. Here is the first postcard issued by EL AL itself.
EL AL issued two other Constellation postcards in the early 1950s.  Each is a graphic art card showing an aircraft with a map of Israel in the background.  Here is one of them.
In addition, an EL AL Constellation is shown on airport postcards at Zurich (at least four different cards), Rome and Johannesburg – Palmietfontein.
In December 1957 EL AL introduced the new jet-prop Bristol Britannia, becoming the first airline outside England to do so. Simultaneously EL AL launched a broad advertising campaign, which included the following rare detachable group of six Britannia postcards.
The Britannia's reign was short-lived, with the last departing EL AL's fleet in early 1967.  The pure jet era supplanted the front-line role of the Britannias soon after the Britannias entered service.  EL AL's pure jet era began with its acquisition of Boeing 707s in 1961 and Boeing 720B's in 1962. Since 1961, EL AL has acquired only Boeing aircraft.
In 1971 EL AL introduced the Boeing 747-200 'jumbo jet' to its fleet, eventually operating eleven -200s with Israeli '4X' registrations and one -100 series freighter . The 747 series (including the 747-400 model first acquired in 1994) served as the flagship of EL AL's fleet from 1971 to early 2001 (when EL AL's first 777s entered service), with the last 747-200 exiting the fleet in 1999 and the last 747-400 in November 2019.
During 1980-89 EL AL operated four different 737-200s on short-haul routes.
In 1983 and 1987 respectively, EL AL introduced Boeing 767s and 757s to its fleet, featuring more modern cockpits and improved fuel efficiency.  EL AL operated six 767-200s at varying times between 1983 and 2013; ten 757-200s between 1987 and 2013, and seven 767-300ERs between 2004 and March 2019.
In 1994 EL AL acquired the first of eight Boeing 747-400s for its fleet. With this aircraft type, EL AL changed the colors of its livery 'EL AL' titles from black and gold to light blue and dark blue.
In 1999, on EL AL's 50th anniversary and the acquisition of its fourth  747-400 (4X-ELD), EL AL introduced an all-new livery with dark blue and silver 'ribbons' and lettering on a white base.
In early 2001, to modernize its long-haul route aircraft, EL AL started to acquire Boeing 777-200ERs, with the number rising to six.
For short-haul routes, EL AL turned to Boeing 737 New Generation aircraft, starting in 1999. These included two 737-700 (in fleet 1999 – 2016), fifteen 737-800 (acquired between 1999 and 2018 and still current), and eight 737-900ER (acquired between 2013 and 2016 and still current).  I am not aware of any 737 New Generation postcards issued by EL AL.  Here are two publisher-issued cards.
EL AL's long-haul fleet renewal started in 2017 with the arrival of the first of 16 Boeing 787 'Dreamliners' ordered.  By the end of 2019, 13 Boeing 787-9s and one 787-8 had joined its fleet.  Three more 787-8s are on order and expected to be received by March 2020.
On 3 November 2019 EL AL operated its last 747-400 flight — Rome to Tel Aviv with 4X-ELC.  EL AL marked the occasion with many souvenirs, including a five-card '747 Farewell' postcard set.  Only 500 sets were printed, and all were distributed to the passengers who filled the aircraft and others close to the airline.  Here is one of the postcards from the set.
I hope you enjoyed this article on the postcards of EL AL aircraft, and until next time, Happy Collecting!
Marvin G. Goldman
Notes:  Originals of all the postcards illustrated are in the author's collection except for the fourth card shown (an EL AL Constellation on a test flight in Southern California) which is in the collection of Greg Smith.   My estimate of their availability: Rare postcards–the DC-4 crew, Constellation on test flight, Constellation at Zurich, and Britannia six-card composite; Uncommon–DC-4 at London, Constellation on map, Britannia and globe, 747-200 'Welcome to Israel', Sun d'Or 757, 747-400 original livery in booklet, and 747-400 'Farewell' card; the rest are fairly common.

References:
EL AL's website, elal.com, and Facebook page ELALIsraelAirlinesUSA.
Website israelairlinemuseum.org.
Trackback from your site.