Douglas Factory Models
Written by Jim Striplin
Airline issued models, otherwise known as "Airline Counter Models" or "Travel Agency Models", have always been source of fascination for Airline enthusiasts.  These models were manufactured for the Airlines by many notable model builders going back as far as the 1920s.  These models were first made of wood and were later constructed of aluminum and modern plastics.
In this first article, I have decided to feature the models produced for the Airlines by the Douglas Aircraft Corporation, commonly referred to as Douglas Factory Models or DFMs.  The Douglas Aircraft Corporation, was of course, one of the greatest Aircraft manufacturers of the 20th Century.  Douglas also had the foresight to provide its customers with very high quality models for sales promotion and advertising.   Models were given to Airline companies that purchased airplanes from Douglas.  Extra models could be purchased by an Airline to be displayed in Airport terminals, Airline ticket offices, and Travel Agencies.
Donald Douglas, Jr., the son of company president Donald Douglas, Sr., is said to have taken an interest in establishing a factory model shop about the time the DC-2 was being developed.  A Douglas factory worker, Victor Pastushin, a Russian immigrant, was at the same time already producing ashtray type models on his own.  Pastusian is likely to have had some influence on Douglas management, and Donald Douglas, Jr. in starting a factory model shop.  (Victor Pastushin will be the subject of a future article on "Airline Ashtray Models") Donald Douglas, Jr. has always been credited with the establishment of the Douglas Factory Model Shop, which, however, was always kept as a separate entity by Douglas, Jr. from the Douglas Aircraft Corporation itself.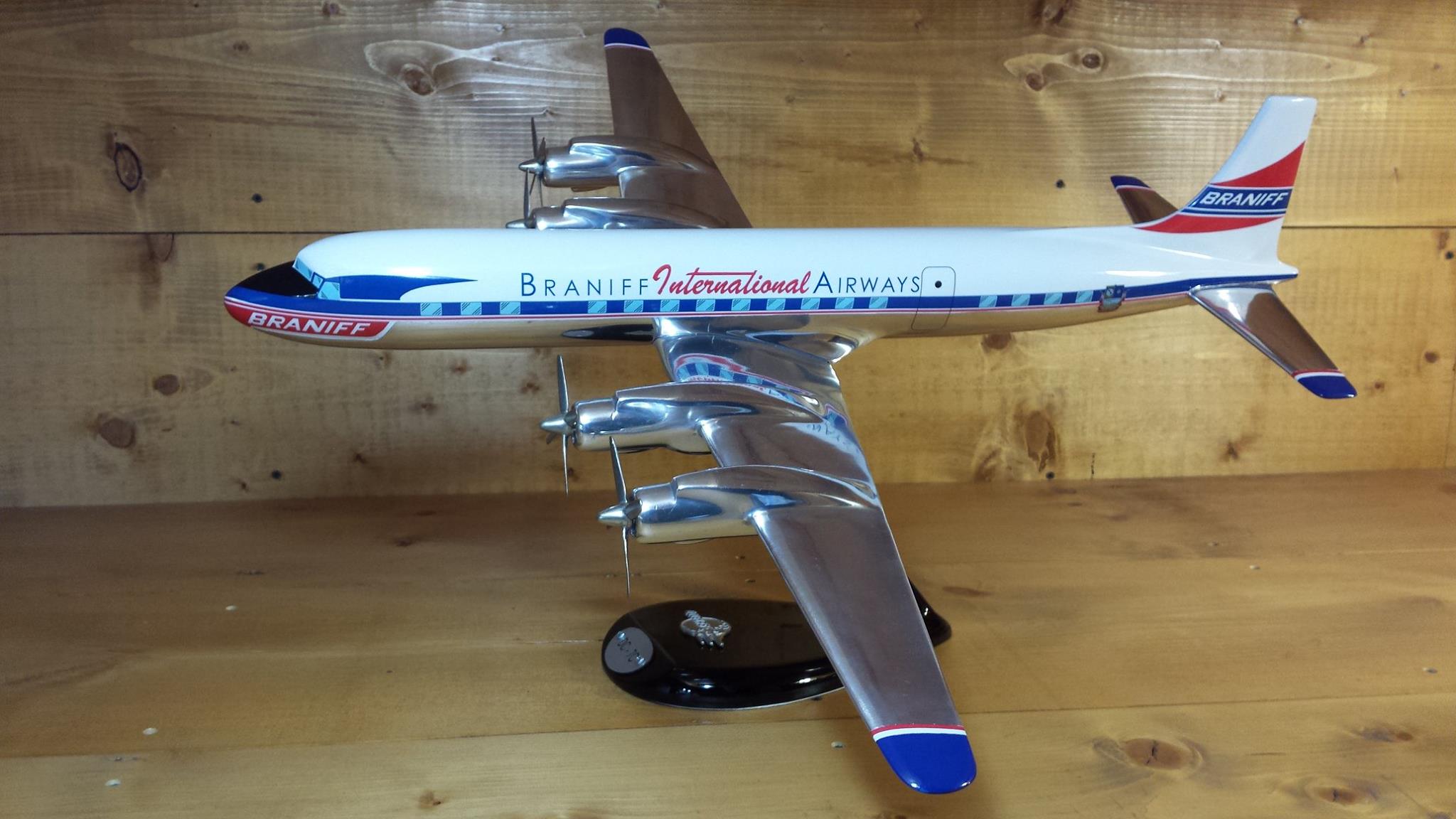 The first Douglas Model Shop has always been believed to be operated in the Douglas Aircraft Santa Monica, California plant.  It is unclear, however, if there was an actual Aluminum foundry located on Factory premises.  An Aluminum foundry incorporates a furnace to melt Aluminum that is then poured into sand molds.  More than likely a foundry located somewhere in the Los Angeles basin, already producing airplane parts for Douglas, did the actual casting.  Workers at the model shop would then laboriously file out and hand polish the sandcast models before the applying paint and decals.
The same Zinc Chromate primer, and finish enamel paint used on real Douglas aircraft, were used in finishing the models. Decals were produced using high quality water transfer decal sheet and Airline livery colors were applied using the silk screen process.
It is known that the DC-2, DC-3 and DC-4 models were actual sand castings.  Beginning with the DC-6 models, very expensive permanent molds, made of tool steel, were used to cast the models.  A sand core was placed inside the fuselage mold to make the model hollow, and lighter.  Permanent molds were used to cast all models from the DC-6 to the DC-8-63.  Most of the Douglas models were cast in 1/50th scale.  This scale was the most common size desired by Airlines and Travel Agencies.  1/72nd models were also produced but were less popular.  The early DC-2 models were produced in larger scales. It should be noted that the Douglas factory also produced models of its Military aircraft (C-124s, C-133s, B-66s, etc.).
The Douglas factory produced Aluminum models from 1934 to 1966.  After 1966 Douglas models were produced by a company called Marketing Aids located in Anaheim, California.  Marketing Aids produced mainly DC-9s, DC-8-63s, and DC-10s in fiberglass and plastics.  Marketing Aids inherited a great number of unfinished Aluminum models (blanks) from Douglas, along with a huge inventory of Douglas factory decals.  They also had acquired many leftover finished Aluminum models, some of which were sold to private individuals.  With the merger of Douglas with McDonnell (forming McDonnell-Douglas) in April of 1967, the era of the Douglas model came to an end.  Marketing Aids continued to produce some models for McDonnell-Douglas for a short time.  The remaining inventory of Aluminum Douglas model blanks, decal sheets, and fiberglass models were either sold off or simply thrown away.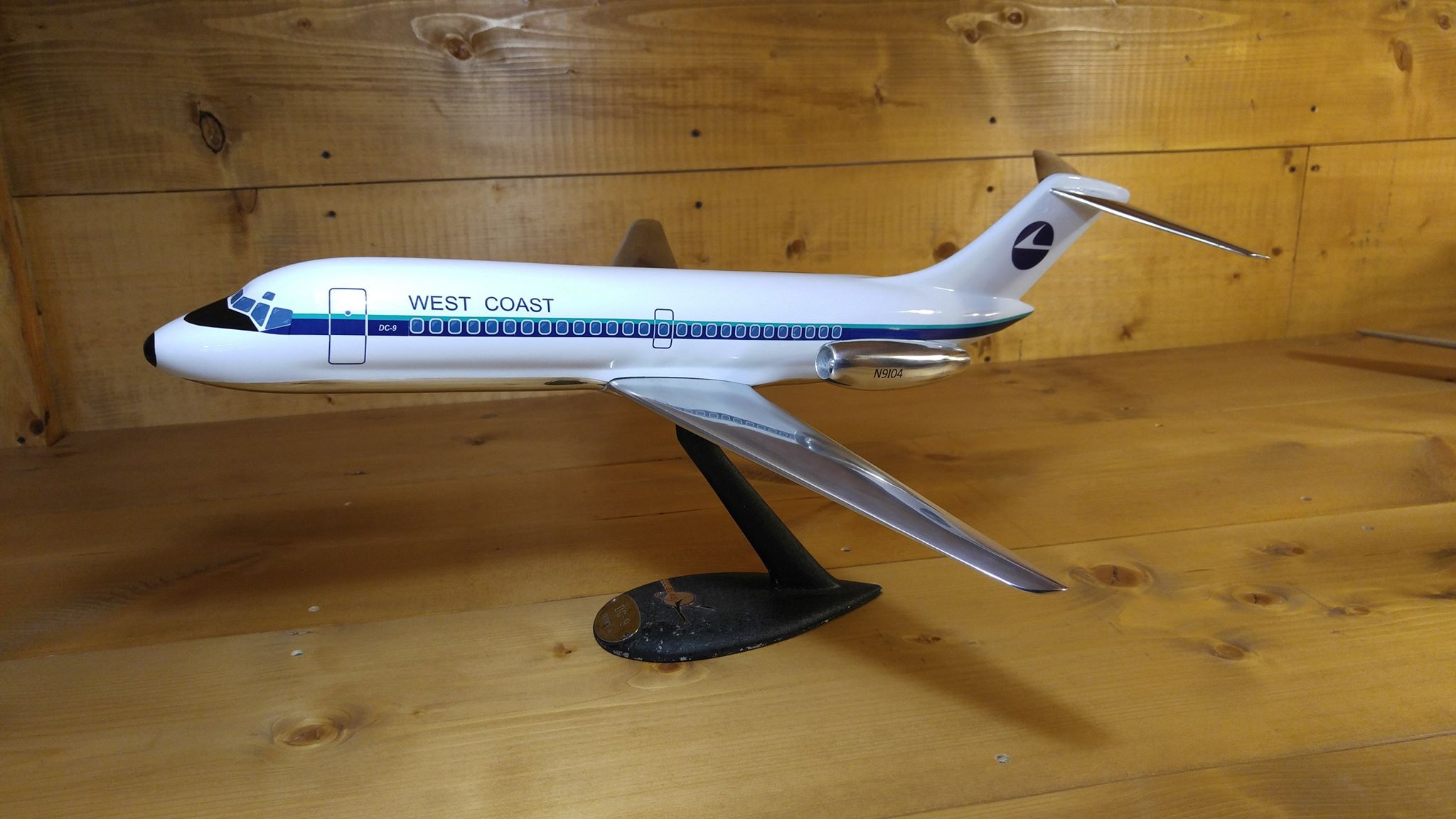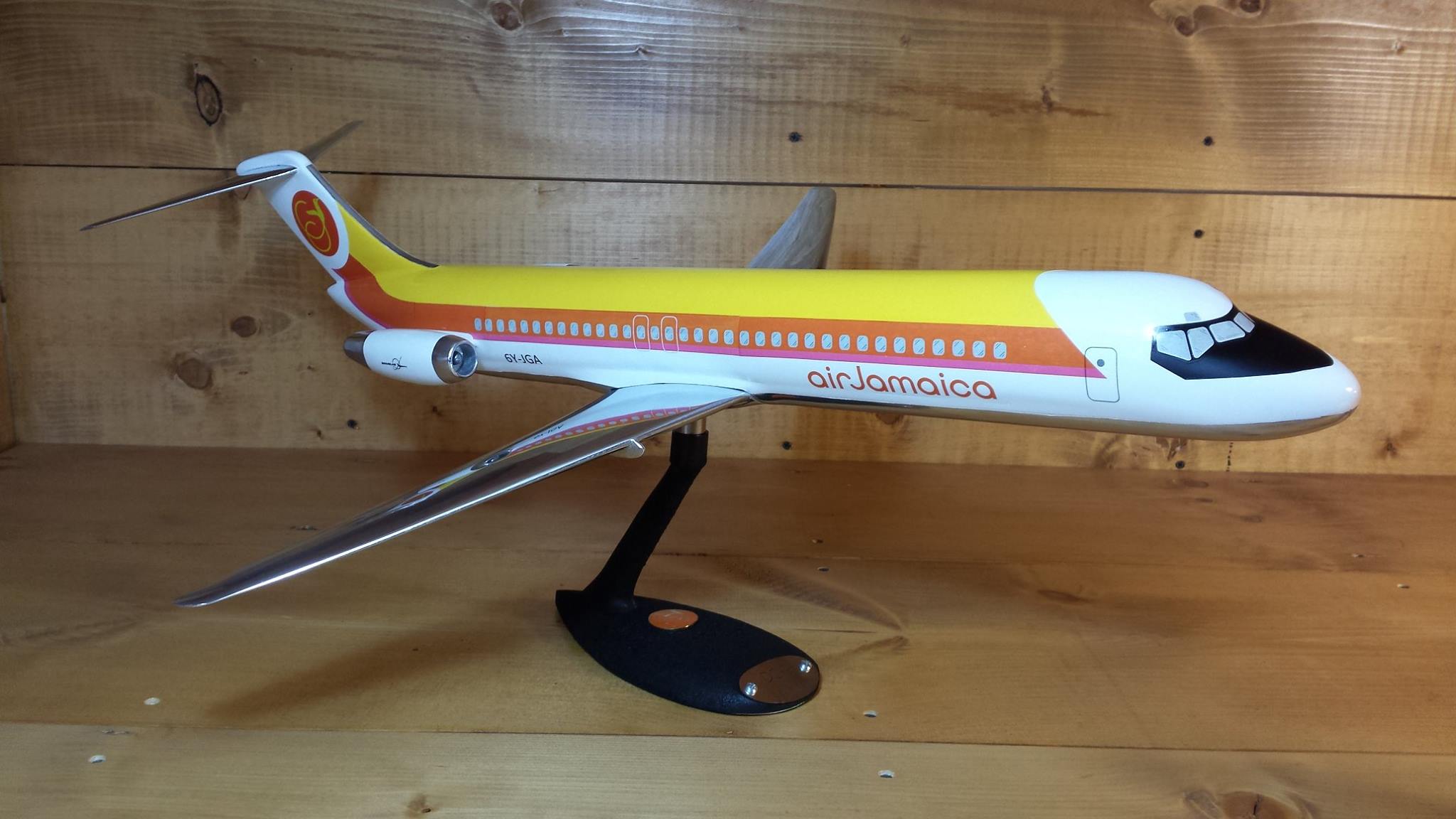 In conclusion, the models produced by the Douglas factory, and later Marketing Aids, are highly regarded by collectors and Airline historians.  Noted for accuracy and correct scale, they are a prized addition to any model airliner collection.
Trackback from your site.