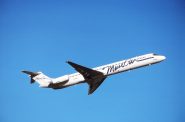 Departed Wings ~ Muse Air (MC)
Written by Jon Jamieson
1980-1985 || Dallas, Texas
In the few years after deregulation, many airlines were started to serve a niche market and take advantage of the new, un-regulated environment. One such airline was Muse Air, which took the name of its founder, former Southwest Airlines President, Lamar Muse. Hoping to capitalize on a new "class" of service, Muse Air was officially formed on October 27, 1980, and within a few months $34 million in start-up capital had been generated.
The airline selected the new McDonnell Douglas MD-80 as its aircraft of choice with leather seating for 159-passengers and Stage III noise compliance. Wearing a stylized signature script along the fuselage of its new MD-80s, Muse Air officially launched service on July 15, 1981, from a Dallas-Love Field base to Houston-Hobby Airport. Unique and controversial at the time, Muse Air was the first U.S. airline to institute a "No-Smoking" policy on all of its flights.
Over the next year, Muse Air expanded operations beyond Texas, starting service to both Los Angeles and Tulsa. During 1983, Muse Air acquired the smaller Douglas DC-9-50 for intra-Texas services to San Antonio, Lubbock, and Austin. The airline struggled with main competitor Southwest Airlines for routes, gate space, and fares resulting in mounting losses that Lamer Muse stepped down in 1984, replaced by his son Michael.
Although new cities were added such as the high-tech City of San Jose, the airline continued to struggle with finances brought on by fare wars with both Southwest and Continental Airlines. By early 1985, with continued management changes and finances in the "red," the airline sought offers for possible purchase. During this time, the airline continued to expand adding passenger service to points in Florida and Oklahoma.
In March 1985, Southwest Airlines offered $60 million for the purchase of Muse Air, much to the dismay of both Continental Airlines and America West Airlines. With approval from both the Justice Department and Department of Transportation (DOT), Muse Air became a wholly owned subsidiary of Southwest Airline under the new name Transtar Airlines on June 27, 1985.
Trackback from your site.