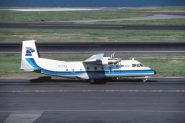 Departed Wings: Altair Airlines (AK)
Written by Jon Jamieson
                                  1966-1982                               Philadelphia, Pennsylvania
Altair Airlines was established as a commuter carrier based at Philadelphia airport and started operations on November 4, 1966. Early service connected Philadelphia with Scranton, Harrisburg, and Allentown using the nine-passenger Beech Queenair aircraft. The name Altair, was curious and was derived from the bright star "Altairus" located in the constellation "Aquila" or Eagle for which the airlines logo was created.
By 1970, Altair had expanded operations across to adjoining states, was serving twelve cities, and had acquired the Beech 99 turboprop. At times, facing competition from rival Allegheny Commuter in many of its markets, Altair was able to maintain profitability and service. With the watchful eye of the Civil Aeronautics Board (CAB), a new 32-seat limit was placed on commuter aircraft in 1972. Altair, in an effort to increase loads, looked to the French designed Nord 262 turboprop, with a capacity of twenty-seven seats to meet the CAB recommendation.
The first Nord 262 was delivered in 1975 and was used with the Beech 99s to continue flying over 100,000 passengers yearly. On the heels of deregulation in 1978, many airlines realized an opportunity to enter new markets and Altair was no exception. The airline placed an order for ten of the 74-seat Fokker F-28 jets with plans of route extension to Florida and the Eastern Seaboard.
The first F-28 "Starjet" service started on October 15, 1980 and routes expanded as far south as Tampa and Sarasota, Florida. After only a year in service and on the heels of the PATCO strike in 1981, Altair started to suffer financially. An attempt was made to establish a hub-and-spoke system from Philadelphia and Altair purchased three Douglas DC-9s from Air Canada for the service. Although the airline had become "pure-jet" by mid-1981, continuing financial loses as well as fierce completion with both Piedmont and USAir at Philadelphia, forced the privately held Altair into a downward spiral. With over $34 million in losses, the airline filed for Chapter 11 bankruptcy protection on November 9, 1982 and suspended all operations.
Trackback from your site.