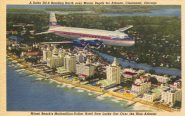 Delta Air Lines and Predecessors on Postcards
Written by Marvin G. Goldman 
Delta Air Lines has a long and fascinating history, starting with a tiny operation in the mid-1920s.  In its early years Delta was not favored with government-subsidized mail contracts and route awards to the extent enjoyed by American, Eastern, Pan Am, TWA and United, but Delta grew internally with good management, and eventually it also acquired several large airlines, including Chicago & Southern (1953), Northeast (1972), Western (1987) and Northwest (2009).
By the end of 2017, Delta's annual revenue totaled $41 billion (3d largest in the world, just after Lufthansa group and American Airlines group).  It carried 186 million passengers in 2017 (2d only to American's group) with over 850 aircraft, to more than 335 destinations.
I devote about half of the postcard images in this article to Delta itself, and have selected one or two postcards for each of the more significant Delta predecessors.  I have also included certain dates of airline acquisitions, service periods and liveries to aid in assigning a time frame to postcards of Delta and its predecessors.
Compared to the other major U.S. airlines (such as American, Eastern, Pan Am, TWA and United), Delta in the pre-internet era distributed relatively fewer 'airline-issued' postcards.  However, in recent years the Delta Flight Museum in Atlanta (also known as the Delta Air Transport Heritage Museum) has been issuing several modern postcards showing Delta aircraft or reproductions of historic Delta posters that are available for purchase at the museum or on its website "deltamuseum.org".  In addition, Delta has been issuing in the U.S. and from local offices in Europe some modern 'advertising' or 'destination'-type postcards.
Delta traces its roots to Huff-Daland Dusters, a crop-dusting operation established in 1924.  I am not aware of any postcards issued by that company, but recently the Delta heritage museum published the following:
In late 1928 C. E. Woolman and a group of investors in Monroe, Louisiana, acquired the assets of Huff-Daland Dusters and formed Delta Air Service. This new company continued crop-dusting and, with two newly acquired Travel Air Model S-6000-Bs, started scheduled passenger service on 17 June 1929.  C. E. Woolman went on to serve Delta in leading executive positions for 38 years.
From 1930 to 1934 Delta barely survived, as it could not obtain any useful airmail route from the U.S. Government in order to be profitable.  However, when the mail routes were rebid in 1934, Delta managed to land new Route 24 between Dallas/Ft. Worth, Texas and Charleston, South Carolina, via Monroe, Louisiana; Birmingham, Alabama; and Atlanta and Augusta, Georgia.  Initially it used Stinson aircraft on the route, but at the end of 1935 Delta acquired the first of five Lockheed 10 Electras that served as its main aircraft during the last half of the 1930s.
In 1940 Delta acquired Douglas DC-2 and DC-3 aircraft, starting a long close relationship with Douglas airliners, followed by DC-4s in 1946, DC-6s in 1948, and DC-7s in 1956.
For shorter-haul routes during the 1950s, Delta modernized its fleet with Convair 340s starting in 1953 and 440s starting in 1956.
In 1957 Delta acquired five Curtiss C-46s from Civil Air Transport of Taiwan for air freight services.  These aircraft served until about 1967.
Delta joined the jet age on 18 September 1959 by launching the first scheduled service of the Douglas DC-8 pure jet (New York to Atlanta route).  Just eight months later, Delta became the first to launch service of the Convair 880.  For short-haul routes, Delta introduced the DC-9 in 1965.
The 1970s saw the introduction of several wide-body jet aircraft. Delta operated a handful of Boeing 747s and DC-10-10s in the early 1970s, but found them not the best suited for its route system. Instead it turned to the Lockheed L-1011 Tristar 1 and later the Tristar 500, operating more than 50 L-1011s.
Hartsfield International Airport in Atlanta, Georgia has served as Delta's main hub for several decades. The dominance of Delta at this airport is amazing. Just like today, the following airport scene in the 1980s featured row after row of Delta aircraft.
Delta's later jet fleet includes a mixture of mainly Boeing and Airbus aircraft, the larger portion being modern Boeing types.  Here are a few postcard examples:
Turning to more significant airlines that merged into the Delta system over the years, I have selected one or two postcards of each, generally showing an aircraft and color scheme in use at the time of the acquisition concerned.  Let's start with the first major acquisition by Delta — Chicago & Southern Air Lines on 1 May 1953.
Delta's next acquisition was Northeast Airlines (known as Boston-Maine Airways prior to 19 November 1940). This acquisition occurred on 1 August 1972.
In December 1986 Delta acquired Western Air Lines, their operations being merged on 1 April 1987. This added numerous western U.S. routes to Delta's system and made it the fourth largest airline in the U.S. at the time.
On 1 October 2009 Delta made its largest acquisition ever — Northwest Airlines. This resulted in Delta becoming, by some measures, the largest airline in the world.  Northwest itself had absorbed several other airlines over the years. Here are some postcard examples of more significant ones, funneling into Northwest and then ultimately into Delta.
One of Republic Airlines' predecessors was Wisconsin Central Airlines, founded in 1944 to serve cities in Wisconsin.  As its service territory expanded Wisconsin Central changed its name on 16 December 1952 to North Central Airlines, which then combined with Southern Airways in 1978 to become Republic Airlines1
Republic Airlines acquired Hughes Airwest (previously known as Air West) on 1 October 1980. Air West in turn was a combination of three airlines. Here is a selection of postcards from this group of airlines that eventually, through Northwest, melded into Delta.
To summarize how the world of airline mergers remarkably led Southwest Airways into the Delta family, (a) Southwest's name was changed to Pacific Air Lines in 1958; (b) Pacific combined with West Coast and Bonanza to form Air West in 1968; (c) Air West's name changed to Hughes Airwest in 1970; (d) Hughes Airwest merged into Republic (formed by the 1978 combination of North Central and Southern) in 1980; (e) Republic merged into Northwest in 1986; and (f) Northwest merged into Delta in 2009. Quite a voyage!
Lastly, at various times between 1984 and 2012 Delta owned some regional airlines and operated them as 'Delta Connection' carriers. These included Atlantic Southeast Airlines, Ransome, Comair and Mesaba/Northwest Airlink.  Today, Delta's policy is to operate 'Delta Connection' services utilizing aircraft owned by other companies.
Notes:  The original postcards of those shown are published, except as noted, in standard or continental size.  All postcards shown are from the author's collection, except the Delta C-46 card. I estimate their rarity as — Rare: the Delta L-10 and C-46 cards, Wisconsin Central L-10A and Southwest Airways at LAX cards; Uncommon: the Delta DC-6, Convair 440, DC-8, Convair 880, and DC-9 'pop-up'; C&S Constellation; Northeast 727, Boston-Maine L-10; Pacific Northern 720; Northwest 4-view and 3-view cards; Hughes Airwest DC-9; and West Coast DC-9 cards. The rest are fairly common.
This article is a revision and update of a similar article by the author published in The Captain's Log of the World Airline Historical Society, Fall 2012 issue.
References:
Davies, R.E.G.
(a)  "Delta: An Airline and Its Aircraft — The Illustrated History of a Major U.S. Airline and the People Who Made It", Paladwr Press (1990).
(b) "Airlines of the United States since 1914", Smithsonian Institution Press (1972).
(c) "A History of Airlines in the Jet Age", Smithsonian National Air and Space Museum (2011).
Delta Flight Museum Website – deltamuseum.org.
Cearley, George W. (author and publisher), 'The Delta Family History', 160 pages (1985).
Airliners International 2019 Atlanta
The annual Airliners International show and convention will be held in 2019 during 19-22 June at the Delta Flight Museum located at Hartsfield-Jackson Atlanta International Airport. Here is a postcard showing the collecting scene at the previous (2015) Airliners International show in the Delta Flight Museum, with the Delta Boeing 767 'The Spirit of Delta' right inside the show venue.
I encourage all airline and airport postcard collectors who are members of the World Airline Historical Society to enter the Airliners International 2019 Postcard Contest in Atlanta, 19-22 June 2019. Postcard contest rules are on the show website, www.airlinersinternational.org.  Whether you win or not, your entries stimulate others to start or expand airline memorabilia collecting, and it's a great boost for all collectors.
Until the next article, thank you for reading, and Happy Collecting.  Marvin.
Trackback from your site.