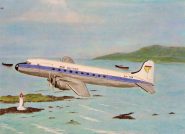 Airline Postcard Sells for Probable Record Price
Written by Marvin G. Goldman
On 23 March 2019, an Air Guinee Douglas DC-4 postcard sold on eBay for 805 British pounds, equal to approximately U.S. $1,050.  This is the highest sales price I have ever heard of for a single airline postcard.  I checked with two other leading airline postcard collectors — Bill Baird and Doug Bastin.  Bill said, "that is the highest price I've ever seen [for] an airline postcard so far".  Doug observed, "As regards whether it is the highest price, probably yes for a card with no postal history content.
This raised my curiosity to find out what was so special about Air Guinee and this postcard in particular, and that led to my writing this brief article.
From 1895 to 1960 a federation of eight French colonial territories, including 'French Guinea', existed in what was then known as 'French West Africa'.  Upon those territories gaining their separate independence in 1960, they considered forming, and several did establish, an airline consortium called 'Air Afrique'.  However, the governments of Guinee (the former French Guinea) and Mali decided not to participate, and they formed their respective own national airlines.  Air Guinee was founded in 1960 by the Guinee government and existed until 2002.
Initially Air Guinee operated with aircraft and assistance obtained from the Soviet Union.  However, in mid-1963 Air Guinee purchased two Douglas DC-4s from Alaska Airlines, and that leads us to the airline postcard at hand.
The Air Guinee DC-4 postcard was listed on eBay on 16 March 2019 by eBay seller 'kevins_models' of Stockport, Cheshire, U.K., at a starting price of £1 (about $1.30) plus £6 shipping.  The seller stated:  "THIS IS ONE OF APPROX 200 CARDS I AM LISTING THIS WEEKEND.   THEY CAME FROM A PRIVATE COLLECTION OF A COLLECTOR IN LONDON.  CARDS ARE MOSTLY FROM THE 1950s TO 1980s.  AIRLINE ISSUED CARDS SOME REALLY RARE ISSUE CARDS."
Here is the front and back of the card as listed by the seller:
The aircraft on the postcard was described by the seller as a DC-6, but it appears to be an artist's rendition of a DC-4.  Moreover, according to several sources, including a detailed Air Guinee fleet list on the website 'aerobernie.bplaced.net' (tab 'Africa', subtab 'Guinee'), Air Guinee never utilized DC-6s.  That website does list the two DC-4s acquired by Air Guinee from Alaska Airlines in 1963, registered 3X-KRS and 3X-YUN, which were in Air Guinee's fleet for three to four years.  The DC-4 on the postcard bears registration 3X-YKN, but that registration does not appear on any actual Air Guinee aircraft.  It is possible the postcard was produced before the aircraft was registered in Guinee and the number ultimately given to the aircraft was 3X-YUN rather than the '3X-YKN' supplied to the artist of the postcard.
In any event the eBay auction attracted 16 bids from 10 different bidders, and the £1 starting price soared to the ultimate £805 (about $1,050).
It was Bill Baird who actually brought this postcard to my attention.  He added that he actually has one of these cards in his own collection!  He says he never thought much about it and doesn't even remember how he acquired it.  Here are scans of the front and back of Bill's postcard.
Doug Bastin, who like me had never seen this postcard before, initially wondered whether the Air Guinee DC-4 postcard might possibly be a fake.  He thought it strange that the postcard said 'Printed in the U.S.A.' whereas the airline in its early years was closely tied to Soviet assistance.  But then he saw on the postcard listing that seller was selling numerous older airline postcards that he acquired from a London collector and that they all seemed to be legitimate.  Moreover, I note that the U.S.A. reference isn't so strange because Guinee's initial relationship with the Soviets concluded in 1962-63, and Air Guinee acquired its two main DC-4s in 1963 from Alaska Airlines.  Also, the back of the same card in Bill Baird's collection, shown above, has a handwritten greeting written in French by a person living in Conakry, the capital of Guinee.
Seller's March 2019 eBay listings included a different Air Guinee DC-4 postcard claimed to be from the same London collection and also never seen before by me, Doug Bastin or Bill Baird.  This card shows the aircraft on the ground with the crew in front, and it sold on the same day for $550 — also an exceptionally high price, above or close to any previous high price for an airline postcard.  This other Air Guinee postcard attracted 14 bids from 11 different bidders, not all of whom were the same as those that bid on the top-selling card.  The same person, however, identified by eBay only as 'c***_', was the top bidder on both cards.
Here is the seller's image of this other Air Guinee DC-4 card:
So what drove up the prices on these two Air Guinee DC-4 postcards?  First, the cards appear to be very rare. They are airline issues from an African national airline that produced very few cards and no longer exists.  The DC-4 is an old prop aircraft popular with collectors.  The aircraft type served with the airline only 2-3 years.  And, perhaps most importantly, there were many collectors bidding on the cards, including more than one in each case who was willing to pay an extremely high amount for the prize.  As to the record-setting card, two different collectors bid over $1,000 (and a third collector bid nearly $300).  The second card, showing the DC-4 on the ground with crew, had two different collectors bid $550 each (the earlier bid won; and a third collector bid over $200).
If you have any comments or more information about these two Air Guinee postcards or how they came to be sold for these top prices, I would be glad to hear from you.  I may reached through the 'Contact Us' tab at the bottom of the World Airline Historical Society, Inc. website home page at wahsonline.com.
Who knows?  Maybe you will find one of these postcards at Airliners International 2019 Atlanta !
Marvin G. Goldman
Trackback from your site.