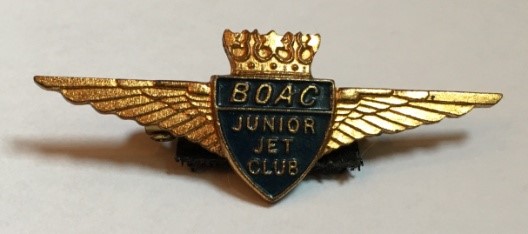 2017 – 65 Years of Commercial Jet Service
Written by Lane Kranz
Commemorating 65 years of commercial airline service is exciting. We have come a long way. The de Havilland Comet, the Boeing 707 and the Douglas DC-8 set the stage for the next generation of the airline industry—the jet age. Looking back at the first passenger flight for these impressive aircraft reveals some interesting details.
On May 2, 1952 British Overseas Airways Corporation (BOAC) was first to market. On this day, BOAC's maiden flight started a new era in commercial aviation which would usher in a new, faster way of connecting our world. Interesting to note, however, was the passenger capacity of the Comet. It held between 36 and 44 passengers. By today's standards, that's the size of a small regional jet. Also interesting to note was the first route– London to Johannesburg. However, due to range limitations of the Comet, the actual route was London-Rome-Beirut, Khartoum (Sudan)-Entebbe (Uganda)- Livingstone (Zambia) – Johannesburg. Travel time was approximately 24 hours. By today's standards, the same route is operated nonstop by 3 airlines and takes approximately 11 hours.
These junior wings were issued by BOAC and are representative of the type of wings given to children on early BOAC flights.
Next up, it's America's turn. On October 26, 1958, Pan American World Airways inaugurated Boeing 707 service between New York and Paris. Although several years behind the de Havilland Comet, the Boeing 707 was much more refined and technically advanced. Interesting to note was the marketing and celebrations prior to entry. Just 10 days before the inaugural flight, Pan Am had a lavish ceremony at Washington National Airport. Mrs. Dwight D. Eisenhower and Juan Trippe christened the "first American built jet airliner" as Jet Clipper America.
This rare formal invitation and picture of the event shows the pride and professionalism of Pan Am as well as the excitement of our nation.
These junior wings were representative of the type given to children aboard Pan Am's early jet flights.
Junior Clipper Pilot and Stewardess.
Junior Clipper Pilot and Stewardess (note all blue background)
Nearly one year later, Douglas celebrated the entry of service with the Douglas DC-8. Although last to service, the DC-8 would far outlive the Comet and the 707 in commercial airline service. In fact, in 2017 you can still see an occasional cargo version of the DC-8 still flying. The DC-8 entered service on September 18, 1959 with both Delta Air Lines and United Airlines. Delta was first by a few hours on the Atlanta – New York route.
These wings are representative of the type of junior wings given to children aboard Delta and United's early DC-8 flights.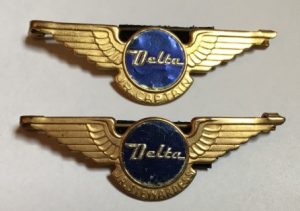 Although Delta introduced the widget in 1959, the DC-8 first flight likely carried the older "Flying D" style wings.
 The more updated widget logo later appeared on Jr. Captain and Jr. Stewardess wings.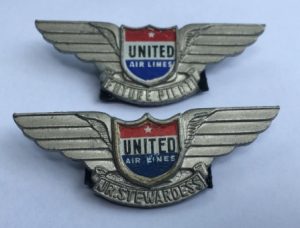 United's Future Pilot and Jr. Stewardess wings.
Trackback from your site.