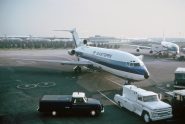 Musings from a Passenger's Seat: Eastern Airlines Memories
Written by Lester Anderson
I will state, without reservation, that I was a fan of Eastern Air lines and I want to share some of those memories.
My First 727 Flight
I graduated high school in 1965 and (along with my traveling companions, two other high school students graduating the same high school) we celebrated our graduation by taking a flying trip to Hartford from New York.  We had no thoughts of going into the city, we wanted to fly from a NY airport to the Hartford airport, and then fly home.
We planned this through research using the OAG (Official Airline Guide).  This was a book that was about the same size as the New Jersey Bell telephone directory.  For those of you under 40 and have no idea what that means, it was an 8 ½" x 11 book, with soft covers, about 300 pages, printed on newsprint paper.  It listed every flight in the United States, listing the airline, type of aircraft, departure and arrival times, days of travel and fares. It was published twice a month to keep current. We could never afford a subscription, but I had a travel agency that I befriended (Greenwald Travel in Clifton) and they would give me a copy of the expired last issue.
We all had mail subscriptions to the airline timetables, but they were mainly useful to see the flight details.  But the OAG it gave all fares and which airlines were authorized to offer special fares.  In the 1960's all fares were approved by the CAB, and between city pairs, and unlike today they changed only when the CAB gave the OK. Classes included First on all aircraft (F) and Economy on jets (Y) and Tourist on piston engine (T). But important to us were deeply discounted fares, often on weekends, called Weekend Excursion (YE) fares.
So a month after our high school graduation we flew on an Eastern Air Lines Excursion Fare from JFK to Hartford and return to Newark for the magical fare of $12.00 ($11.43 plus 57 cents tax). (See the Eastern Air Lines ticket image).  The validation franking (even though the official name had changed to JFK) was International Airport, New York, NY.  (As a side note, I was a fan of the James Bond movies, and the airline code for all airline issued tickets by Eastern was 007).
The first flight was on an Eastern DC-7B.  Since my first flight ever was on a DC-6B this was like the big brother of an old friend.  I must admit while I remember taking the flight, I cannot give any outstanding details about either the flight or the aircraft, other than remembering the taxi time at JFK was much longer than LGA or EWR.
The return flight was a major reason for the trip, it was a new Whisperjet 727.  Eastern had begun flying the 727 the year before, so this was a brand new airplane. I sat mid-cabin across from the galley.  My first major memory was that it was far from whisper-quiet.  Engine noise was not there, but the wind noise was even louder!  I was later told that the degree of soundproofing insulation was an airline option
I was over 18 and in those days you could drink alcoholic beverages in NY at 18, so I was interested in the galley liquor display.  Unlike today when everyone gets a small bottle, about 8 full size bottles were mounted vertically on the bulkhead with a dispenser at the bottom. If someone bought a drink the stewardess (yes that is what they were called) put a glass under the spout and the correct amount was dispensed.  Both because it was expensive for us (plus it was a mid-afternoon flight) we passed on buying drinks on the plane.
For all of our flights, leaving JFK, arriving and departing Hartford, and arriving Newark, access to the airplane was outside using steps, not the Jetway that became the standard way of boarding years later.
And one other change—the back cover of the ticket package reminded you that if you were on a round trip ticket and stayed overnight you needed to reconfirm you return reservation.
Ionosphere Club
When they started, airline clubs were the exclusive facilities that only the most valued customers of an airline could visit.  In the 1970's airlines were forced by congress to open their clubs to any passenger who would pay a membership fee. And for me, that was the golden ticket.  For $25 for a year, I signed up for a membership at Newark Airport.  A few months later they sent me an invitation to upgrade to a 5-year membership, which I also gladly did.  Then a few months later (they had an effective marketing department), I was given the opportunity to become a lifetime member, for me and (eventually) my wife.  The total cost was just about $500, and this has given me club access through all of Eastern's existence, then Continental's President's Clubs (with only a minor requirement of flights to affect the transfer) and now we are lifetime members of the United Club.  When I did sign up for the lifetime membership they send me a wood wall plaque (see picture) attesting to my membership. It is still on my wall (basement wall, but still my wall).
I got a good deal on this and so did Eastern because as I travelled on business, having the advantage of the Ionosphere Club, did get me to book as much travel on Eastern as I could.
As a member of the Ionosphere club, I was also invited to open an account in the Eastern Airlines Credit Union.  While I had no real need for another bank account, the checks on that account were pictures of Eastern airplanes, so how could I say no.  And while I visited only once, I found that the "local branch office" for making deposits and withdrawals was in Eastern Flight-Operations.  In those days of little security, just showing my Eastern Credit Union membership card got me in the door of flight-ops.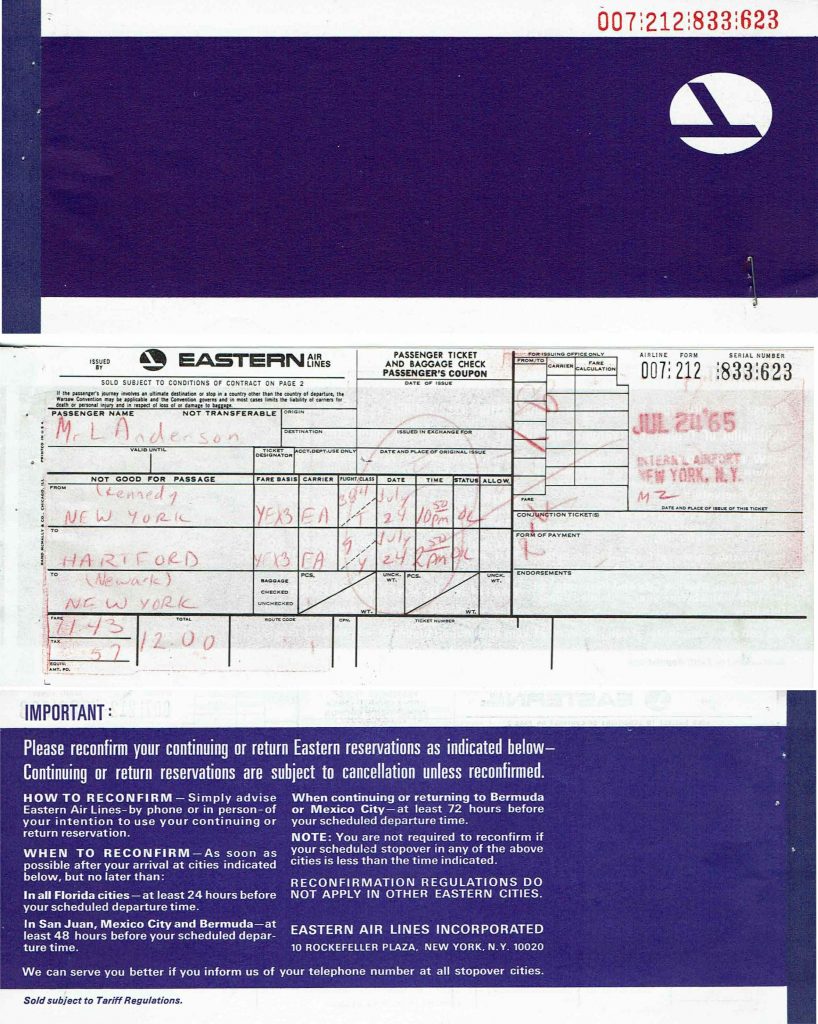 Flight  Memories
When I was in the computer business I did a lot of business travel by air.  And although I eventually did have multi-year memberships in the United Red Carpet Club and the Delta Crown room, my favorite was Eastern and the Ionosphere Club. I was never able to convince my employer to pay for the memberships, but I found them invaluable whenever there was a flight delay or cancellation (the line at the counter had 100 people, the club may have had 2 or 3 in line).  Plus in those days, flight changes and sometimes upgrades were at the discretion of the agent, and the club agents were very generous, especially to we frequent travelers.
If you flew south, with Eastern (and Delta for that matter) odds are very high you were going thru Atlanta.  Eastern had a great presence there.   They occupied concourse C fully and split the gates of Concourse B with Delta, and both concourses had Ionosphere Clubs.  And if you were making a connection (as you often were), they had a great "cheat corridor." There was a passageway built under the tarmac of the gates with a moving walkway between the two Eastern Concourses so you could easily go from one concourse to the next if that was needed for your connection.  From what I can find on the web, the passageway still exists but it is closed off since there is no more need for it.
Airline Food
What is there to say about it.  But two things I can relate about Eastern.  They had what I called their "Apple Snack", a plastic tray with an apple, two wrapped pieces of cheese, and some crackers, all in a shrink wrapped package the flight attendants (times, and job designations, changed from the 60's) could easily distribute to the 100-150 passengers even on hour long flights. And it was the perfect snack for an afternoon flight. The regular meals were OK (nothing great, nothing terrible) but Eastern had probably the best selection of "special meals" you could order in advance.  I took advantage of that often, and it gave me a meal of which my seat-mates often would be envious.
Eastern's frequent flyer program, OnePass, gave each member a book of tickets, about the size of small checks. When you turned in your ticket (all flights used paper tickets), you also turned in this OnePass form which had your information already printed on it, and you just wrote in the date and flight number.  And it worked very well.
Although I traveled a lot (and therefore got my share of first-class upgrades), I never had a position where I was authorized to fly first class on a first class ticket.  But Eastern had a Y-ONEPASS fare which, if the ticket was written as full "Y" fare, you could book confirmed space in the first-class cabin.  A great marketing way around a customer who needed to fly "Y", but would love to sit in "F."
And during the times of "saving every dime" Eastern did a power-back at the Atlanta airport gates with the 727 and DC9 aircraft to avoid needing the tug.  My memory of that (and I knew what was coming so I was never concerned) is the aircraft moved forward a foot or so towards the terminal before starting to back up.
Some Sadness
Eastern declared bankruptcy in New York (where Eastern management felt they would have a better chance).  It was a Miami company, but due to the rules of bankruptcy, the first Eastern entity to declare was Ionosphere Clubs Inc. which was a New York corporation. Then Eastern Air Lines could join its sister company in the bankruptcy filing and it would be adjudicated in New York which management thought might be friendlier than if they declared in Florida.   History shows how that worked out.
But my greatest sorrow was going thru the Atlanta Airport after Eastern finally ceased all operations.   The tram that goes between the concourses just bypassed the darkened Eastern only concourse C and the Eastern/Delta Concourse B was partially blocked. I also walked between concourses (ATL has a moving walkway) and it was upsetting to walk past the C entrance with all lights off, and the B entrance partially closed off' a sad memory of Eastern's demise.
But I am glad that I have so many more good and vibrant memories of Eastern, and that spirit of the "Wings of Man" still lives on in me.
Trackback from your site.