Air Cargo Carriers,Allegheny Commuter,Command Airways,McNeely Charter Services,Mississippi Valley Airlines,Shorts 330,Shorts 360,Simmons Airlines,Suburban Airlines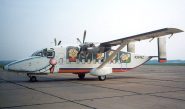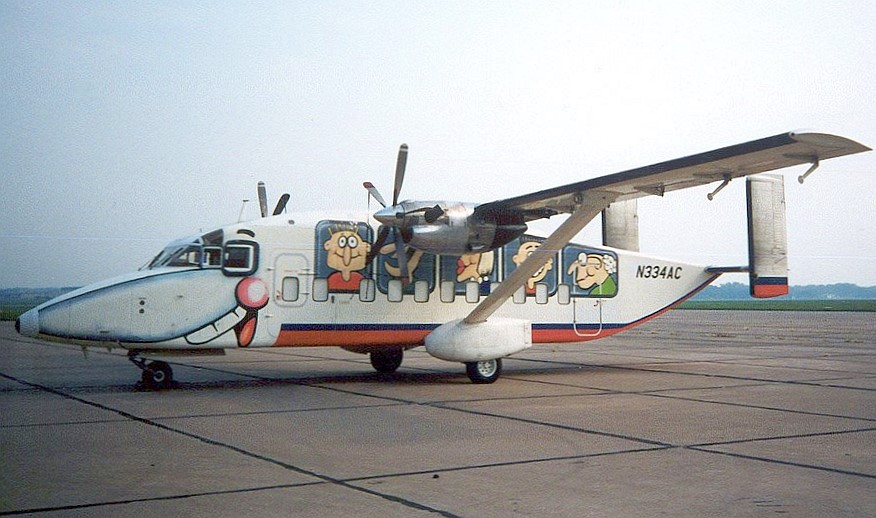 By Robert G. Waldvogel
The Shorts Skyvan, a light freight transport, and the 330 and 360 commuter airliners that were based upon it, were rugged and reliable aircraft, the latter facilitating the growth of then-developing regional carrier route structures.
Shorts Skyvan
Based upon an amalgamation of two conceptually similar designs, the HDM.106 and the HDM.107 that Short Brothers of Belfast, Northern Ireland, purchased from F. G. Miles in 1958, the eventual Skyvan used the foundation laid by both for a utility and small cargo aircraft, whose development commenced the following year. It was initially designated the PD.36.
Stubby and short, it was hardly the sleekest airframe in the sky, but its features were necessary for its intended missions, including twin engines; a high-mounted, straight wing with an aspect ratio of 11; a box-resembling fuselage with slab sides and an internal, 6.6-square-foot cross-section; an aft loading ramp operable in flight; dual vertical tails; and a fixed tricycle undercarriage.
Powered by two 390-bhp Continental GTSIO-520 piston engines, the Skyvan 1 first flew in prototype form on January 17, 1963. Underpowered, it was retrofitted with 520-shp Turbomeca Astazou II turboprops, once again taking to the skies ten months later, on October 2, in whose guise it was provisionally known as the SC7/10 Skyvan 1A.
Yet a second powerplant change, this time to the even more capable 637-shp Astazou X, coupled with minor wing modifications and a lowered tailplane, resulted in the March 1965 variant, the Skyvan 1A series 2, for which Aer Alpi of Italy became the launch customer, placing an order for two aircraft.
The definitive production version, fitted with 730-shp Astazou XIH-1 engines, introduced several modifications, among them a more streamlined nose, larger, rectangular passenger windows to replace the original round ones, a single nose wheel, and with the ninth production airframe, a 31-inch cabin length increase, for a new, 18.7-foot total. Finally, a fuel capacity increase, from 175 to 225 Imperial gallons carried in four wing tanks.
High-elevation and –temperature airfield operations necessitated an even more capable version. Introducing 755-shp Garrett AiResearch TPE-331-201A turboprops, which drove three-bladed Hartzell propellers, and an increased 300-Imperial gallon fuel capacity, the resultant SC7 Skyvan 3, employing the now modified Mk 2 prototype, first flew on December 15, 1967.
With a 40.1-foot overall length and a 64.1-foot wingspan, it offered a 4,600pound payload, 12,500-pound gross weight, and 654-mile range with its maximum fuel and a 3,000-pound payload.
Because the flat ceiling and vertical walls of its boxy cabin provided considerable volume within a relatively small area, it offered flexible accommodation, from the previously quoted 4,600 pounds of cargo–comprised, if necessary, of small vehicles–to 12 stretchers and up to 22 single-class passengers. A convertible variant accepted palletized freight, with provision for its lightweight, slimline seats to be folded against the sidewalls.
Incorporating these features was the succeeding Skyvan 3M military version, which also introduced nose-installed weather radar, a roller-equipped loading system, and accommodation for 12 stretchers, 19 paratroopers, or up to 22 standard troops. More importantly, it offered increased maximum payload and takeoff weights of 5,000 and 13,500 pounds respectively.
The Austrian Air Force, the first to order the type, took delivery of its two examples on September 12, 1969.
A third-level or commuter airline variant, the Skyliner, incorporated passenger features, including a low-entry door on the aft, port side and a modernized cabin with individual air vent and reading light units, a small galley, and a lavatory.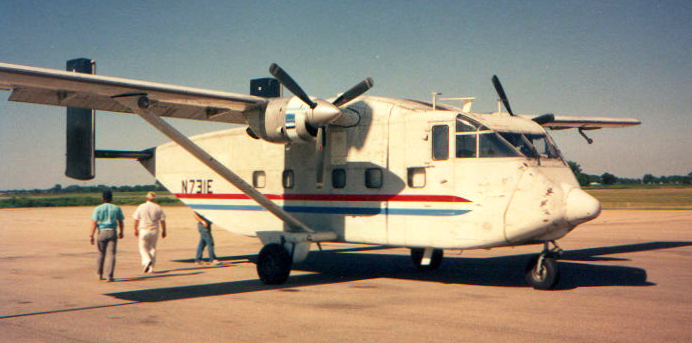 Shorts 330
Development of the passenger-configured Skyvan and Skyliner, undertaken to produce an inexpensive, unpressurized commuter airliner, resulted in several fundamental modifications that introduced higher capacities and sleeker lines.
A 12.5-foot forward fuselage stretch, for instance, coupled with a more pointed nose, afforded a 30-passenger capacity in a three-abreast, one-two, arrangement at a 30-inch seat pitch, complete with molded sidewalls and enclosed overhead storage compartments. A 9.9-foot insertion in the braced, high-mounted, supercritical wing took the span to 74.8 feet and its area to 453 square feet.
Power was provided by two Pratt and Whitney PT6A-45 turboprops, turning five-bladed propellers, while the tricycle undercarriage was retractable for the first time.
Launched after receipt of UK government financial aid on May 23, 1973, the aircraft, initially designated the SD3-30, first flew in prototype form on August 22 of the following year. A second one first flew on July 8, 1975 and the first production example took to the skies five months later, on December 15.
Although launch orders were placed by US-based Command Airways and Canada-based Time Air, the latter, in fact, was the first to inaugurate the type into service on August 24, 1976.
Succeeding the baseline Shorts 330-100, the 330-200, announced in 1981, offered 1,020-shp PT6A-45R engines, whose power increased to 1,198-shp when the "r"—for "reserve"—was used. With a 7,500-pound payload and a 22,900-pound gross weight, this variant carried 3,840 pounds of fuel, but, like all others in the Skyvan/Skyliner/330 series, it suffered from speed deficiencies, only cruising at between 180 and 200 mph.
Aside from US launch customer, Command Airways, other US regional operators included Golden West Airlines, Mississippi Valley Airlines and Metro Airlines. These three carriers, Henson Aviation, Suburban and Chautauqua Airlines all operated under the Allegheny Commuter banner. Lastly, not to be left out was Burlington, Vermont based Air North.
Aer Lingus and Olympic were major European operators of the type.
A military version, the C-23A Sherpa, featured an aft loading ramp. Some Shorts 360 aircraft were converted to become C-23A Sherpas.
Production, which ceased in 1992, totaled 136 examples of all variants.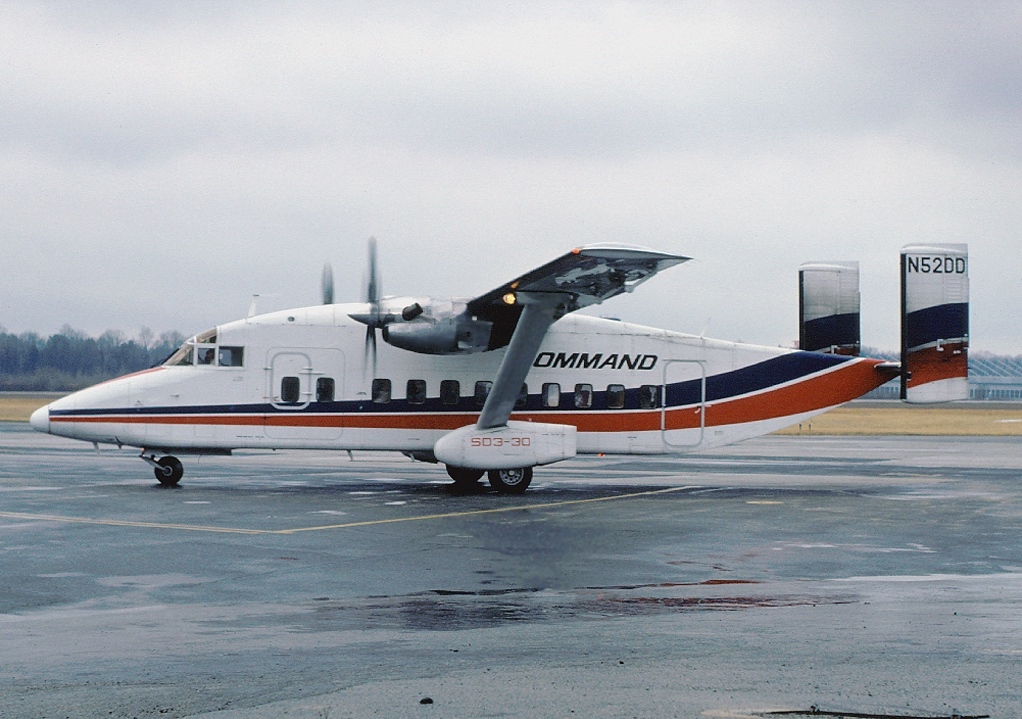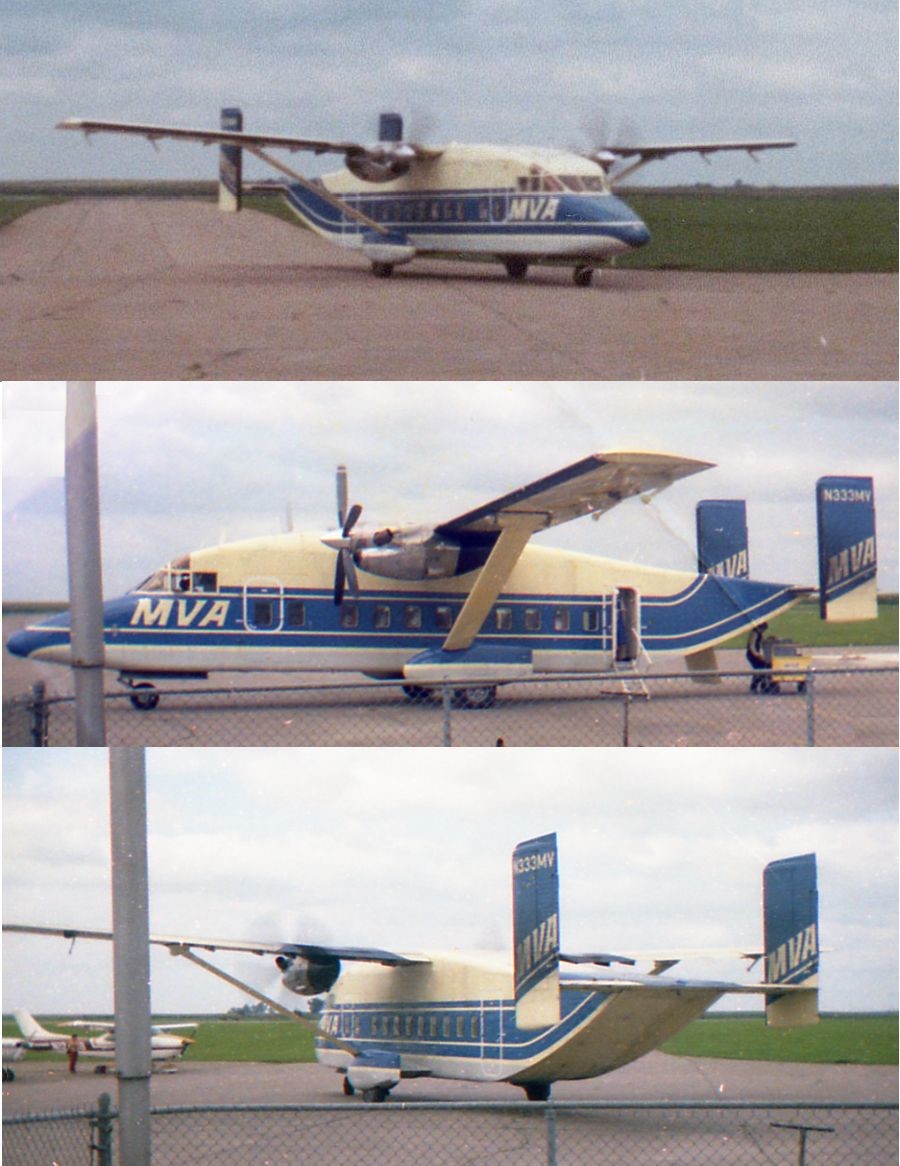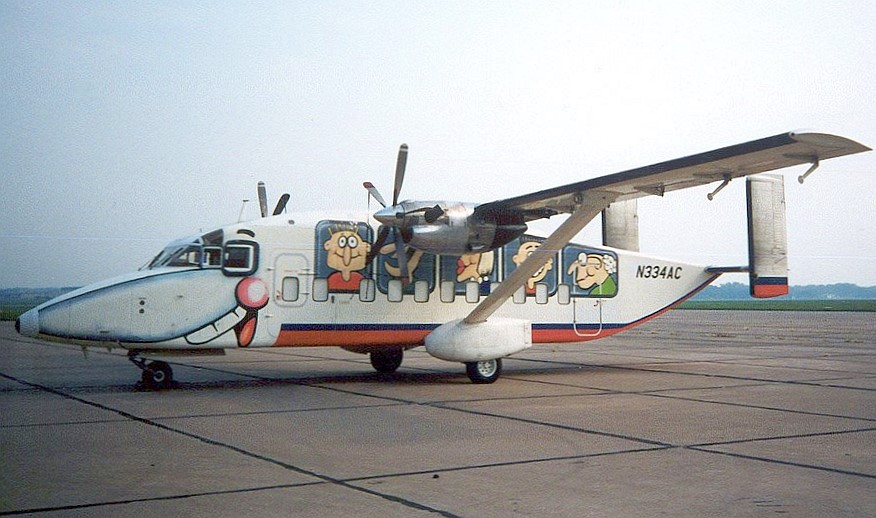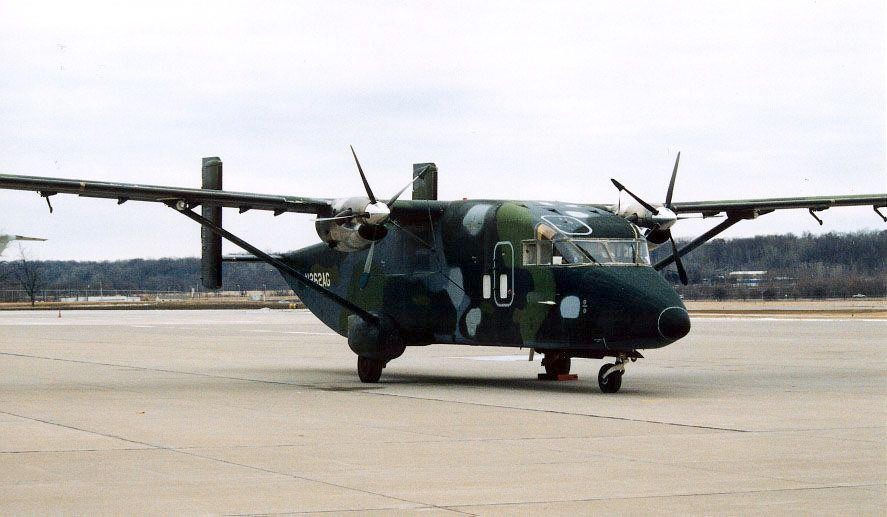 Shorts 360
The Shorts 360, the definitive development of the Skyvan and the 3-30, introduced a three-foot forward fuselage plug for a new 70.6-foot length, a redesigned aft portion with a tapered profile, a swept, single vertical tail, two additional seat rows for a 36-passenger total, uprated, 1,194-shp PT6A-65R engines, a 25,700-pound maximum takeoff weight and higher cruise speeds, of up to 243 mph.
Suburban Airlines, operating under the Allegheny Commuter consortium, placed the launch order with aircraft N360SA, seen in the photo below.
First flying in prototype form on June 1, 1981 and certified on September 3 of the following year, it entered service two months later.
Advanced versions, introduced in 1985 and 1987, featured higher rated engines and six-bladed propellers before production, totaling 165 aircraft, ended in 1991.