airlines,Jetstream,Sierra Expressway,Sierra West Airlines,Sierra West Express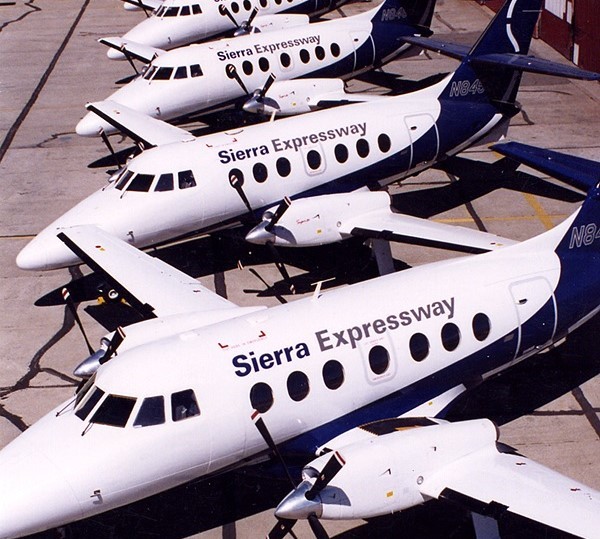 By David Birkley
Sierra West Airlines was founded by Dan Brumlik and Scott Bekemeyer as a commuter airline that would compete with congested Northern California's highways and existing carriers with a focus on low fares and frequent service. Utilizing Oakland International Airport as a hub offered easy connections to other airlines like Shuttle by United, Southwest, and others.
Headquarters and HUB operations were to be located at the Oakland International Airport. Sierra West Express chose the reliable 19 passenger British Aerospace Jetstream 3200s with plans to serve 12 cities in Northern California and Southern Oregon with a predicted start date of May 1995. Seven beautifully painted J3200s with updated interiors joined the small airline. Aircraft and support came from British Aerospace and JSX Capital of Sterling, VA. 
The airline received its certificate on August 11, 1995, as Sierra Expressway. With much fanfare, service began on August 18 from Oakland to Eureka/Arcata, Monterey, Sacramento, CA, and to Medford, OR. Service to Redding, CA started in October.  Monterey was dropped in December and new service to South Lake Tahoe was started.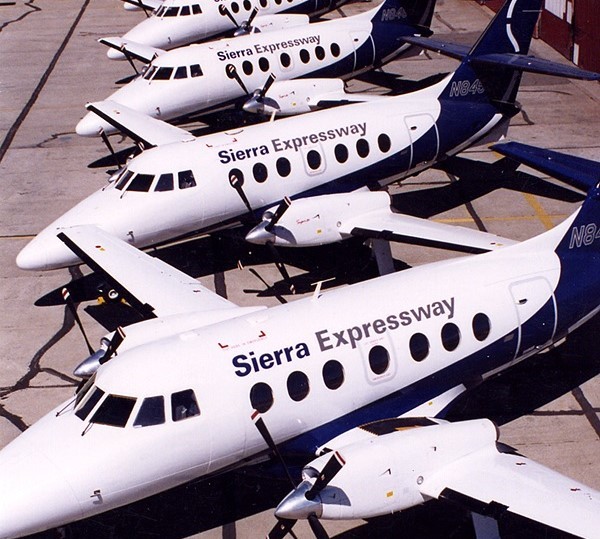 Photo Courtesy: Author's Collection
The airline attempted to follow the success of ValuJet and Southwest Airlines by offering ticketless, no interline or baggage agreements, and peak and off-peak pricing structure. Low-cost walk-up fares were offered with few restrictions. You could purchase a roundtrip ticket Oakland-Medford for $218 which was less than one-third of the competing airlines. The airline offered two fares Off-Peak (6:00A-8:00A and 7:00P-12:00A) and Peak (8:00A-7:00P).
Once at the airport, one could expect friendly and enthusiastic service at check-in. When complete you were given a heavy thick plastic boarding pass with a story on it why you should be flying. No seat selection was offered onboard. Each out-station staff included a station manager and a small staff of ticket and ramp agents. Stations were also crew bases with three captains and three first officers. The airline employed over 250 personnel in December 1995: pilots, mechanics, and airport staff plus, administration.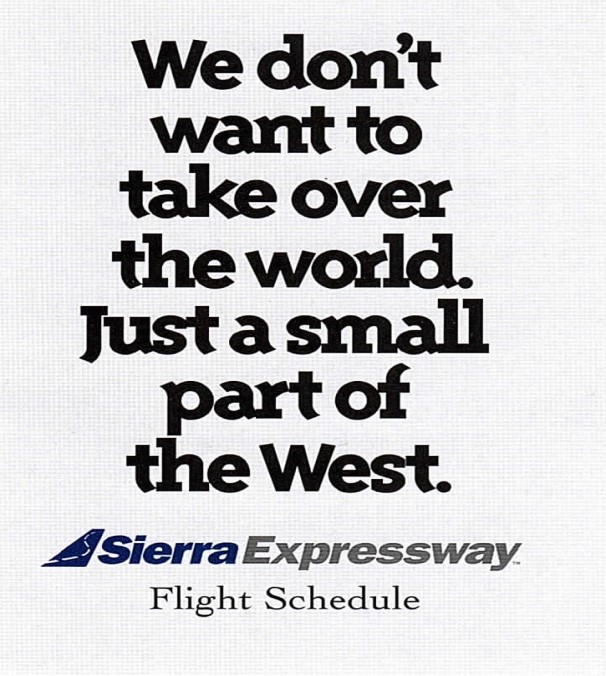 Item Courtesy: Author's Collection
However, after the brief expansion in late 1995 and a slow reduction in service in early 1996 the airline continued to lose money and load factors hovered around 30%. As hard as the management team tried with enthusiasm, low fares and promotions were not enough.  The airline never achieved its predicted load factors of 50%, and other unforeseen expenses had eaten away at the airline's operating capital. No choice was left but to close the doors on Friday, February 16, 1996.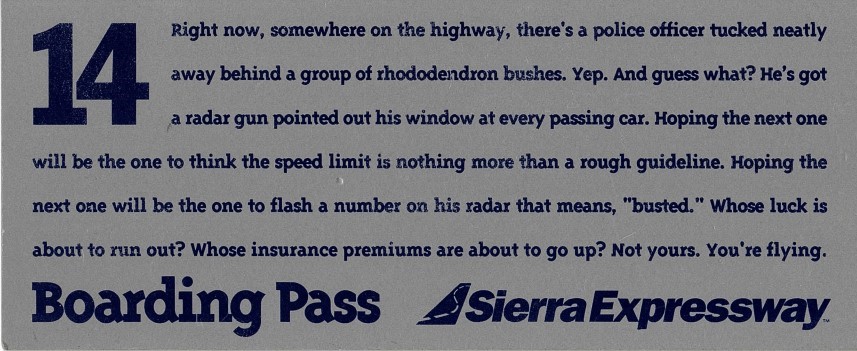 Item courtesy: Author's Collection