Delft,Houses,KLM Royal Dutch Airlines

By Pat and Keith Armes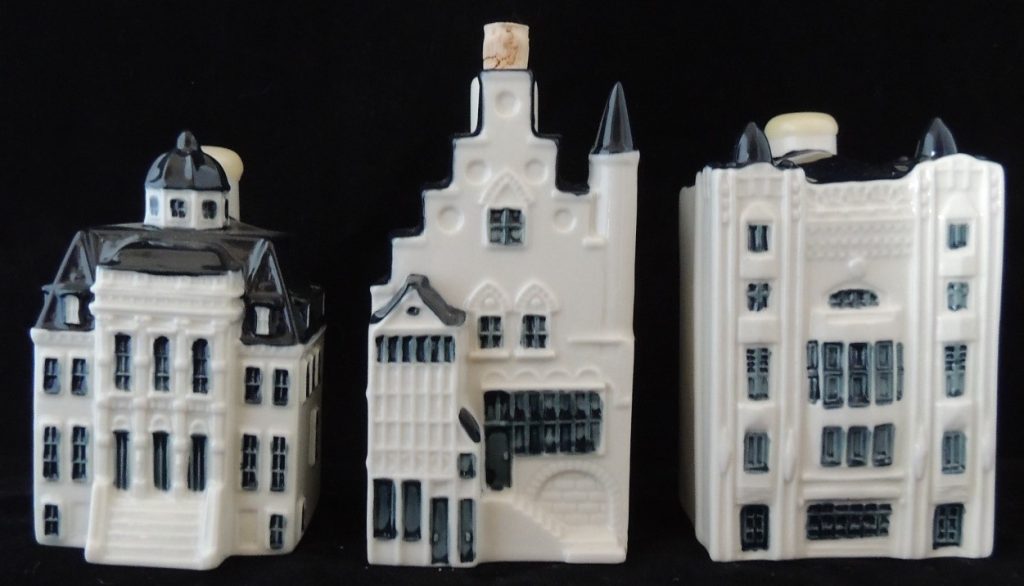 Have you noticed the many Delft-style miniature ceramic Dutch canal houses produced for KLM Royal Dutch Airlines? They have become quite an airline collectible since their introduction in 1952. There are now 102 different houses that have been produced and distributed to KLM passengers.  In addition, KLM has added limited and special edition Dutch buildings, tile "coasters,' and ashtrays to this unique area of airline collectibles.
HISTORY
Beginning in 1952, passengers traveling in "KLM Royal Class" (as first class was known at the time) on intercontinental flights were given one of these miniature KLM Delft Blue houses as a "gift" at the end of their flight. In order to be compliant with international rules and restrictions for gifts to passengers, KLM was quick to ensure the "gift" was a "last drink on the house" and cleverly served in a miniature Delft replica canal house. They were individually packaged in a blue box labeled KLM Royal Class, with the house number on top, and included a leaflet picturing previously-issued miniatures. (Fig. 2). The houses varied in size from about 3 to 4 inches tall to 1 ½ to 2 inches wide. Depth varied slightly, most being around 2 inches. Over the years the houses were filled with alcohol (Dutch genever/gin) produced in the Dutch distilleries of Rynbende, Henkes, and, since the 1980s, Bols. Today a miniature KLM Delft Blue house is given to all passengers with a business class ticket.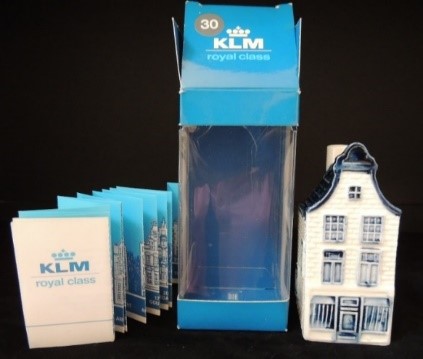 Production and distribution of the miniature houses was sporadic between 1952 and 1994, with many houses produced at one time, and then none for several years. Through 1993, KLM had produced 60 miniature houses. The year 1994 was significant, as it was the 75th anniversary of KLM Royal Dutch Airlines. In honor of this milestone, an extra 15 houses (numbers 61-75) were produced to match the age of the airline. Annually since 1994, a new house is introduced on October 7th, KLM's anniversary. The first production model is presented to the owner of the house the miniature is modeled after. The most recent house produced was #102, which began distribution on October 7, 2021.  It is modeled after the Tuschinski Theatre building in Amsterdam.
The houses were originally produced by Royal Goedewaagen in Gouda, the Netherlands. Even though not manufactured in Delft, they are made in the traditional Delft manner (tin-glazed porcelain, with blue printing and highlights).  KLM ended its contract with Royal Goedewaagen in 1995. Houses #75 and higher, as well as any additional production runs of the earlier numbered houses (reproductions), have been made in Taiwan. The houses are still in production today, so you may find some that have a low number, but are actually from a more recent production year. Beware if your plan is to complete your collection with "original" houses. In order to verify its authenticity, you should carefully examine any house you are considering for purchase. The reproduction houses were made from different molds and will normally have a slightly different "look," with sharper features and different markings (Fig. 3).
(Fig. 3 additional description) The original house #1 (left) is marked on the base with an impressed "1", stamped with "Rynbende Distilleries Holland," and on the back there is a "KLM" stamp and a "Simon Rynbende & Sons" blue & white label. The second house is a reproduction of house #1 (center) which is marked on the base with an impressed "2015" and a "1″ stamped with "Blue Delft's exclusively made for KLM by BOLS AMSTERDAM 1575" and the back has a "1" "BOLS AMSTERDAM 1575" and "KLM" stamped on it. The third house #1 (Right) is also a reproduction with a "1" impressed on the base along with a "Blue Delft's exclusively made for KLM by BOLS Royal Distilleries Holland" stamp and "1", "BOLS" and "KLM" stamped on the back.
HOUSE SELECTION
KLM has a team of real estate professionals and historians that make the recommendation for the next KLM Delft Blue house to be produced each year. The current manufacturing contract is with Bols (Royal Distilleries Holland). According to their requirements, the house must have "Dutch" character and be interesting architecturally and/or historically. It should also be linked to a special historical or cultural event, if possible. Many of the model houses selected are currently privately owned. They are also many that are designated as "local" or "national" monuments.
Most of the houses KLM has used as models have been identified by address and city. The exceptions include numbers 1, 3, 4, 5 & 7. Identification and location of these houses continues to baffle city and architectural historians. It is speculated they may be the result of an artist adding features from many different houses to create a Dutch "fantasy" house.
LIMITED AND SPECIAL EDITION HOUSES
In addition to the canal houses, there are several well-known "Limited and Special Edition" buildings commissioned by KLM and produced by Bols in the same Delft style.  They were never given away on KLM flights, are not numbered, are larger than the miniature canal houses, and usually more valuable.  Shown below (Fig. 4-7) are the Frans Hals Museum (Groot Heiligland 62, Haarlem), the "Scheepvaart Museum" (National Maritime Museum), "The Royal Palace" (Palace on Dam Square), and "Kaaswaag Gouda" (Cheese Weigh House, Gouda).  They also produced the Hotel Waldorf Astoria Amsterdam (House Marot – Herengracht 548), Hermitage Museum (Amstel 5 Amsterdam), Royal Theater Carré (Amstel 115-125, Amsterdam), Royal Palace Het Loo (Koninklijk Park 1, Apeldorn), The Royal Concertgebouw (Concerthall – Concertgebouwplein 10, Amsterdam) and Huisterkleef (oldest inner tennis courts– Kleverlaan 9, Haarlem) as well as others.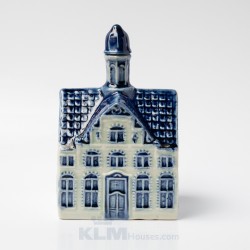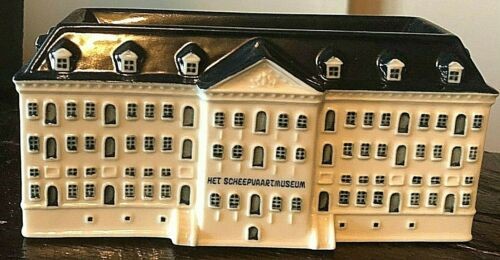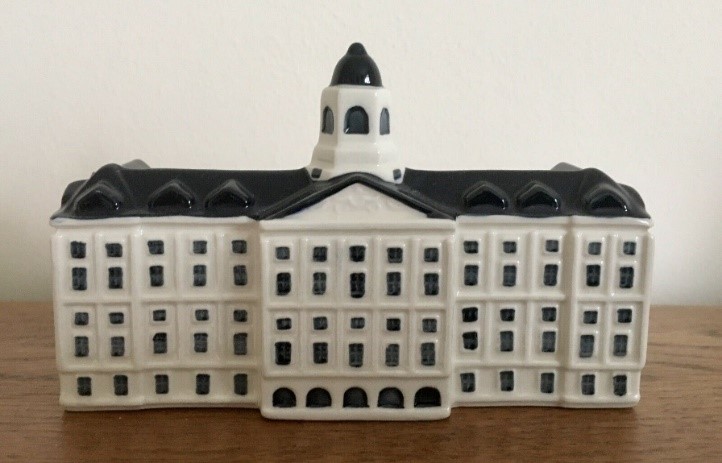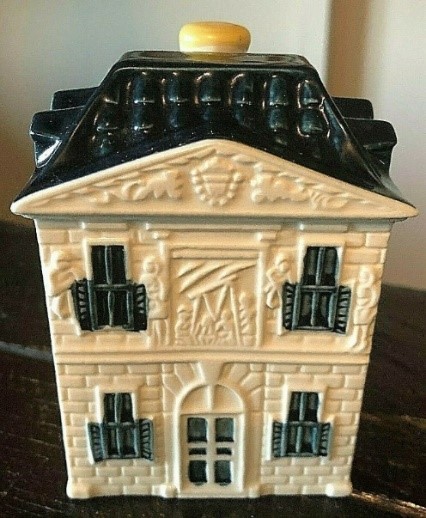 A larger version of the Palace on Dam Square (approximately 19.7" X 10.6" X 4.3") is presented to the winner of the KLM Open Golf Tournament annually. Newlyweds flying KLM World Business Class on their honeymoon have, in the past, been gifted with a limited edition "The Palace on Dam Square" or the "Cheese Weigh house" in Gouda.
If you run across KLM houses #25, #26 or #27 that have purple-colored trim and lettering, you might want to add these elusive houses to your collection (Fig. 8). They are a special set that was produced to commemorate KLM resuming flights to Bonaire, the Netherlands on April 23, 2000. They use the same design as the KLM houses, including the original numbers, and are appropriately called "Bonaire Houses."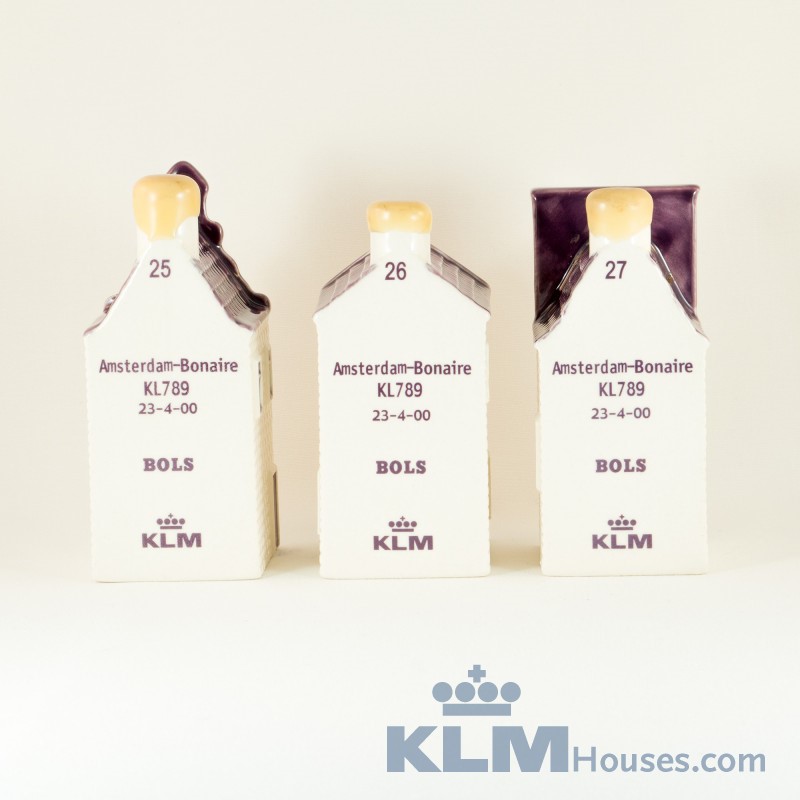 In 1999, the 100th anniversary of KLM, a 100th house was produced representing the Huis ten Bosch Palace (Fig. 1). A second version was also produced and given as a special gift to guests, business partners, and the employees of KLM.  This version was unique in that it did not have alcohol in it, and consequently did not need a chimney.  It also has a special dedication stamp on the back of the house (Fig. 9).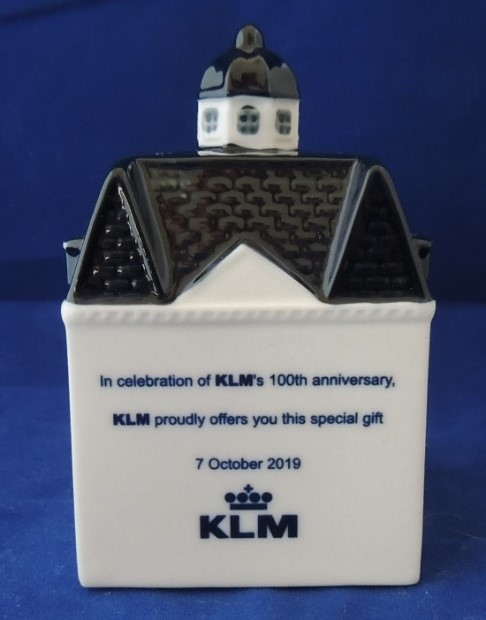 IN ADDITION TO KLM HOUSES AND BUILDINGS
During the 1980s KLM also produced Dutch ceramic tile "coasters" with blue felt affixed to the back. These were given to business class passengers, while the Royal Class passengers received the miniature KLM canal houses. These tile coasters featured classic Dutch house gables (produced in 1981), row houses that could be placed together to form a street (produced in 1984), and Dutch windmills, crafts, children's games and ships (produced in 1986). When Royal Class was discontinued in 1994, KLM discontinued producing these tiles. World Business Class passengers were then given the KLM miniature houses.
At one time KLM also produced ashtrays, in the form of miniature houses, for distribution in markets that did not allow alcohol to be served, such as the Middle East (Fig. 14).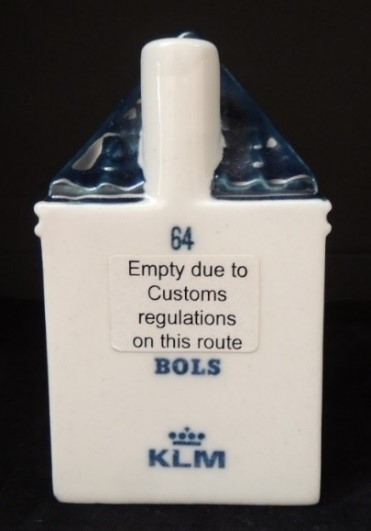 Once smoking was banned on airlines, KLM began offering the same miniature houses with special notations on them: "empty due to customs regulations" (Fig. 15).  This is still the practice today for those destinations.
CANAL HOUSE MARKINGS
The KLM miniature canal houses produced through 2021 are House #1 through House #102. Photos of our collection are at the end of this article. While collecting, we noticed that the labels and markings on the KLM houses changed many times over the years. Our research indicates that Rynbende started the distillery in 1793, then in 1953 it was sold to Henkes and was then taken over by Bols in the 1980s. The earlier (original) houses have the Rynebende stamp, the house number impressed, and usually a "Simon Rynebende & Sons" paper label attached. The numbers are sometimes difficult to read and the labels may have been lost over time. In another version, the house number is printed on the base between the "Rynebende" and "Distilleries Holland" while others have "Blue Delft's Made for HENKES Distilleries Holland" printed on the base (Fig. 16). At some point in the early years, the production year was added and impressed on the base of each house along with house number. This marking method was also used in later years on the reproductions (Fig. 17).
We have a House #1, in our collection, labeled as "made for KLM by BOLS" and a House #1 that has a "made for KLM by BOLS AMSTERDAM 1575" with the year 2015 on it (Fig. 3). Originally House #1 was distributed to passengers in 1952, but BOLS did not take over the distillery until the 1980s, so they are more than likely reproductions. In the center house on Fig. 17 you will notice that there is a marking "HKDNP" which is the abbreviation of "Hong Kong Duty Not Paid" so at some point it must have been in transit (from Taiwan) through Hong Kong.
MOST WELL-KNOWN MINIATURES
Most of the houses have an interesting history that directly relates to when they were built and events that were taking place at the time. Most of the canal houses have had multiple owners over the years with some being built as early as the 1600s. Over the hundreds of years they have existed, and with many owners, the canal houses' appearance has often changed from the original construction. These include cornice modifications and architectural embellishments.  Many of the houses have been saved from destruction and restored back to their original look thanks to preservation foundations. One of those is the Vereniging Hendrick de Keyser (named after the famous Dutch architect of the same name) which purchases, preserves and restores houses with architectural and historical value in the Netherlands.
Below are some of the more well-known buildings used as KLM Miniatures
House #47 at Prinsengracht 263, Amsterdam, known as the Anne Frank House. It was built in 1635. This is the canal house in Amsterdam where Anne Frank and her family hid to avoid persecution by the Nazis during World War II. They lived in hiding there from July 6, 1942, until August 4, 1944. Anne recorded her story in a series of diaries which her father had published in 1947 after his return from the concentration camps. The house is currently operated as a museum and is owned by the Anne Frank Foundation. It attracts more than a million visitors each year.
House #48 at Josenbreesstraat 4, Amsterdam, known as the Rembrandt House. The house was built in 1606 on three vacant lots. Rembrandt van Rijn owned it from 1639 until 1656 when he went bankrupt. The house was purchased by the Amsterdam City Council in 1906 and currently operates as the Rembrandthuis Museum.
House #75 at Hofweg 9-11, The Hague, known as the KLM House. The building was built in 1915 as a luxury department store. It was designed by the famous modern Dutch architect, H.P. Berlage. The corner building at 9 Hofweg was occupied by an automobile sales company on the 1st floor. KLM occupied the upper floors as a ticketing office beginning May 1925. KLM continues to operate, in the Berlage building, offering many services including a KLM Travel Clinic. The sandstone relief structure on the front of the building is of Saint Martin handing half of his cloak to a beggar.
House #76 at Vlamingstraat 40-42, Delft, known as "The Little Street." Johannes Vermeer is an important Dutch painter who lived from 1632-1675. His famous paintings include "View of the Houses in Delft," which is better known as "The Little Street," and "Girl with a Pearl Earring." His attention to detail required long periods of time to complete paintings so there are only 36 known paintings by this artist. After an exhaustive search, it was determined the house depicted in the painting by Vermeer was of the Little House which is also the model for KLM House #76.
House #26 at Nieuwe Uitleg 16, The Hague, known as a secret hideaway for secret agent Mata Hari. Mata Hari was a Dutch exotic dancer born in 1876 who later became a spy for Germany, England, and later France. She lived in the house at Uitleg 16 in 1914 until she was executed in France for espionage on October 15, 1917.
House #95 at Stadhouderskade 78, Amsterdam, known as the Heineken Brew House. The original red brick building on Stadhouderskade was built in 1865 with a boiler building next door to house the steam engine. The new brewhouse was erected in 1913 with distinct lancet-shaped windows and colorful stained-glass panes. A second brewery was built on the property in 1958 and a laboratory was added in 1968 but the complex became too small due to the demand and production moved out of Amsterdam in 1987. The house has reopened as a visitors' center for the "Heineken Experience."
House #102 at Reguliersbreestraat 26-34, Amsterdam is the Tuschinski Theatre, which is one of the oldest original theatres in the world. It is a 1920s movie palace located in Rembrandtplein (Rembrandt Square) in City Center. This cinema was opened by Polish immigrant Icek Tuschinski on October 28, 1921, and has been restored to its original grandeur. It is on the list of Rijkmonuments (National Monuments) of the Netherlands.
OUR KLM HOUSE COLLECTION
Below are images of our personal collection of KLM Houses (Fig. 18-27).









WHERE TO FIND KLM DELFT MINIATURES
There are several ways to obtain these KLM Delft Miniatures. The first, and most expensive, would be to purchase a business class ticket on a KLM international flight and receive one on board that day. Airline memorabilia shows are another good source, where vendors usually have a selection of these KLM miniatures for sale. Information on these shows can be found on this site with the next annual Airliners International show scheduled in Dallas, TX, in June 2023. Internet Auction Sites, such as Ebay and Etsy, have sellers that offer these miniatures at varying prices (be careful of bidding wars that may overinflate the value). There are also two websites that offer the entire collection so you can fill in missing houses and obtain new releases for your collection. These websites are www.klmhouses.com and www.klmdutchhouses.com. The shipping is expensive to the U.S. but the cost is the same for a single house or multiple houses, so buying in quantity can greatly reduce the shipping cost per house.
RESOURCES
The book, House No. 90, written by Bonnie Parren and Limoen Producties in 2009 for KLM Royal Dutch Airlines, is a very interesting introductory reading related to the KLM miniature houses. As indicated by its title, the history only goes through house #90 and the descriptions of the actual model houses are very brief. This book comes in a nice box with a "relief" style plastic house #90 glued to the cover.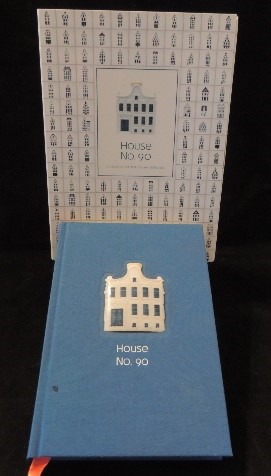 The second book used for research and highly recommended is Little Kingdom By the Sea: A Tribute to Dutch Cultural Heritage written by Mark Zegeling and published in 2019.  It has very detailed information about the history of each KLM model house, including the current status of most of them.  It also has helpful maps of Amsterdam and the Netherlands which show the location of the model houses still in existence. See Appendix 1 for house listing.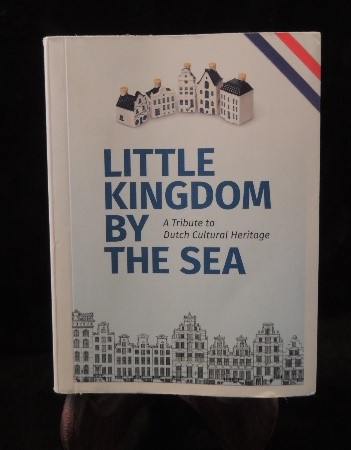 COLLECTING THOUGHTS
Hopefully, this review of the KLM miniature houses and other specialty items will help you in finding and identifying these unique collectibles. Or, as this is just one small group of the thousands of gift and advertising items airlines have produced from their beginning (from commemorative plates and glasses to kiddie wings and beyond), it will whet your appetite in seeking those airline items that you find most desirable to collect. After all, it's finding that one special new or historical airline item that makes collecting so much fun!
Happy Collecting,
Pat and Keith Armes
---
APPENDIX 1
Below is a listing of the KLM Houses, with numbering sequence and the Address and City of the modeled house as referenced in the book Little Kingdom by the Sea.
| | | |
| --- | --- | --- |
| HOUSE# | ADDRESS | CITY |
| #1 | UNIDENTIFIED HOUSE | |
| #2 | SPUISTRAAT 294 | AMSTERDAM |
| #3 | UNIDENTIFIED HOUSE | |
| #4 | UNIDENTIFIED HOUSE | |
| #5 | UNIDENTIFIED HOUSE | |
| #6 | ACHTER HET HOFPLEIN | MIDDELBURG |
| #7 | UNIDENTIFIED HOUSE | |
| #8 | OUDEZIJDS VOORBURGWAL (OLD RAMPART) 18A/B | AMSTERDAM |
| #9 | LEIDSEGRACHT 10 | AMSTERDAM |
| #10 | OUDEZIJDS VOORBURGWAL 57 | AMSTERDAM |
| #11 | PIJLSTEEG 31 (Same as house #23) | AMSTERDAM |
| #12 | ZANDHOEK 4 | AMSTERDAM |
| #13 | KAMP 10 | AMERSFOORT |
| #14 | HERENGRACHT 510 | AMSTERDAM |
| #15 | VOORSTRAAT 282 | DORDRECHT |
| #16 | HOUTMARKT 17 | HAARLEM |
| #17 | SPIERINGSTRAAT 1-3 (Same as house #25) | GOUDA |
| #18 | OUDEGRACHT 111 | UTRECHT |
| #19 | RAPENBURG 31 | LEIDEN |
| #20 | DAMPLEIN 8 | EDAM |
| #21 | MARKT 47 | DELFT |
| #22 | KAAI 25 | VEERE |
| #23 | PIJLSTEEG 31 (Same as house #11) | AMSTERDAM |
| #24 | MIENT 31 | ALKMAAR |
| #25 | SPIERINGSTRAAT 1-3 (Same as house #17) | GOUDA |
| #26 | NIEUWE UITLEG 16 | THE HAGUE |
| #27 | NIEUWEHAVEN 59 – DESTROYED BY FIRE 1940 | ROTTERDAM |
| #28 | GROOTE MARKT 2A – DESTROYED BY FIRE 1940 | ROTTERDAM |
| #29 | KORT GALGEWATER 21 | LEIDEN |
| #30 | HIPPOLYTUSBUURT 26 | DELFT |
| #31 | KOORNMARKT 87 | DELFT |
| #32 | KOORNMARKT 81 | DELFT |
| #33 | VOORHAVEN 12 | ROTTERDAM |
| #34 | WIJNHAVEN 16 | DELFT |
| #35 | OUDE DELFT 39 | DELFT |
| #36 | HIPPOLYTUSBUURT 8 | DELFT |
| #37 | OUDEZIJDS VOORBURGWAL 300 | AMSTERDAM |
| #38 | HERENGRACHT 607 | AMSTERDAM |
| #39 | NIEUWEWEG 12 | HINDELOOPEN |
| #40 | KEIZERSGRACHT 104 | AMSTERDAM |
| #41 | SINT JACOBSSTRAAT 13 | LEEUWARDEN |
| #42 | PRINSENGRACHT 514 | AMSTERDAM |
| #43 | PRINSENGRACHT 516 | AMSTERDAM |
| #44 | HOOGLANDSE KERKGRACHT 19 | LEIDEN |
| #45 | KEIZERSGRACHT 140 | AMSTERDAM |
| #46 | BEGIJNHOF 27 | AMSTERDAM |
| #47 | PRINSENGRACHT 263 | AMSTERDAM |
| #48 | JODENBREESTRAAT 4 | AMSTERDAM |
| #49 | FR+B13IESESTRAAT 42 | COEVORDEN |
| #50 | ROZENGRACHT 106 | AMSTERDAM |
| #51 | VOORSTRAAT 49 | FRANEKER |
| #52 | HERENGRACHT 415 | AMSTERDAM |
| #53 | HERENGRACHT 203 | AMSTERDAM |
| #54 | PRINSENGRACHT 773 | AMSTERDAM |
| #55 | OUDE SLUIS 19 | SCHIEDAM |
| #56 | HERENGRACHT 64 | AMSTERDAM |
| #57 | HERENGRACHT 95 | AMSTERDAM |
| #58 | HERENGRACHT 101 | AMSTERDAM |
| #59 | HERENGRACHT 163 | AMSTERDAM |
| #60 | HERENGRACHT 314 | AMSTERDAM |
| #61 | KEIZERSGRACHT 439 | AMSTERDAM |
| #62 | PRINSENGRACHT 305 | AMSTERDAM |
| #63 | KEIZERSGRACHT 407 | AMSTERDAM |
| #64 | KEIZERSGRACHT 755 | AMSTERDAM |
| #65 | KEIZERSGRACHT 487 | AMSTERDAM |
| #66 | KEIZERSGRACHT 403 | AMSTERDAM |
| #67 | PRINSENGRACHT 721 | AMSTERDAM |
| #68 | PRINSENGRACHT 969 | AMSTERDAM |
| #69 | KEIZERSGRACHT 319 | AMSTERDAM |
| #70 | KONINGSSTRAAT 4 | ALKMAAR |
| #71 | SINGEL 81 | AMSTERDAM |
| #72 | SINGEL 87 | AMSTERDAM |
| #73 | DIJK 11 | ALKMAAR |
| #74 | REGULIERSGRACHT 7 | AMSTERDAM |
| #75 | HOFWEG 9-11 | THE HAGUE |
| #76 | VLAMINGSTRAAT 40-42 | DELFT |
| #77 | SCHOOLSTRAAT 2 | BREDA |
| #78 | LEIDSEGRACHT 51 | AMSTERDAM |
| #79 | LANGE HAVEN 74-76 | SCHIEDAM |
| #80 | GRAVENSTRAAT 18 | AMSTERDAM |
| #81 | WAAGPLEIN 1 | GRONINGEN |
| #82 | BONNEFANTENSTRAAT 5 | MAASTRICHT |
| #83 | KEIZERGRACHT 672 | AMSTERDAM |
| #84 | MUNTPROMENADE 7 | WEERT |
| #85 | HEERENSTRAAT 1 | CURACAO |
| #86 | SPAARNE 16 | HAARLEM |
| #87 | WIERDIJK 12 | ENKHUIZEN |
| #88 | ROZENGRACHT 99-101 | AMSTERDAM |
| #89 | MUURHUIZEN 109 | AMERSFOORT |
| #90 | AMSTELDIJK NOORD 55 | AMSTELVEEN |
| #91 | BADHUISWEG 175 | THE HAGUE |
| #92 | BRINK 55 | DEVENTER |
| #93 | RAPENBURG 19 | LEIDEN |
| #94 | KOGERSTRAAT 1 | DEN BURG/TEXEL |
| #95 | STADHOUDERSKADE 78 | AMSTERDAM |
| #96 | KORTENDIJK 67 | GORINCHEM |
| #97 | KONINGINNENHOOFD 1 | ROTTERDAM |
| #98 | KLEINE HOUTWEG 65 | HAARLEM |
| #99 | 97 MIDSTRAAT | JOURE |
| #100 | 'S-GRAVENHAAGSE BOS 10 | THE HAGUE |
| #101 | 'S-HERTOGENBOSCH MARKET 79 | 'S-HERTOGENBOSCH |
| #102 | REGULIERSBREESTAAT 26-34 | AMSTERDAM |