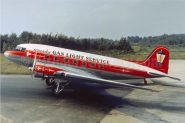 Mohawk Airline's Gaslight Service
Written by Henry M. Holden
Mohawk Airlines was a regional passenger airline operating in the Mid-Atlantic region of the United States, mainly in New York and Pennsylvania, from the mid-1940s until its acquisition by Allegheny Airlines in 1972. At its height, it employed over 2,200 personnel and pioneered several aspects of regional airline operations, including being the first airline in the United States to hire an African American flight attendant in 1958. The airline was based at Ithaca Municipal Airport near Ithaca, New York until 1958, when it moved to Oneida County Airport in upstate New York.
Like most local trunk carriers in 1960, Mohawk Airlines still had 11 DC-3s in their fleet. They planned to retire their DC-3 service by the end of 1961 and replace the venerable machine with Convair 240s. They decided their last two DC-3s could serve a dual role. They could spend their last days in an old fashioned, sentimental way, and fill some gaps in Mohawk's east-west route between Buffalo and Boston.
Mohawk was an example of the wide-spread growth of airlines encouraged by the reliable DC-3. Richard C. DuPont's All American Airways first started in May 1939 as a feeder airline on six routes from Ohio to New York. DuPont started All American with 11 silver, yellow and green refitted DC-3s. In its first month of operation, they flew 809 passengers. Because the airline's schedule allowed for only two-minute station stops at the airports, Douglas equipped the DC-3s with what was, at the time, a unique fold- down door with built-in steps. When All American expanded its routes and became Allegheny in 1953, the airline had expanded its fleet to 13 DC-3 aircraft, each with 24 seats and equipped with carry-on baggage racks to streamline passenger service. By 1956, Allegheny was serving over 50 communities in eight states with a fleet of DC-3s in green and white livery sporting a red wordmark stripe.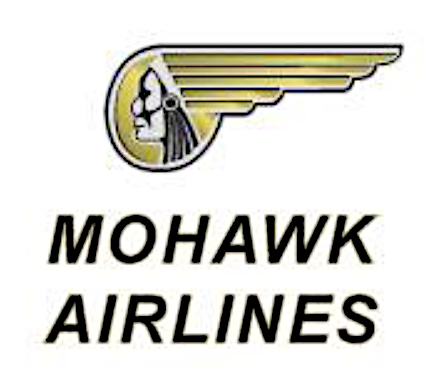 The company continued to expand, and in 1968 Allegheny merged with Lake Central. The acquisition of this airline gave Allegheny access to cities on the Great Lakes and a gateway to the mid-west. Lake Central also had its beginning with the now famous and well- used DC-3. Famed and flamboyant Roscoe Turner started Turner Airlines, Inc. in November 1949 with four DC-3s. By December 1960, Turner Airlines, now Lake Central, had grown to 15 DC-3s painted in red, white and blue. When people began to talk about replacing the DC-3, Lake Central went so far as to study the possibility of putting the DC-3 back into production. They dropped the idea when they discovered it would be too costly.
In October 10, 1960, Mohawk introduced its "Gaslight Service." To make the planes more appealing, Mohawk dressed up the interior to resemble a Victorian setting. They added red velvet curtains with gold tassels, Currier and Ives prints, and carriage lamps. Stewardesses dressed in Gay Nineties costumes, with sequins and ostrich feathers served five-cent cigars, free beer, cheese, and pretzels.
At first, Mohawk allowed only men on the "Gaslight Service" because the airline felt, "Women would find the atmosphere cloudy because of the five-cent cigars and free beer." They stressed that women and children were, of course, welcomed aboard all Mohawk's other flights.
Mohawk claimed they didn't lose any women passengers because when the Gaslight flights were scheduled, businessmen filled the seats. But the women disagreed and charged discrimination. Mohawk bowed to their objections and boxed off a "family parlor" in the front of the plane.
The men retained the Gay Nineties "club car" where they drank their beer and puffed on smelly cigars.
Someone raised the question about the future of the trusty DC-3s, when their year was up with Mohawk. The airline said, "We'll sell them, and they'll undoubtedly go on flying for a hundred years more."
More than 23,000 passengers flew the "Gaslight Service" downing 31,700 cans of beer, smoking 17,600 cigars, and consuming a ton of pretzels and a half ton of cheese.
Mohawk's "Gas Light Service" area of operation covered the northeastern part of New York in the 1960s: The State of NY, Connecticut, Massachusetts, Vermont, Maine, New Hampshire, and even sometimes on the other side of the Canadian border. The airports in which they operated are the following (non-exhaustive list): La Guardia, Boston-Logan, Buffalo, Syracuse, Albany, .etc. Its area of operation was throughout the Northeast with the Mohawk River, a tributary of the Hudson River in the former territories of Native Americans, Haudenosaunee, Iroquois, and Mohawks.
In 1962, N409D was sold to Houston Aviation Products Corp, Houston, TX. On 22July 1969 it was withdrawn from service and lost in the dustbin of aviation history.
Trackback from your site.