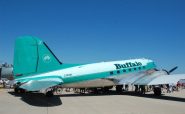 The Last Scheduled DC-3 Service on Planet Earth
Written by Henry M. Holden
To get a ride on the last scheduled DC-3 airline service on planet Earth, you must travel to Yellowknife Airport, located at 62 degrees, 26 minutes, 32 seconds North by 114 degrees, 23 minutes, 51 seconds West. That will put you just 318 miles south of the Arctic Circle.
The DC-3s are operated by locally-based Buffalo Airways which also operates other scheduled passenger, charter passenger, charter Cargo, fire-fighting and fuel services. Buffalo Airways' main base is at Yellowknife Airport (CYZF) with two other bases at Hay River Airport (CYHY) and Red Deer Regional Airport (CYQF) in the Canadian Northwest Territories.
Yellowknife (the name comes from the hunting knives forged from the naturally occurring copper used by the local Dene people), is the only city and the capital of the Northwest Territories and has a population of approximately 19,000. The second largest town in the Northwest Territories is Hay River, With a population of approximately 3,600. The total population of the Northwest Territories is about 45,000 in an area that is double the size of the state of Texas.
The challenge in this land is getting around the Canadian north, which can often be a hit-and-miss affair, especially in winter, The emptiness of this vast, featureless land, coupled with unpredictable and often ferocious weather conditions that have swallowed pilots, passengers and their aircraft whole, never to be seen or heard from again, is always a worrisome factor. One pilot disappeared on a routine winter flight in 1964. His remains and those of his passengers were only discovered in 2003, almost 40 years later.
Traveling at 170 miles per hour, Buffalo Airways' DC-3s can haul 7,000 pounds of freight or 28 passengers to destinations throughout the Canadian North. About one half of its passengers are repeat customers.
Buffalo Airways has been operating its legendary DC-3 aircraft with their trademark green livery since 1970. Most of Buffalo Airways' warbird airliners date back to WWII and include 13 DC-3s, a couple of DC-4s, and Curtiss C-46s, two Lockheed Electras (the company's only two turboprops,) and two Canadair CL—25 fire bombers.
Today it is the only airline in the world to fly, a seven day a week, scheduled DC-3 services between Yellowknife and the Hay River Airports. The flight takes approximately 45 minutes.
According to Mickey McBryan, the current general manager and son of the legendary Buffalo Joe McBryan, the founder, and current president of Buffalo Airways, the name came from one of Joe's first flying jobs, counting buffalo. Mickey says his father made the first flight to Hay River around 1970 and has since made the flight over 7,500 times. Buffalo Airways has been the subject of the popular Canadian reality television series, Ice Pilots NWT a 13-episode real life documentary series about an unorthodox airline in the Canadian North.
Yellowknife-based Buffalo Airways flies WWII-era propeller 'planes — big old aircraft built by "Rosie the Riveter" that have remained virtually unchanged over the years. Rookie pilots defy bone-chilling temperatures to fly cargo and passengers through blizzards, breakdowns, and transatlantic journeys. It is an impossible job in a merciless place.
Every pilot starts at the bottom — as a "rampie." They work the ramp in minus 10 degrees Celsius, and if they have what it takes, they will eventually sit in the right seat of a DC-3, and sometime in the future they will move to the left seat.
The climate demands courage, character and mental toughness. The pilots of Buffalo Airways have those traits, if they don't, they leave. Mc Bryan says they have about a 95 percent pilot turnover rate.
The real meat and potatoes of the Buffalo Airways business is the freight. Three DC-3s are reserved for passenger service, and the others for freight. Depending on the load, they may use a DC-3 or a DC-4.
Grocery stores and other merchants depend on Buffalo Airways to get supplies to them all year long, and winter is the biggest challenge.
They have hauled everything from dogsleds and dogs to the Stanley Cup, ice hockey's top prize. The challenge has been and always will be the weather. In winter, temperatures can go to -40 degree, Celsius and winds can gust to 40 mph, and there is a lot of snow
Each spring, the mile-long ice bridge over the Mackenzie River breaks up and flows out to the Beauford Sea, severing the only "road" leading from southern Canada to Yellowknife. For more than four weeks, and another month each autumn, the city of Yellowknife remains cut  off from the rest of the world. The only access to the city and its outlining settlements during those periods is by air and Buffalo Airways.
The pilots and passengers of Buffalo Airways may not think much about the fact that they are travelling in a virtual time machine .Its designers had no idea it would out last all of them, and it is still going 75 years later.
The area does not have permanent roads, and the only way people can be resupplied in winter is by Buffalo Airways. At some point during the winter, Yellowknife is literally cut off from civilization. The pilots of Buffalo Airways' job is to bring food, fuel, medicines and freight from civilization to remote, isolated settlements around the Arctic Circle.
Reprinted with permission from World Airnews October 2010
Since publication of this piece in 2010, the ensuing years brought challenges to the company. On 30 November 2015, Transport Canada suspended Buffalo Airway's Air Operator Certificate, citing the airline's poor safety record. This prohibited Buffalo Airways from operating commercial air services, until it could prove that it can meet all safety regulations on a consistent basis. Service was maintained using chartered aircraft. On 12 January 2016, the license was reinstated. On 1 April 2019, on their website under Air Charters it said, "All scheduled passenger service has been temporarily postponed until further notice. Sorry for any inconvenience."
Trackback from your site.