Junior Wings of Transamerica Airlines
Written by Lane Kranz
Transamerica Airlines was a fascinating airline with an intriguing past. The website www.transamericaairlines.org is operated by former employees. They provided the following brief history.
Brief History of Trans America Airlines
Kirk Kerkorian started operations of Los Angeles Air Services in 1948. The airline was renamed Trans International Airlines (TIA) in 1960. Kerkorian took TIA public in 1967 and used the additional cash to build a casino in Vegas called The International (later the Las Vegas Hilton). He managed to get Barbra Streisand and legendary Elvis to perform and the new hotel and those two helped to set Vegas attendance records. In the early Super70s, he bought MGM Studios in Hollywood and returned to Las Vegas to build the MGM Grand hotel (now Bally's).
The financial services giant Transamerica began diversifying in the 1960s and ended up owning a movie distributor, a car rental agency, a machinery manufacturer, and yes this airline – though it did not change it's name to Transamerica Airlines until 1979.
After buying TIA in 1968, Transamerica acquired Universal Airlines and Saturn Airways in the Super70s. TIA was a cargo and charter airline until deregulation. On November 2, 1979, scheduled passenger flights began for the first time on a New York-Shannon-Amsterdam route, which was just the beginning of several transatlantic routes.
An inability to operate profitably left Transamerica, which was divesting itself of its non-core businesses, looking for a buyer for the airline. It could not find one and shut down Transamerica Airlines on September 30, 1986.
Trans International issued one junior wing (1960s) and Transamerica issued one junior wing (1979-1980s).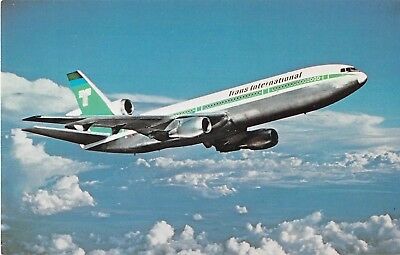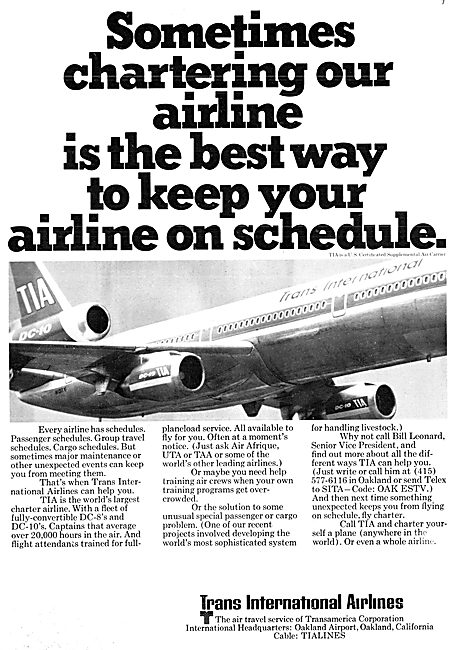 Trackback from your site.