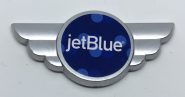 Junior Wings of jetBlue
Written by Lane Kranz
On February 11, 2000 jetBlue launched their inaugural flight between New York (JFK) and Ft. Lauderdale with a new Airbus A320. Founded by David Neeleman, jetBlue started operations as an all coach airline with every seat equipped with a seatback TV with 24 channels of live TV, a first for the airline industry. jetBlue currently operates a fleet of Airbus A320, A321 and Embraer 190 jets. They have also ordered the Airbus A220 (formerly named C Series). They fly throughout the US, Mexico, Central America, northern South America as well as the Caribbean. Future expansion to western Europe is planned.
jetBlue has issued 8 different Junior Wings. The first 3 wings are very similar, with minor differences in font and letter spacing. The next 5 wings feature a different design on the center.
The remaining 5 wings can easily be identified by their geometric shape:  circles, stripes, grid, dots, and triangles.
Trackback from your site.