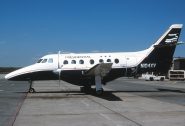 Departed Wings – Presidential Airways (XV)
Written by Jon Jamieson
1985-1989
Washington-Dulles, D.C.
Hoping to establish a discount airline market from a Washington-Dulles base, former PEOPLExpress executive Harold J. "Hap" Paretti, founded Presidential Airways on March 20, 1985. The new airline was to be full-service with low fares providing jet service from Washington-Dulles to cities in the South and New England. With the challenge in securing at least $2 million in start-up capital and leasing several ex-Lufthansa Boeing 737-200, Presidential Airways took to the skies on October 10, 1985.
Initial service was centered on a Dulles "hub" with flights to Boston, Cincinnati, Hartford, Indianapolis, and Miami. Within a few months, United Airlines, itself having a large presence at Washington-Dulles announced a major East Coast expansion in direct competition with Presidential. The airline prevailed and continued to acquire additional Boeing 737s and expand its route structure whereby the summer of 1986, the airline was flying to eighteen destinations including Montréal, Canada.
In June 1986, Presidential placed an order for five British Aerospace BAe 146 aircraft, with the intent of using the new plane on smaller, secondary cities not economical for the Boeing 737. The year 1986 also saw the introduction of "commuter" service, when Presidential purchased Colgan Airways to provide feeder services from Dulles under the banner "Presidential Express." At its peak, during the fall of 1986, Presidential Airways was flying thirteen Boeing 737s and nine BAe 146s to nineteen cities with almost 300 weekly flights.
Still struggling with intense competition Presidential signed an agreement with Continental Airlines to become that carriers "Jet Express" feeder at Dulles in January 1987.
The Continental agreement lasted less than a year, with the airline again resuming operations under its own name, before making an agreement with United Airlines in 1988 to flying connecting service. Still under intense competition and suffering financially, Presidential Airways filed for bankruptcy on October 26, 1989, and operations eventually ceased on December 4, 1989.
Trackback from your site.