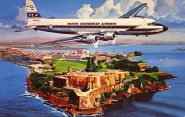 Dance the Flight Away: Trans Caribbean Airways' Golden Troubadour Service
Written by Russell Goutierez
The ads debuted in March 1959 and called Trans Caribbean Airways' new Golden Troubadour flights "a unique experience in air travel." That was arguably an ambitious claim given that O. Roy Chalk had founded TCA just 14 years before with $60,000 and two DC-4s, but the description was spot on.
The $67.60 fare between New York City and TCA's San Juan hub was a tidy sum in 1959; it rings up as nearly $600 in today's dollars. Granted, this wasn't five hours plus in some economy class sardine can with nothing more than a stale sandwich and a lame seat pocket magazine to pass the time. The airline promised passengers nothing less on these special DC-6 weekend trips than a "holiday on wings," touting reserved seating, luxurious golden décor, "featherbed" comfort, and Caribbean hors d'oeuvres followed by a main course of Lobster Troubadour. And all of it would unfold in calm, smooth air thanks to "remarkable radar."
That's pretty impressive flair for a carrier trying to make a name in a new market, but TCA was aiming even higher. Creating a new definition of inflight entertainment, the airline invited customers to "…marvel as your flight cabin is transformed into a 'heavenly' night club. Song, melody, laughter are lavishly provided by internationally famous performers." That's special in and of itself, but they even removed forward cabin seats to create a dance floor! It's fun to imagine what it must have been like to experience that kind of ambience on a long overwater flight.
Little information is available on how long TCA operated Golden Troubadour service, or whether it was considered a success. The airline eventually grew to operate 727s and DC-8s before American Airlines acquired it from Mr. Chalk in 1971.
Trackback from your site.