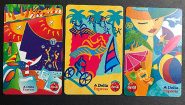 Cooperative Advertising Promotion
Written by Al Meder
Airlines have issued playing cards for promotional purposes since the earliest flights.  This was very logical as the flights were slow with many stops required to get to a distant destination (and of course there was no digital entertainment in those days)  Originally, the airlines promoted their name and sometimes their aircraft on these early decks but in the 1940's Jack and Heinz, an aircraft equipment manufacturer teamed up with Mid Continent Airlines, to do the first known joint advertising deck of playing cards.
Since then, such "cooperative advertising" has become quite common with many well-known brands including Pepsi, Coca Cola, as well as credit card and auto rental companies partnering up with airlines to provide free entertainment and the chance to promote their product along with the airline.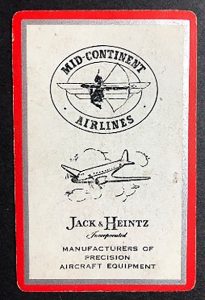 Sometimes the airline can get double mileage from promoting itself with another well known brand. The earliest joint advertising cards I'm aware of, is from the 1940's when Jack & Heinz, aircraft equipment manufacturers teamed up with Mid-Continent Airlines based in Kansas City. Missouri with a dec k of playing cards with their details along with the Mid Continent Airlines logo.
For many years cigarette smoking was permitted on aircraft. As a result, it was inevitable there would be some joint advertising issues. Aer Lingus, the Irish airline had several early jet-age aircraft along with cigarette advertising. The top card is joint advertising with Kingsway Cigarettes and Aer Lingus. There were also several with join advertising with Gold Flake and Aer Lingus. Aer Lingus has issued a number of joint advertising cards.
Given today's thinking, its hard to believe that this advertising was in the 1960's and 70's. But smoking was really in then. Today there are collectors who collect airline matchbooks and match boxes, as well as a good market for ashtrays with airline logos on them – all from that by-gone era.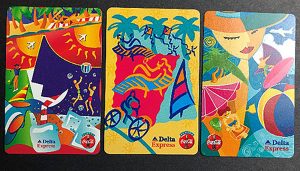 In recent years airlines have teamed up with various companies to promote both the airline and the product.  The most prolific of these are the Coca Cola advertising which has appeared on playing cards issued by South West Airlines   Delta Express has issued three different decks in conjunction with Coca Cola.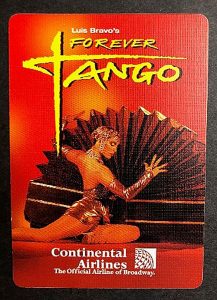 A very elusive deck of cooperative advertising playing cards was issued by Continental Airlines "The Official Airline of Broadway" and featuring the Broadway show Forever Tango.   Continental Airlines on this deck of cards was listed as the "The Official Airline of Broadway."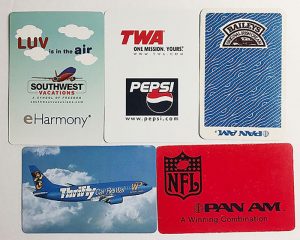 The cards above show representative examples of advertising that airlines have done in conjunction with advertisers.
The Pan American NFL design shown here is one of three designs that Pan Am did over a relatively short period. The two others promoted that Pittsburgh NFL franchise.
The Thifty Rent-A-Car advertising involved a new livery for the entire Western Pacific Airlines aircraft.
Western Pacific, operating from Colorado Springs is now defunct.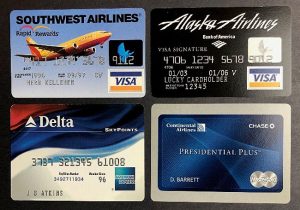 Credit Card companies have issued a number of joint advertising decks with airlines.  Continental Airlines have issued two decks advertising their association with VISA (Check) Credit Card.  Alaska Airlines, South West Airlines and Delta have also issued credit card decks.  Not pictured here are decks from United Airlines, and Frontier to mention a couple more.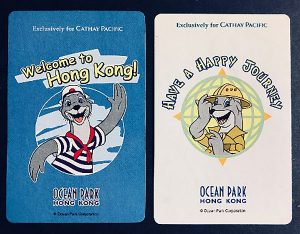 While foreign destinations are typically promoted by the airlines to attract fliers to those markets, Cathay Pacific Airlines based in Hong Kong produced two different designs in concert with Ocean Park, and amusement center in Hong Kong.  No doubt trying to get in-bound passengers to visit Ocean Park while in Hong Kong.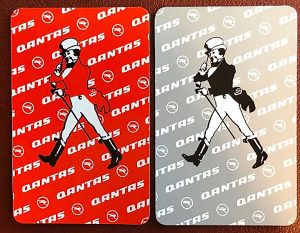 Australian carrier QANTAS Airways and the maker of Jonnie Walker Scotch Whiskey coordinated and issued a joint advertising pair of playing card designs in the 1980s   Although there is no mention of the product being advertised the Johnnie Walker trademarked figure is.
[printicon align="left"]
Trackback from your site.