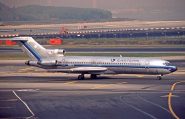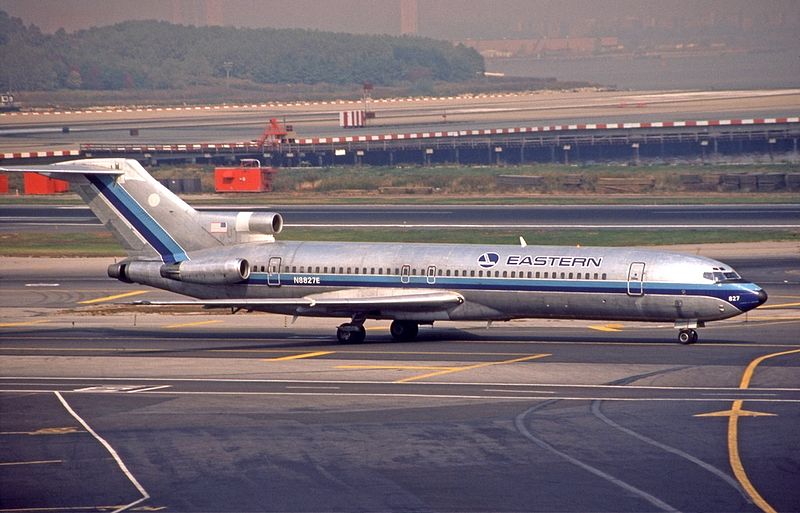 Written by Shea Oakley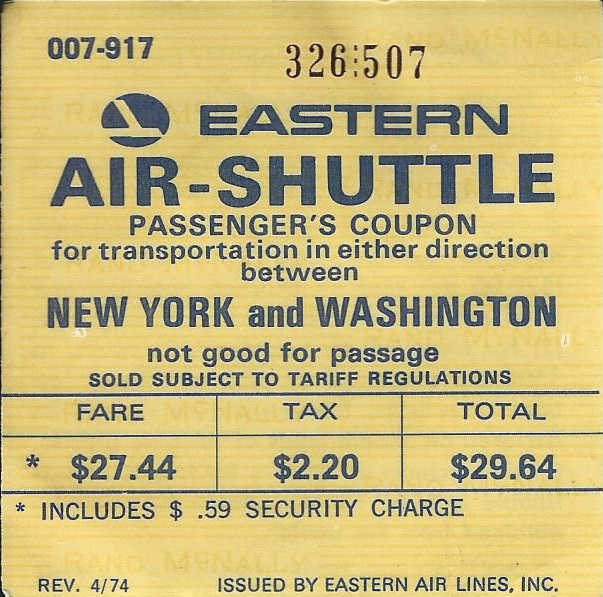 If you are an older traveler and airline enthusiast living along the so-called "Northeast Corridor" of the U.S. it is likely you have a story about the Air-Shuttle. When I use the term "Air-Shuttle" I'm not referring to those run today by Delta or American. For me this reference has always been synonymous with Eastern Air Lines, the airline that started the whole concept of an hourly guaranteed seat service between New York-La Guardia, and both Boston-Logan and Washington-National airports. The airline that "threw in the towel" only after over a quarter-century of dominance on those routes, and that only two years before its own demise as a pioneering American air carrier. At the time of the Shuttle's sale to Donald Trump in 1989 there was perhaps no greater symbol of the decline of a once great company than its loss.
I am one of those "avgeek" denizens of the Northeast who has a few personal recollections of the Eastern Air-Shuttle to share.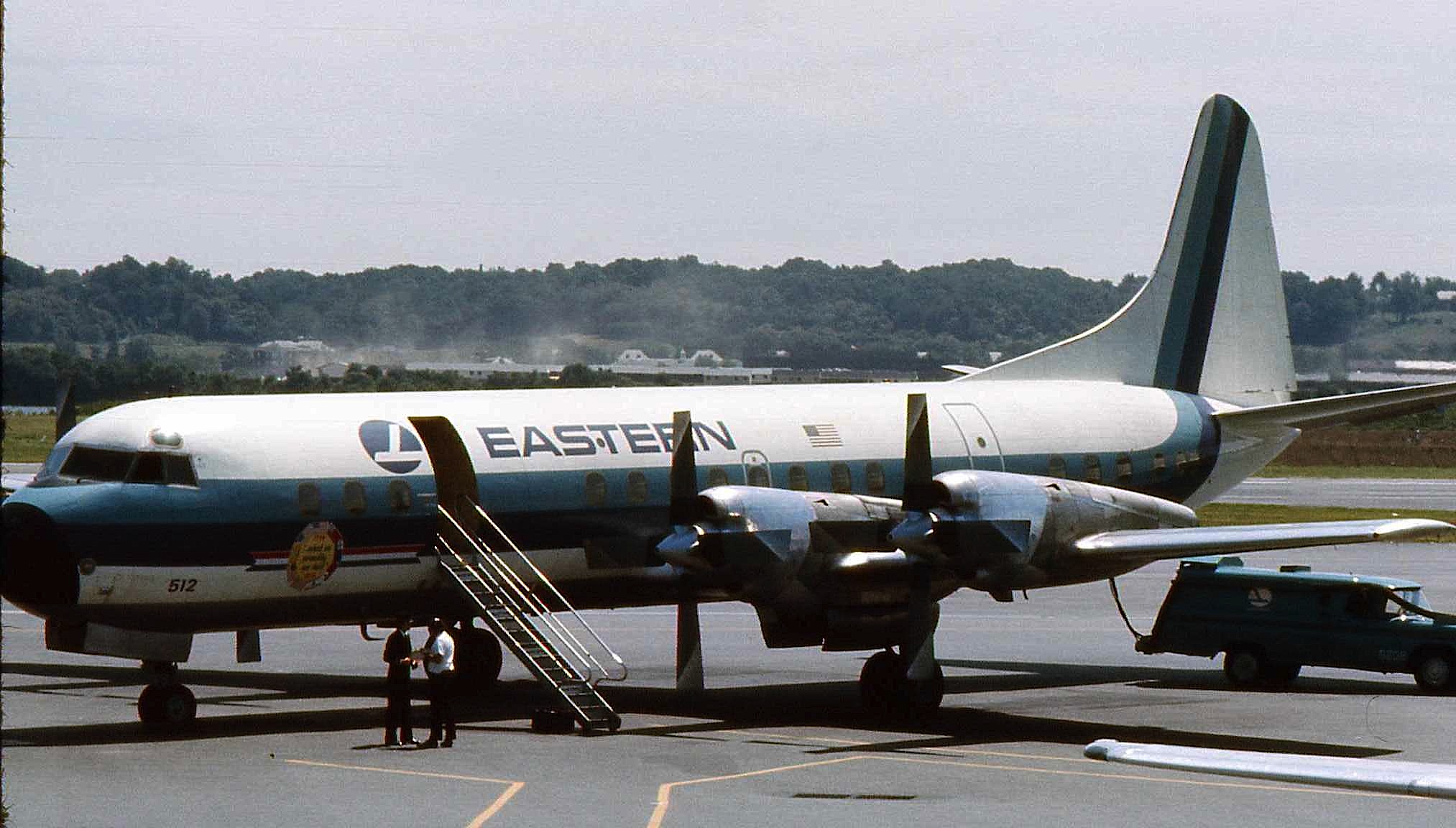 Sorry, no tales about eventful LGA-DCA Connie flights through summer thunderstorms. The last back-up L-1049's were retired less than a week after my birth in February 1968. The retirement took place on St. Valentine's day that year and EAL had a brilliant advertising tagline touting the advent of all jet-powered service: "On Valentine's day You can Kiss Connie Goodbye." I do, however, have a Lockheed Electra story. It was July of 1977 and my dad and I were returning to our home in New Jersey from a whale-watching trip in Nova Scotia. At Logan we hoped to catch what I believe was the last La Guardia-bound Shuttle that night. I remember gazing at two aircraft from the concourse windows of Eastern's exclusive terminal building at that airport. One of them was a newly stripped to bare metal DC-9-31. Beyond it, gloriously lit by airport floodlights, was a white EAL airplane with four turboprop engines incorporating the largest propeller blades I had ever seen. Apparently the load looked heavy that evening so Eastern, true to its perennial Air-Shuttle guaranteed seat policy, had trundled out the old bird (one of several still being used for back-up sections only). I was nine years-old and more than a little excited. The Electra looked so exotic to this child of the "Jet Age" and I wanted that ride so dearly that I could taste it. Alas, it was not to be. We were all accommodated on the 'Nine and as we pushed back my dream plane sat there, forlornly alone on the ramp. Three months later the airline retired its last Electra's, thus crushing my hope of ever having such an opportunity again. At age nine you don't tell your parents you are heading out to the airport and catching every Air-Shuttle flight until you manage a ride on a Lockheed 188.
One day in 1981 I boarded flight 18256, once again from Boston to New York. My logbook confirms it was a Boeing 727, and my strong recollection was that it also was a 727-100, the airplane possibly was an equipment sub for the Shuttle-dedicated 727-200's on strength at the time. The interior (and the "flight dynamics" that day) seemed to me a bit rough around the edges, generally projecting an aura of the aircraft in question having been perhaps an early, 1964-era, build "Three-Holer". That said, the flight was on time and the service as good as the Shuttle framework allowed. It is interesting to me that some of those very early 727-100's were still wearing the distinctive EAL "Falcon" logo while flying late into the 1980's.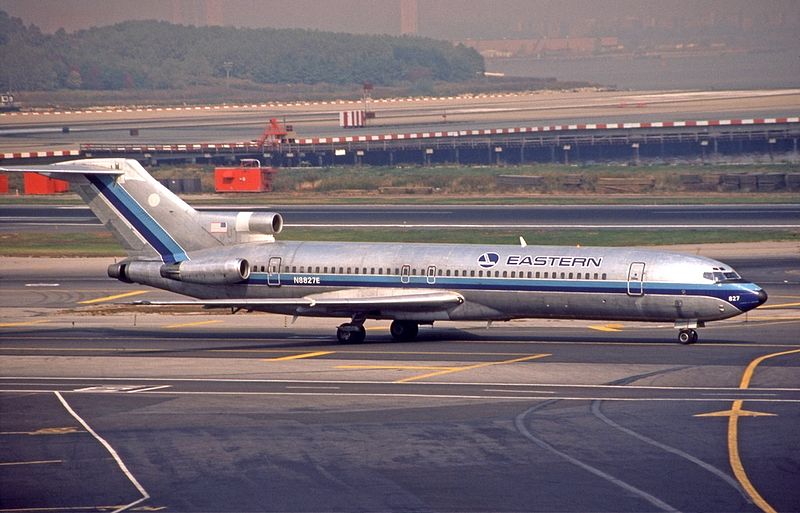 My last Shuttle trip was just before I left home to get an aviation management degree at college. I wanted my father, with whom I had enjoyed many trips in earlier years, to accompany me on one last journey before I "left the nest," so to speak. Having decided on a day together in Washington D.C., we were on the first LGA-DCA flight that morning. This was during the late summer of 1986 and Eastern was in the process of renovating all of its Shuttle terminals. The recent Texas Air buyout struggle (which would ultimately lead to the ignominious end of EAL) seemed very far away as the smells and sounds of construction filled its section of National Airport when we deplaned that day. I remember that the 727 stretch back to La Guardia said "Air-Shuttle Plus" on the forward fuselage. This was part of a leftover marketing effort to become more competitive with the New York Air shuttle which had attained to a fairly large chunk of the market at Eastern's expense. New York Air ironically had also belonged to Frank Lorenzo's short-lived airline empire along with the airline that "earned its wings every day."
Today if I want to head North to Boston or South to our nation's capital there is, of course, no Eastern Air-Shuttle to fly. There is little doubt in my mind that American or Delta's contemporary shuttle operation will get me there with reasonable dispatch and bearable service. But they are still imitators as far as I am concerned. When someone uses the term "Air-Shuttle" I will always only remember the one that was "On Time, On the Hour, and On the Money."
Note: All photos sourced from Wikipedia.com and WikiCommons