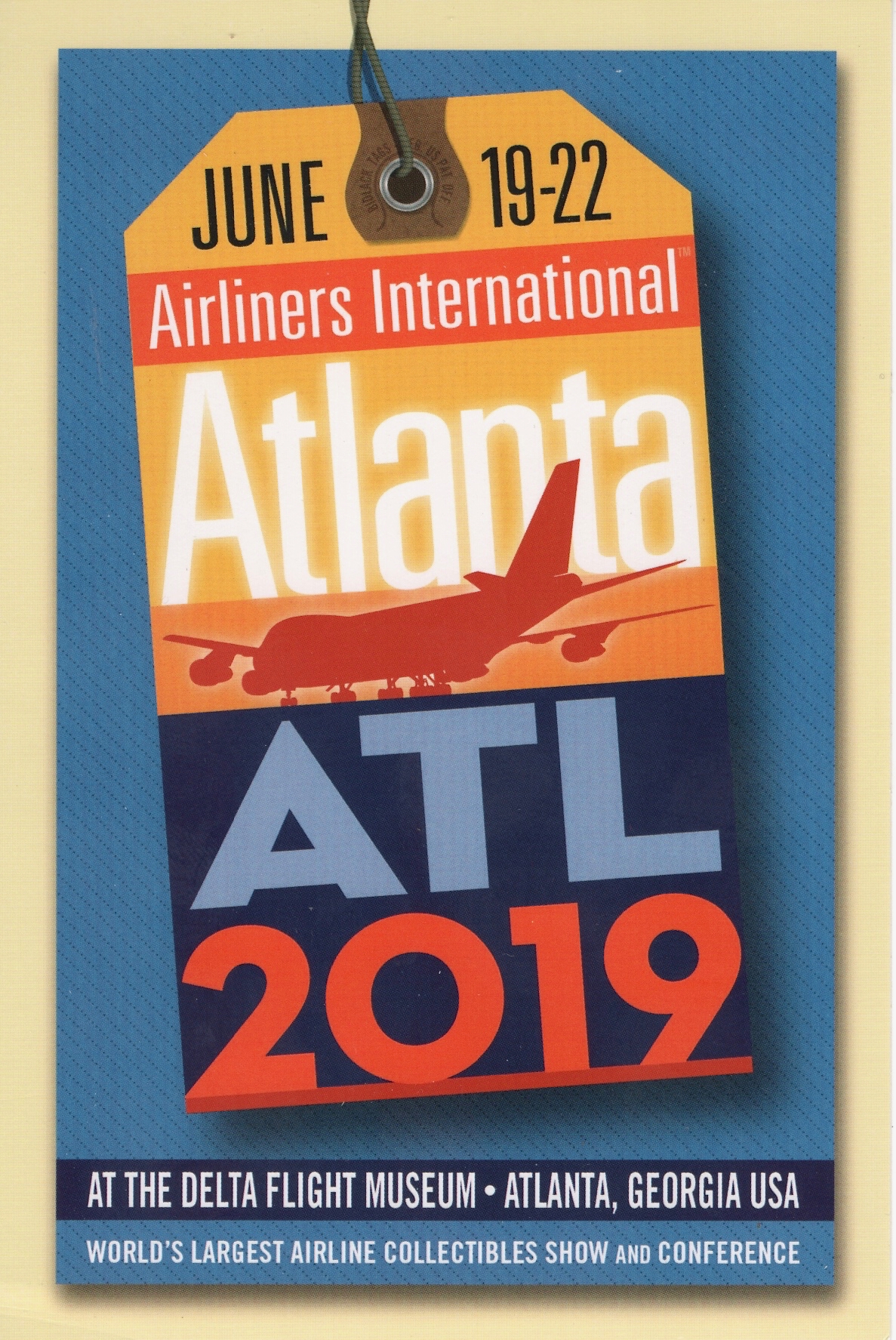 Atlanta International Airport on Postcards
Written by Marvin G. Goldman.
Atlanta, Georgia boasts the number one airport in the world measured by number of passengers.  Over 100,000,000 travelers fly from and to Hartsfield-Jackson Atlanta International Airport ('ATL') each year.  Nonstop flights operate from this hub to over 150 domestic and 70 international destinations. This article traces the development of Atlanta's premier airport as shown on postcards.
The original site of Atlanta International Airport was once an oval two-mile automobile and motorcycle race track or 'speedway', developed from farmland and swampy meadows in 1909 by Asa Candler, the founder of Coca-Cola and later a mayor of Atlanta.
The speedway was not financially successful, so Candler started air shows and air races to keep it alive, but by the end of 1910 the operation ceased and the race track was abandoned.  The infield of the track, however, started to be used occasionally as an aircraft landing field.
By the early 1920s the City of Atlanta recognized the need for a municipal airport and sought a suitable location.  William Hartsfield, an Atlanta city official at the time and later Mayor, suggested the site of Candler's track.  Candler gave a five-year rent-free lease of the land to the City, and construction began in 1925.
The first commercial flight into the new airport, named 'Candler Field', occurred on 15 September 1926, by Florida Airways delivering mail, but that airline ceased operations in 1927.  Successful lasting scheduled air service in Atlanta started on 1 May 1928 by Pitcairn Aviation (later known as Eastern Air Lines).  On 13 April 1929 the City purchased the airport's 287 acres of land for $94,400 and changed its name to 'Atlanta Municipal Airport', although the name 'Candler Field' continued to be used until the mid-1940s.  Delta Air Service (later known as Delta Air Lines) became the next airline to add regular service to Atlanta, starting 18 June 1930.  Eastern and Delta then dominated air service in Atlanta for many years.
On 7 May 1932 Atlanta airport opened a new administration and passenger terminal.  This terminal appears in the center of the following two postcards.
In March 1939 Atlanta airport inaugurated its first control tower, erected atop the 1932 terminal building, seen in the center of the following postcard.
In October 1940 the U.S. Government designated Atlanta airport as a military base alongside the airport's civil aviation role, and during World War II (1941-45) ATL doubled in size.  Meanwhile, Delta in 1941 moved its headquarters from Monroe, Louisiana, to Atlanta, further adding to the airport's prominence.  With military and civil airline expansion, ATL in 1942 experienced a record 1,700 takeoffs and landings in a single day, making it the busiest airport in the U.S.
By 1948 the Atlanta terminal built in 1939 could no longer handle the volume of passengers.  More than 1 million passengers came through ATL that year.  Airport officials worked on plans to build a much larger terminal, and on 9 May 1948 they moved ATL's operations 'temporarily' into a war-surplus hangar, which became known as the 'Temporary Passenger Terminal'.  The control tower atop the 1939 terminal, however, remained in use until a new one opened in 1961.
Atlanta's 'Temporary Passenger Terminal' proved to be not so temporary.  It remained in use from 1948 until May 1961 when, after nearly a decade of planning and construction, the Atlanta Municipal Airport finally opened its new 'Jet Age' terminal, publicizing it as the 'largest single terminal' in the U.S.  The terminal was designed to accommodate 6 million passengers a year, but in its first year 9.5 million used it!
On 22 February 1971 former Atlanta Mayor William Hartsfield died.  He was the person who, in the early 1920s while serving as an Atlanta alderman, suggested the site of Asa Calder's former auto speedway to be the location of Atlanta's main airport.  On 28 February, what would have been his 81st birthday, the airport's name was changed to William B. Hartsfield Atlanta Airport in his honor.  Four months later, on 1 July 1971, when Eastern Air Lines introduced the airport's first international service (to Mexico and Jamaica), the airport's name was again changed — to William B. Hartsfield Atlanta International Airport.  The new name appears on the next two postcards.
During the 1960s and 1970s passenger traffic at Atlanta continued to grow rapidly. The designed capacity of the 1961 'Jet Age' terminal proved to be insufficient from the time it opened. Further concourse and gate additions were made, but passenger growth continued to outpace the expanded facilities.  As early as 1964, formal planning studies recommended a completely new 'Midfield' terminal concept, in a central location between the runways.  This concept was adopted, and after years of construction the new Midfield terminal opened on 21 September 1980.
The 'Midfield' design included two symmetrical landside terminal sections.  These were connected to four remote parallel concourses by an underground 'transportation mall' featuring moving sidewalks and a modern shuttle system. The design was modular, and this enabled the airport to extend the underground area and add more concourses as passenger traffic increased.  The Midfield complex, with expansions over the years, is still in operation today.  It is the largest passenger transfer hub in the world.
In October 2003, in honor of the late Atlanta Mayor Maynard Jackson, the airport was renamed 'Hartsfield-Jackson Atlanta International Airport'.
2017 marked the 20th consecutive year that Atlanta International Airport has been recognized as the busiest airport in the world.  ATL is the only airport  ever to reach the 100 million passenger mark in a single year.  2017, with nearly 104 million passengers, was the third consecutive year that ATL surpassed that milestone, and it is likely to have done so again in 2018.  ATL also is number 1 in the world in aircraft movements, with 879,560 operations in 2017.
Atlanta International Airport is now expanding and modernizing further as its passenger volume continues to grow.  It is implementing a 20-year master plan adopted in 2016 that includes modernization of the existing terminals, expansion of Concourses D and T, construction of a new international Concourse G, new parking and ground facilities, a new sixth runway, and many more features to enhance the flying experience.
_______________________________________
Come see the amazing Hartsfield-Jackson Atlanta International Airport for yourself.  The 2019 annual Airliners International show and convention will be held during 19-22 June 2019 at the Delta Flight Museum located at the airport.  The following postcard shows the collecting scene at the previous (2015) Airliners International show in the Delta Flight Museum, with the Delta Boeing 767 'The Spirit of Delta' right inside the show venue.
I also encourage all airline and airport postcard collectors who are members of the World Airline Historical Society to enter the Airliners International 2019 Postcard Contest in Atlanta, 19-22 June 2019.  Postcard contest rules are on the show website, www.airlinersinternational.org.  Whether you win or not, your entries stimulate others to start or expand airline memorabilia collecting, and it's a great boost for all collectors.
All postcards shown in this article (except for the first two which are internet images) are from the author's collection.
References:
David Henderson website 'sunshineskies.com', tab 'ATL History'. This is an outstanding site with a remarkable detailed pictorial history of Atlanta airport from 1909 through the 1990s.
Hartsfield-Jackson Atlanta International Airport website, 'atl.com', tab 'About ATL', subtab 'History of ATL'.
Delta Flight Museum website, 'deltamuseum.org'.
Cearley, Jr., George W., A Pictorial History of Airline Service at Atlanta, 168 pp. (self published, 1991).
Braden, Betsy & Hagan, Paul, A Dream Takes Flight: Hartsfield Atlanta International Airport and Aviation in Atlanta (Univ. of Georgia Press, 1989).
Davies, R.E.G. (a) Delta: An Airline and Its Aircraft — The Illustrated History of a Major U.S. Airline and the People Who Made It, illustrated by Mike Machat. Paladwr Press (1990); and (b) Eastern: An Airline and Its Aircraft, illustrated by Mike Machat. Paladwr Press (2003).
Until the next article, thank you for viewing, and Happy Collecting.  Marvin.
Trackback from your site.