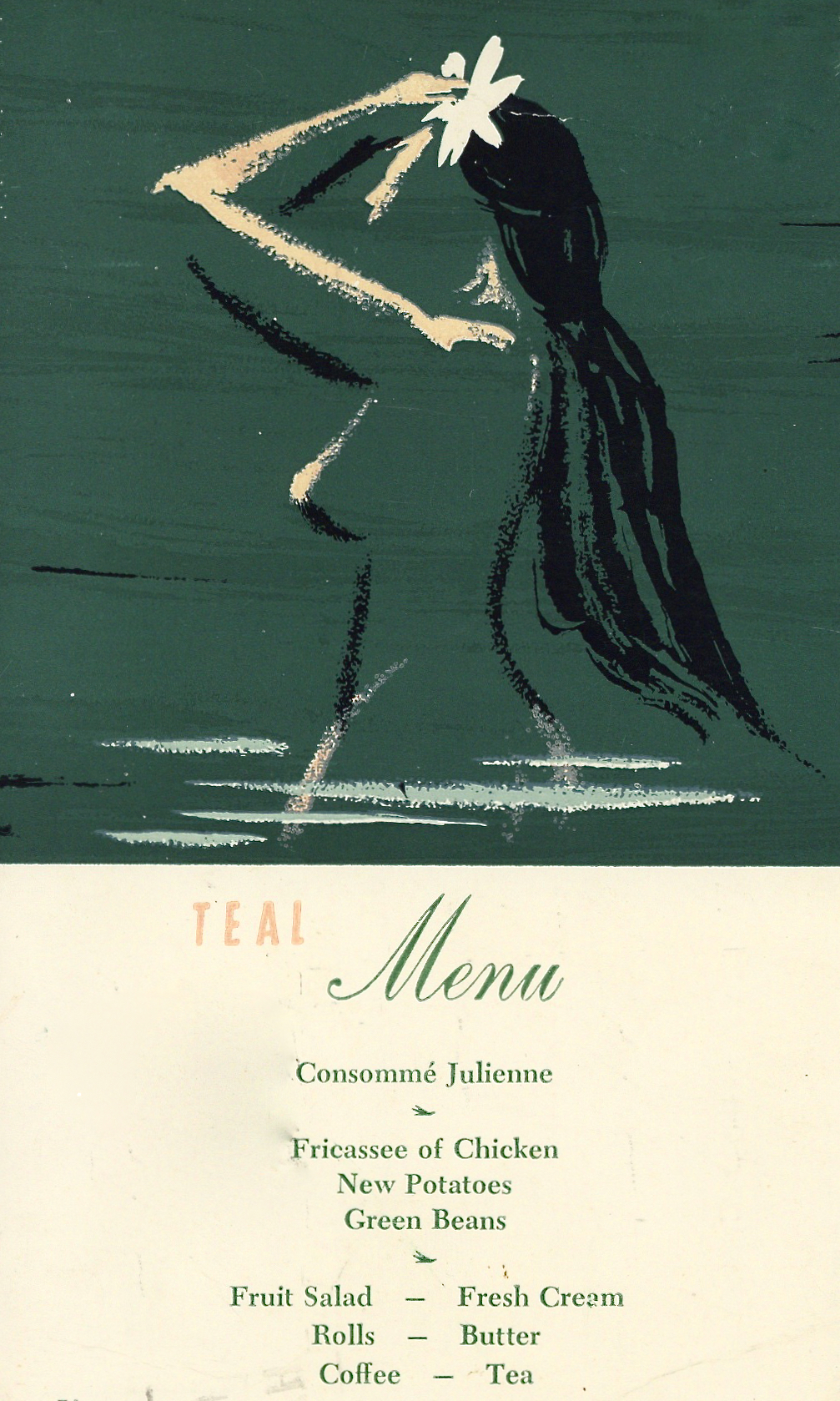 Airline Menu Postcards
Written by Marvin G. Goldman
Many airlines, particularly on longer flights, have typically handed out beautiful menus in advance of their meal service.  One type of menu, popular in the past with certain airlines, served a double purpose – it had a postcard back, as the airline hoped the passenger would mail the postcard, and this would publicize the airline more widely.  Some of the early menu postcards even state on the back: "Please address and return to Stewardess, who will stamp and mail for you".
Surprisingly few airlines actually issued menus in postcard form.  I know of only 17 airlines that did so, although probably more exist.  Also, at least three other airlines issued menus with postcards attached so they could be separated and mailed or saved.
The late 1940s through the early 1960s were the high point for the popularity of airline menus with postcard backs.  Some, however, date as early as the1930s and the latest I know of were issued by TWA in 1987.
All the postcards shown in this article are airline issued; standard or continental size; and from my collection except for those of B.O.A.C., Ghana, and South African Airways.
The airline that issued the most menu postcards, by far, was United Air Lines.  I estimate that more than 80% (and maybe 90%) of the menu postcards that you can find at airline collectible shows or on the internet are those issued by United.
So let's start with menu postcards of United Air Lines.  United issued many types of menu postcards, including those celebrating special events, holidays or destinations, menus with suitable illustrations for breakfasts, and a lengthy set with photographs of United destinations.
Here are my three favorite United menu postcards.  I was fortunate to acquire them over 30 years ago from collector Randy Lieberman, and I have never seen other originals of each.
In the 1940s United several menu postcards with the symbol of a chef running to serve a steaming hot meal, such as the following:
 In the early 1950s United issued a set of menu postcards, each with a photograph of a particular United destination.  I know of at least 20 different destinations in this set, and there may be more.  A particular destination card was sometimes used for several different menus, so the varieties multiply.  The postcards in this set are the most common of all the menu postcards and are widely available.  Here is one example,
Let's now turn to the other U.S. airlines that issued menu postcards.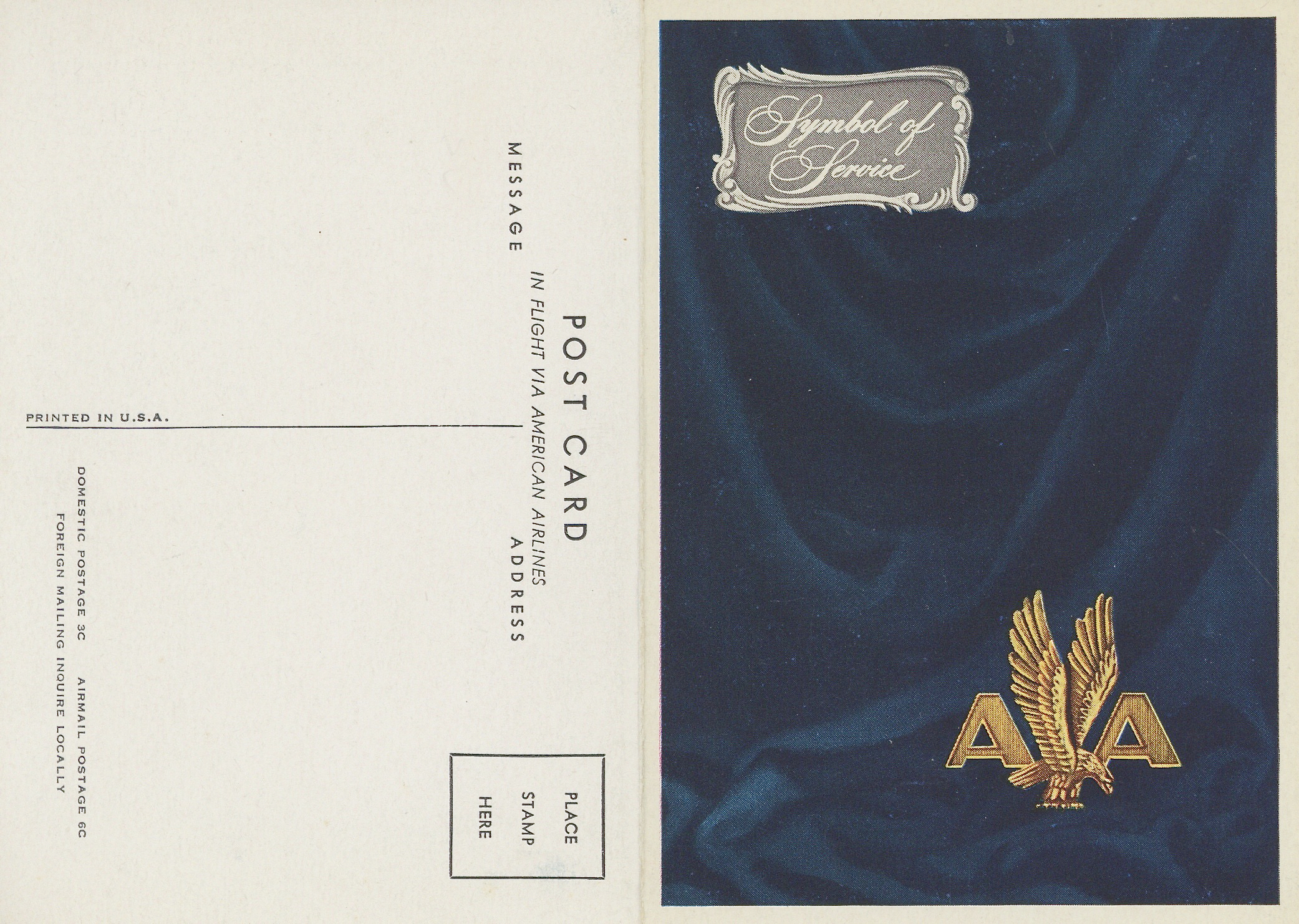 Not illustrated here, but in my collection, are menu cards with detachable postcards issued by three other airlines: Finnair (with attached DC-10 postcard), KLM Amsterdam-Los Angeles service menu postcard (with attached 737-300 postcard), and Virgin Atlantic (one with attached artist's depiction of people in London looking up to sky, and another depicting a London double-decker bus).
Now let's turn to menus with postcard backs issued by airlines outside the U.S.
I am not aware of any South American, European or Middle East airline menu cards with a postcard back other than those issued by B.O.A.C. (British Overseas Aircraft Corporation)
There are two African airlines that apparently have issued menu postcards, as to which I have never seen an actual card.  They are illustrated on the Famgus Aviation Postcards website, as follows:
From Asia and Australasia, I am aware of three airlines that have issued menu postcards.
I hope you enjoyed this overview of airline menu postcards.  If you know of any other airlines that issued menu cards with postcard backs, or if you have any comments on my article, I would be pleased to hear from you.  Just email me, Marvin Goldman, at worldairsociety@aol.com.
Until next time, Happy Collecting.
Marvin
Trackback from your site.