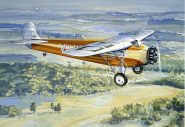 Airline Aircraft Art on Postcards
Written by Marvin G. Goldman
From the early days of aviation to the present, many airline postcards have featured artistic expression in promoting destinations and highlighting their aircraft.  This article covers a selection of aircraft art postcards from a variety of airlines and artists.
Mike Machat is one of the world's leading aviation artists and was the first president of The American Society of Aviation Artists.  He is well known to participants in the World Airline Historical Society and related Airliners International shows.  Mike was the keynote speaker at the Airliners International 2014 LAX banquet, and hosted an airline art exhibition at the AI 1992 show.  He has illustrated numerous airline books, including several written by Ron Davies, and authored 'The Art of Mike Machat: Painting Aviation's Legends' (Specialty Press, 2016).  His airline art also appears on several other postcards, including the following:
Let's turn now to a selection of aircraft types on postcard art, progressing from older to newer aircraft and featuring different airlines and artists.
Speaking of computer graphic art, note that the most recent publicity postcards issued for the annual Airliners International shows have been designed by U.S. aviation artist Chris Bidlack.  Here is an example of his art for these shows:
I hope you enjoyed this selection of postcards showing passenger aircraft art.  There are many more postcards of this type available.  Also, there is a whole other category of airline art postcards that emphasize destinations served or contain other advertising – all of which can form a beautiful collection.
All the postcards shown are from my collection.  They are standard or continental size except when stated to be oversize.  I estimate their availability as follows:  Rare: the S.A.M. S.71 and Air Katanga cards; Uncommon: the Florida Airways Stout 2-AT, Imperial Scipio, TWA DC-4, BWIA Viscount and Aeroflot TU-114 cards.  The rest are fairly common.
If you have any comments on my articles, I would be pleased to hear from you.  Just email me, Marvin Goldman, at worldairsociety@aol.com.
Until next time, Happy Collecting
Trackback from your site.